R&D
Toyo Tire Group is a technology-driven manufacturer developing tire, vibration control and heat insulation technologies.
A new R&D base reinforces core technologies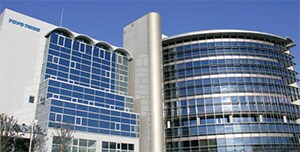 In order to develop highly competitive products, Toyo Tires prioritizes the challenge of reinforcing its core material technologies. We therefore concentrate on strengthening an internal development system and collaborating with external organizations for basic research. In 2013, the Corporate Technology Center, our new R&D base, was opened in Kawanishi City, Hyogo Prefecture. The Center is working to solidify the foundation for the research and development that supports our business development, while reinforcing functions for researching the latest fundamental technologies and advanced manufacturing technologies. Aiming for high-growth areas that contribute to society, efforts are geared toward R&D in strategic fields beyond existing business lines.
Technology base to support business development
At Toyo Tires the challenge of raising tire performance to a new level is faced as we perform precise performance evaluations to deliver products useful to society. At the Tire Technology Center we develop tires with proprietary knowledge and cutting-edge technology. Two tire test courses are available for actual vehicle testing our developed designs as well as simulations. The Automotive Parts (Business) emphasizes information gathering for new automobile technologies, and establishes technologies necessary to achieve the level of performance required by automakers from a multifaceted perspective so as to create high-value added products. The Automotive Parts Technical Center builds on these points and develops the technical capabilities for analysis and evaluation in order to create the precise auto parts customers are looking for.
Main tire technologies
Nano Balance Technology, which provides a nano-level control for rubber material design; A.T.O.M. (Advanced Tire Operation Mode) enabling high-quality tire production at the global level; etc.
Main vibration control technologies
Technologies for developing anti-vibration rubber to control passenger car engine vibration and body vibration; integration of individual technologies developed through production of tires and automotive components; etc.
Manufacturing technologies
Technologies that promote the radical reduction of tire development lead time through our pilot plant (a facility at an intermediate level between testing and commercial-scale production) and simulation equipment for tire production, etc.
Related Pages