CSR Policy
Basic Policy (Established in May 2014)
Toyo Tire seeks to remain a company admired by individuals and society, each member keenly aware of their "Connection" with society.
The core values of CSR: "Responsibility", "Trust", and "Integrity".
Responsibility: Responsibility of having a greater impact as the company becomes global.
Trust: Being a steward of our environment and society as we execute our business.
Integrity: Integrity in our business operation as the basis of our CSR.
Priority Theme and Ideal Status in 2020 (Established in May 2014)
| Priority Theme | Ideal Status in 2020 |
| --- | --- |
| 1.Product and Service Reliability and Innovation | Providing eco-friendly products and services founded on high quality and safety |
| 2.Contribution to the Global Environment | Promoting environmental management on a Group-wide basis |
| 3.Respect for Human Rights and Diversity | Diverse employees actively working in an environment with a global sense of human rights |
| 4.Collaboration with Business Partners | Entire supply chain engaging in CSR activities |
| 5.Harmony with Local Communities | Contributing to local community development while responding to stakeholders' voices |
| 6.Creation of Safe and Healthy Workplaces | With priority given to safety, promoting the creation of workplaces that ensure well-being and security |
| 7.Reinforcement of Corporate Governance and Compliance | Engaging in business activities with integrity while constantly improving management transparency |
Identification Process of Priority Themes (2013 -2014)
We have identified, from a wide range of CSR issues, those that need to be addressed as a high priority, based on the materiality of each issue to the Group and its stakeholders. In May 2014 we consolidated those issues into seven priority themes.
We defined our "Ideal Status in 2020" to visualize where we want to be as a company in each area.
Identification Process of Priority Themes
Interviews with external experts (April 2014)
Ms. Mariko Kawaguchi, Chief Researcher, Daiwa Institute of Research Ltd.
I believe that the challenges that the tire and rubber industries face are conserving resources (natural rubber sourcing), changing cars (commercialization of electric vehicles), and issues with human rights (child labor in rubber plantations). Especially with natural rubber which is the primary raw material, we are concerned about child and forced labor as well as destruction of ecosystem through development of rubber plantations. I believe that we must address these issues relating to environment, sourcing, and human rights from the standpoint of business sustainability. It is important for you as the company to show your stakeholders how you plan to identify and address these issues. I hope that Toyo Tire Group will be able to show us your plans as much as possible even if they are still work-in-progress.
Mr. Toshihiko Goto, Chief Executive Officer, Sustainability Forum Japan
In recent years, the way companies disclose information has been changing drastically. More emphasis is now being placed on long-term, non-financial, and diversity issues including protection of human rights and prevention of unethical business practices. It is important to define the company policy on issues that must be addressed over the long term. Examples include reducing CO2 emissions, diversifying the board of directors, and advancement of women in the workplace. In terms of risks associated with supply chain, I believe it is better to talk in good faith with the stakeholders, including local non-government organizations (NGO), to prevent potential issues. I would like Toyo Tire Group to consider the long-term limits of the environment, resources, and the society when deciding what actions the company should take.
Extracting priority issues required for the sustainability of TOYO TIRE (2017)
Setting and achievement of Toyo Tire's SDGs that contribute to UNSDGs*
Responding to climate change, which is a new business risk and opportunity
Responding to human rights and anti-corruption, which is a new business risk and opportunity
Responding to the responsibility for sustainable procurement
*Adopted at the UN Summit in September 2015. They are the universal common goals that aim to achieve by 2030 and for "leave no one behind."
Extracting process for priority issues (2017)
We had examined the issues that should be addressed with priority in order to achieve sustainability into the future. This is in response to the accelerating changes of business environment and the emerging social issues after having specified the 7 priority themes and "Ideal Status in 2020". When we did, we had taken into consideration the results of evaluations conducted by independent rating organizations and opinions from stakeholders.
As a result of the examination, four themes were extracted as priority issues that should be addressed by the Group (stated above).
Promotion System (2018-)
As company-wide discussion was necessary to address the four priority issues (above), from 2018, we established a working group (WG for promoting sustainability) for each of these priority issues.
The WG has been approved by the Executive Committee (Chairman: President), to which the Board of Directors has delegated authority over business operations, as a forum in which to discuss the issues to be addressed with priority. The WG brings together the responsible parties in related business organizations and discusses the action plan such as the direction of each theme, the objectives, and targets. The action plan discussed in the WG is deliberated on and approved by the Executive Committee, and the plan is spread throughout the entire Group and all organizations.
The Executive Committee manages the progress of activities undertaken by each WG. And they evaluate and improve the effectiveness of the management methods for each theme using the results of performance ratings by an independent organization, the opinions of stakeholders obtained from the Grievance Mechanism, and industry trends.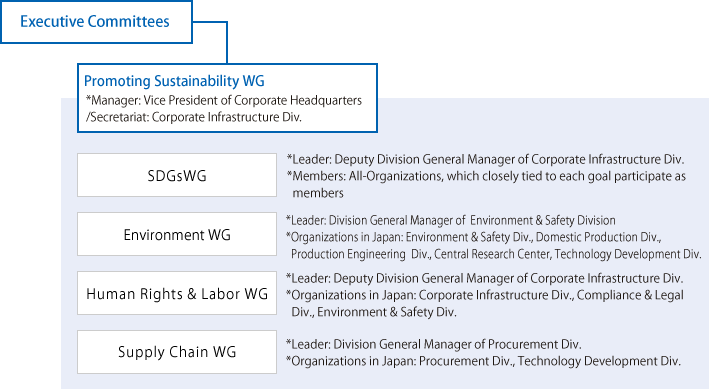 Activities of Sustainability Promotion WG (2018)
| WG | Purposes | Achievement (FY 2018) |
| --- | --- | --- |
| SDGs WG | Setting and achievement of Toyo Tire's SDGs | Having discussed the TOYO TIRE's SDGs (set in March 2019) |
| Environment WG | Responding to climate change | Developing a climate change strategy (risk assessment, scenario analysis), having enhanced the disclosure of information (answering CDP Questionnaire) |
| Human Rights & Labor WG | Responding to human rights and anti-corruption | Having examined the global Policy of Human Rights & Labor and Anti-Corruption (established in January 2019) |
| Supply Chain WG | Responding to the responsibility for sustainable procurement | Having Revised its CSR Procurement Guidelines by adding a new "Sustainable Natural Rubber Procurement Policy" (released in January 2019) |
Opportunities for Engagement with Stakeholders
TOYO TIRE identifies stakeholders who have a major direct or indirect impact at each stage of the value chain. We consider the impact on the evaluation and decision-making of all stakeholders and examine the priority issues.
The significance of the Group in society is that we not only solve the issues requested by our stakeholders, but we also create surprise and new discoveries for society and contribute to enriching society. Through our opportunities for engagement with stakeholders, we strive to be accountable by communicating information accurately and clearly.
And we also check if we are providing business partners and customers with not only products and services, but also the excitement that exceeds their expectations through our various work.
For detailed the information of a dialogue with our stakeholders, please see the following website;
Stakeholders Engagement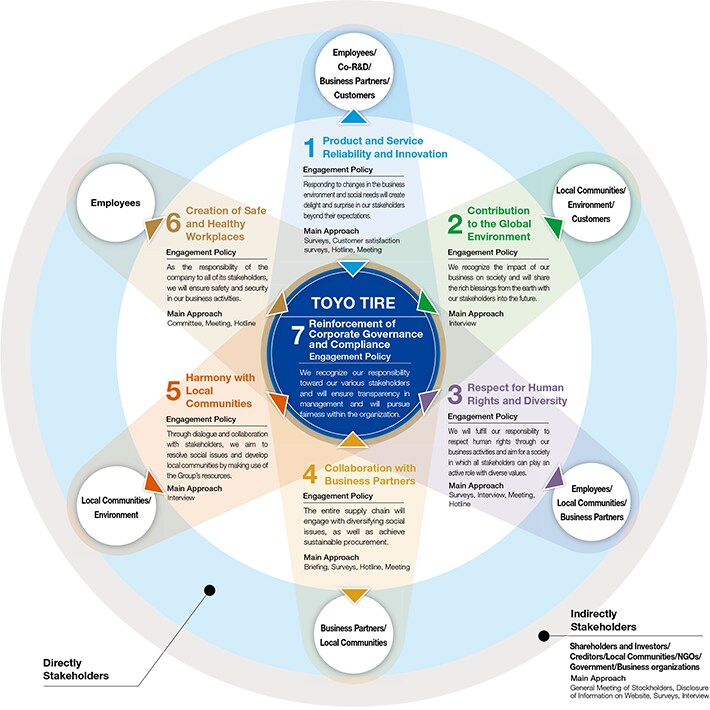 List of stakeholder groups
Value Chain
Affected Stakeholders
Directly
Indirectly
Raw materials /Purchasing
Business Partners (Suppliers *1)
Shareholders & Investors, Creditors, Local Communities, NGOs, Government, Business Organizations *2, global environment
R & D
Employees, Co-researchers & Joint developers, Business Partners (Car Manufacturers)
Manufacturing
Employees
Logistics
Employees, Business Partners (Logistics)
Sale
Employees, Business Partners (Car Manufacturers, Dealers)
Use /Waste recycling
Customers
*1 Main supply chain elements: natural rubber farmers and wholesalers, synthetic rubber manufacturers, petrochemical product producers
*2 TOYO TIRE or one of our group companies belongs to the following trade associations;
Keidanren Japan Business Federation
Japan Automobile Tyre Manufacturers Association (JATMA)
The Japan Rubber Manufacturers Association (JRMA)
U.S. Tire Manufacturers Association (USTMA)
The Tire Industry Association (TIA) *US
The European Tyre and Rim Technical Organisation (ETRTO)
The Malaysian Automotive Tyre Manufacturers Industry Group (FMM MATMIG)
Thai Automobile Tyre Manufacturers Association (TATMA) *As an Extraordinary Corporate Member.
China Rubber Industry Association (CRIA)
The International Rubber Study Group (IRSG)
World Business Council for Sustainable Development (WBCSD)
The Global Platform for Sustainable Natural Rubber (GPSNR)
Japan Philanthropic Association *As Supporting member
Global Compact Network Japan (GCNJ)
External initiatives
We subscribe or endorse to the following initiatives;
World Business Council for Sustainable Development

(WBCSD)

and Tire Industry Project

(TIP)

International Rubber Study Group

(IRSG)

Global Platform for Sustainable Natural Rubber

(GPSNR)

United Nation Global Compact

(UNGC)
Comment from External Expert
In 2017, you identified the four priority issues required for sustainability, "responding to climate change," "responding to human rights, labor, and anti-corruption," "responsibility for sustainable procurement," and "Setting and achievement of SDGs (Ideal Status in 2030)," and a cross-functional working group established for each issue is working on them since 2018.
As part of these efforts, you revised the CSR Procurement Guidelines in January 2019, and developed a policy for the procurement of sustainable natural rubber. In March, you organized the relationship between 7 priority themes and the 14 goals of SDGs, and set "TOYO TIRE's SDGs." Also in the same month, you announced that you signed the United Nations Global Compact (UNGC), which is the universal principles. This shows that the process is functioning in responding to ESG issues, that you are already able to capture the issues based on global principles and guidelines, identify priority issues, establish and execute policy, and discloses these efforts, and I can appreciate.
In the future, the following actions are required in your sustainability; setting KPIs for each theme, and evaluating and disclosing the level of achievement; for the "Responding to climate change," assuming several scenarios according to TCFD guidelines and creating action plans along those scenarios; for the "Setting and achievement of SDGs," in addition to setting goals for SDGs each theme, it will be necessary to show how each of them will link to improvement of your company's corporate value over the medium and long-term.
You have positioned 2019 as the start of sustainability-oriented management and this report describes "Ideal Status in 2030". We expect to implement this steadily through engagement with various stakeholders.

Etsuya Hirose, Senior Executive Officer, ESG Research Center, QUICK Corporation
Comment by Corporate Officer in Charge of CSR(Receiving Comments from an External Expert)
Following on from last year, we extend our gratitude to Mr. Hirose for his valuable opinion and advice regarding our "CSR Report 2019." Going forward, we will work steadily on the Group's seven priority themes with a sense of speed.
In FY 2018, we established several company-wide working groups to promote sustainability, including the development of SDGs, our General Affairs Department in the Corporate Infrastructure Division has built a system to support the activities of the entire Group, and we are working in earnest on each theme. In addition, we also participated in the GPSNR (global platform aiming at the sustainable supply, sales, and use of natural rubber) that was set up in the same year. While keeping pace not only with tire manufacturers but also the various and many stakeholders of the rubber industry, such as consumers, automobile manufacturers, and producers of natural rubber, we have started working toward resolving global social issues.
However, the Group's activities for sustainability have only just begun. As Mr. Hirose pointed out, we will continue to enrich our activities to add more substance to the Group's efforts, such as setting KPIs for activities, creating an action plan, goal setting, and associating the efforts with our company's corporate value over the medium and long-term. In addition, this will unite all employees of the Group, and we will enhance our in-house communication by providing more information and education internally so that we can achieve SDGs and be conscious of reaching sustainability goals in the future.

Takehiko Sasamori, Director Corporate Officer & Vice President of Corporate Headquarters, Toyo Tire Corporation