Value Chain and SDGs
Value Chain and SDGs
*SDGs (Sustainable Development Goals):
The SDGs are the international goals agreed through the "2030 Agenda for Sustainable Development" at the September 2015 UN summit, to be achieved by 2030. All countries, both in developed and developing, will work together to achieve these universal goals in order to create a sustainable society by solving global problems such as poverty, climate change, biodiversity, and energy. The SDGs are composed of 17 goals to be achieved by 2030 and 169 targets to aid in their achievement.
TOYO TIRE's SDGs "Ideal Status in 2030" (2019)
Value Chain
Issues
TOYO TIRE's SDGs
(Ideal Status in 2030)
PURCHASING
Establish the Sustainable Supply Chain
We will contribute;
to create a society where ethical consumption is standardized by building a sustainable supply chain through cooperation with stakeholders.
R & D
Support to Social Inclusion
to widespread of mobilities that will be enable social participation by using higher functionality technologies.
Respond to Upgrading User Needs (Creating Value)
to progress of mobilities by focusing on adding of value of products and technologies.
Response to Climate-related Risks (Physical and Regulatory Risks)
to the mobility industry efforts that will adapt to climate change and aim to mitigate the influence by climate change by innovations.
Response to Resource Depletion related Climate Change and Increasing Demand
to sustainable resource recycling through optimization of resource utilization and improvement of product durability.
MANUFACTURING
Response to Climate-related Risks (Regulatory Risks)
to improve resource usage efficiency including water and energy through promoting to upgrade of equipment and operation on manufacturing sites.
to promote the use of renewable energy in the region to increase renewable energy share of energy used at manufacturing sites.
Resolve the Labor Shortage by Diverse Human Resources and Technologies
to create a society where everyone is able to work safety and healthy though "smartness" -development and introduction of technologies that reduce the human load, e.g. AI and IoT.
LOGISTICS & CORPORATE
Enhance the Climate Change Governance System
to minimize social impact of extreme weather phenomena derived from climate change by building a robust value chain.
Support to Market Stabilization and Sustainable Development
to promote local employment and to develop and stabilize the local economy by strengthening global network.
CORPORATE
Secure the Talented Persons Stably
to create a society where diverse peoples are able to get equal opportunities and play an active role by providing work environment that employees can continue to challenge with peace of mind.
Promote to mainstreaming of the SDGs
to create a society where SDGs become mainstream through developing human resources to support sustainable development of the world.
Support to Market Stabilization and Sustainable Development
to develop the whole world economy steadily by improving regional education and culture level through deployment of our resources.
SALE & USE
Response to Increasing the Number of Traffic Accidents by Increasing the Traffic Demand
to realize the safe and secure mobility society through implementing safety awareness and supporting for improving maintenance skills.
The Process of Setting TOYO TIRE's SDGs (2017-2018)
Having positioned contributing to efforts to achieve the 2030 sustainable development goals (SDGs) adopted by the United Nations as one important business issue, we have established the cross functional working group (WG) group-wide where this issue is discussed.
Recognizing that the realization of a sustainable society is a prerequisite for our business growth, we believe that contributing to the resolution of global issues will lead onto reducing risks and expanding business opportunities in the future. We discussed our SDGs in corporate-wide and we set 14 goals (to achieve by 2030) as the "TOYO TIRE's SDGs" that outline the Group's vision for 2030," Ideal Status in 2030". Toyo Tire believes that these activities embody "Our Vision" established in the Group's philosophy, and that they will lead to the achievement of "Our Mission."
We will solve global social issues by achieving "TOYO TIRE's SDGs", and contribute the achievement of UNSDGs, too.
The Process of Setting TOYO TIRE's SDGs
The Underlying Logic of TOYO TIRE's SDGs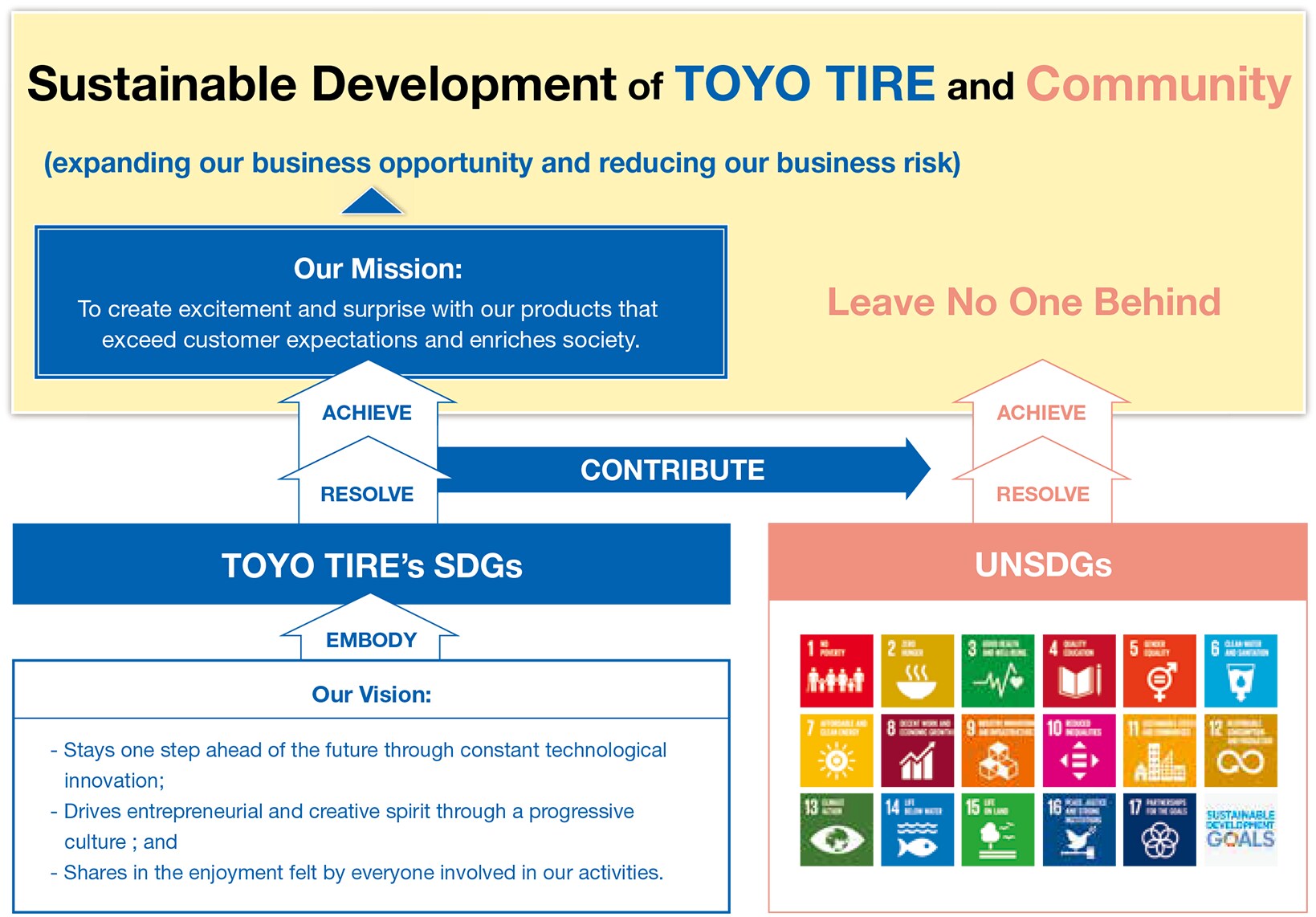 Internal Penetration Activities of TOYO TIRE's SDGs (FY 2019-)
In FY2019, our working group (WG) for promoting sustainability held direct dialogues on "TOYO TIRE's SDGs" with all companies in the Group to brief them on TOYO TIRE's approaches (orientation) to this imperative and gather information on their initiatives and challenges in this regard.
Through these dialogues, we were able to determine the societal impact that our business activities will have moving forward and the importance of deepening our understanding of the corporate value that results from such activities. In FY2020, we will make continued efforts to strengthen understanding of the goals of the sustainability promotion while celebrating the diversity in values and cultural backgrounds of our people.
TOPIC
TOYO TIRE (SHANGHAI) CO., LTD.: Held a Round-table Discussion on the SDGs
With a top executive serving as a facilitator, TOYO TIRE (SHANGHAI) CO., LTD. organized a round-table talk to promote a deeper understanding of the SDGs within the company. Through dialogues that involved one-on-one conversations, the participants gained a better understanding of the significance of the SDGs and the three values that our business activities are designed to uphold (economy, environment, and society). This talk session also provided participants with an opportunity to stop and think what they can do to make a better future with our products and services as a member of the Toyo Tire Group and in their daily lives as a member of society in general.
A subsequent questionnaire revealed that the majority of the participants understood the significance of the SDGs and the urgency of the related background issues and that they positively took the session as an opportunity to enhance our corporate value.
Comment by SDGsWG Leader
In 2019, we set TOYO TIRE's SDGs, which the Toyo Tire Group must achieve by 2030, and announced them within and outside the Group.
Three years ago, Toyo Tire Corporation redefined its body of Philosophy, which forms the backbone of the company, and changed the company name last year to once again manifest its mission. This process gave us an opportunity to think deeply about the responsibility that we have when doing business globally with various parties, which led us to endorse the UN SDGs, an internationally unifying initiative for businesses. We then came up with our autonomous behavioral code that contributes to the achievement of the UN SDGs in the form of TOYO TIRE's SDGs and our work is just beginning on these.
We shed new light on all aspects of our business management, including procurement of raw materials, recruitment, employee training, and corporate governance, as well as technological development, production/supply, and marketing/sales, in terms of sustainability and harmony with relevant parties, and declared that we would act in a way that contributes to their achievement. This declaration has carried a lot of weight and great significance in the 75-year-long history of the company.
If we wish to unify people from different walks of life to help each other and hand down this planet to future generations, we believe that being mindful of "Why we do this" is more important than "What we should do." As we continuously share this basic principle and collaborate with our employees and everyone else with whom we conduct business for society, we will achieve our goals one by one.

Haruhiko Kitagawa,
Division General Manager of Corporate Infrastructure Div.,
Toyo Tire Corp.