TOYO TIRE's SDGs
TOYO TIRE's SDGs
Recognizing that the realization of a sustainable society is a prerequisite for our business growth, we involved the entire organization in a series of discussions on how we can contribute to the attainment of the United Nations' SDGs. As a result, we came up with the TOYO TIRE's SDGs, which include 14 goals that shape our Ideal Status in 2030.
TOYO TIRE's SDGs "Ideal Status in 2030" (2019)
Value
Chain
Opportunities and
risks to assume
TOYO TIRE's SDGs
(Ideal Status in 2030)
Related UN
SDGs
RAW MATERIALS/PURCHASING

Risk of resource depletion due to climate change and increased demand
Stable procurement and quality through a sustainable supply chain

We will contribute;
to create a society where ethical consumption is standardized by building a sustainable supply chain through cooperation with stakeholders.
R & D

Social participation of diverse people (social inclusion)
Diversification and sophistication of user needs (Pursuit of added value)
Climate change physical and transition risks
Risk of resource depletion due to climate change and increased demand

to widespread of mobilities that will be enable social participation by using higher functionality technologies.
to progress of mobilities by focusing on adding of value of products and technologies.
to the mobility industry efforts that will adapt to climate change and aim to mitigate the influence by climate change by innovations.
to sustainable resource recycling through optimization of resource utilization and improvement of product durability.
MANUFACTURING

Maintaining the workforce and improving productivity by utilizing diverse human resources and technology
Climate change transition risk (emission regulation, etc.)
Risk of resource depletion due to climate change and increased demand

to improve resource usage efficiency including water and energy through promoting to upgrade of equipment and operation on manufacturing sites.
to promote the use of renewable energy in the region to increase renewable energy share of energy used at manufacturing sites.
to create a society where everyone is able to work safety and healthy though "smartness" -development and introduction of technologies that reduce the human load, e.g. AI and IoT.
SALE & USE
Prevention of increased accidents due to increased traffic demand
to realize the safe and secure mobility society through implementing safety awareness and supporting for improving maintenance skills.
CORPORATE

Market stabilization and sustainable growth by promoting the mainstreaming of SDGs
Enhance the Climate Change Governance System
Stable securing of human resources by creating a rewarding environment

to minimize social impact of extreme weather phenomena derived from climate change by building a robust value chain.
to promote local employment and to develop and stabilize the local economy by strengthening global network.
to create a society where diverse peoples are able to get equal opportunities and play an active role by providing work environment that employees can continue to challenge with peace of mind.
to create a society where SDGs become mainstream through developing human resources to support sustainable development of the world.
to develop the whole world economy steadily by improving regional education and culture level through deployment of our resources.
Discussion process
We identified the opportunities and risks in the Group's business over the mid and long term by assuming changes in our business environment leading up to around 2030, by when we hope to achieve the TOYO TIRE's SDGs. We then held in-depth discussions as to how we can resolve global societal issues with our resources and solutions to determine the 14 goals. We affirmed that these activities geared toward achieving the goals embody Our Vision in our corporate philosophy and will guide us to the realization of Our Mission.
The Process of Setting TOYO TIRE's SDGs
The Underlying Logic of TOYO TIRE's SDGs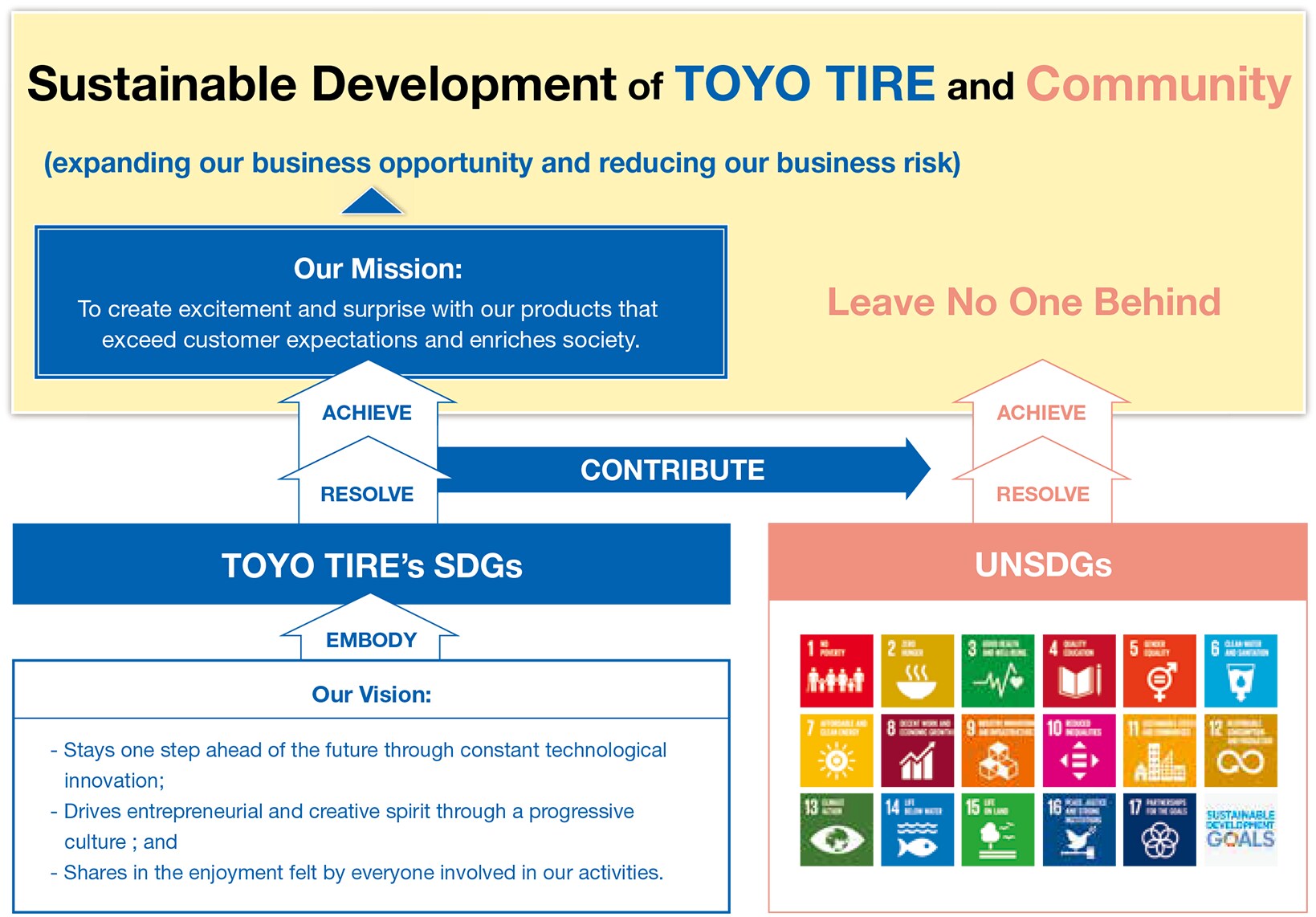 In-house penetration activities of TOYO TIRE's SDGs
After the establishment of the TOYO TIRE's SDGs, we have briefed each functional organization and Group company on the approach to and direction of the Group's sustainability promotion and shared the current status of each initiative and challenges that lie ahead.
We also included lectures and works on the SDGs in the curriculum of stratified training programs for the Group's training scheme and began publishing the serial stories on the SDGs in in-house newsletters, in an effort to familiarize every employee with TOYO TIRE's SDGs so that they can deepen their understanding of the SDGs in the context of their duties.