Press Release
Dec. 15, 2005
Grand opening of new tire manufacturing facility in Georgia, US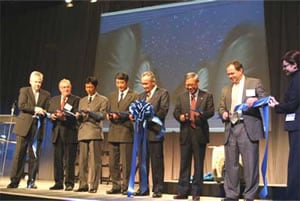 Toyo Tire North America, Inc. (TNA), a new tire manufacturing subsidiary of Toyo Tire & Rubber Co., Ltd. (President: Yoshio Kataoka), celebrated the grand opening of its first facility in Bartow County, Georgia on December 8.
The ceremony was attended by Craig Lesser, Commissioner of the Georgia Department of Economic Development, and Shoji Ogawa, Consul General of Japan in Atlanta, as well as some 700 people, including many state officials, local leaders, construction company officials, and business partners and customers of the Toyo group, from North America and all over the world. At the beginning of the ceremony, President Kataoka, representing the Toyo group, thanked the attendants from around the world, saying "We are proud that TNA is one of the world's leading facilities. In order to truly become No. 1, I must mention that we need support from those in attendance here, and we also must become a good corporate citizen by contributing to local communities".
In a video message presented at the ceremony, Governor Sonny Perdue of Georgia said "TNA and our state will continue to grow together. While TNA activates the state's economy through creation of employment, technical training, and support to local communities, we will offer TNA rich resources and excellent workforce", emphasizing the strong tie between TNA and the local communities.
The new facility introduced Toyo's new proprietary manufacturing system, the "Advanced Tire Operation Module (A.T.O.M.)", which features high quality, a small footprint, multi-product small-lot production, and a high level of automation. A.T.O.M. is a highly scalable system that can flexibly respond to changes in production plans as market demand trends dictate. The facility, which includes a large-scale warehouse that will function as a central warehouse for the Southeastern U.S., will further promote efficient tire supply to points of demand, thanks to its proximity to rail, air, and interstate highway transportation.
On the same day, TNA demonstrated a renewed commitment to the communities in which it operates by announcing a plan to present a third donation to Bartow County Schools. This funding will extend the after-school tutoring program, which has been successful in raising the college entrance ratio of local students. TNA also announced its support of Bartow Crossroads Academy with a gift to fund the purchase of facility equipment and funds to go toward the purchase of school uniforms for students in need of financial assistance.
The grand opening of TNA, which took place in Toyo's 60th year in business, is expected to further accelerate the company's global business development. It is a great step towards realizing our goal of "Global Challenge" stipulated in the "Medium-Term Business Plan 2005," which is currently being carried out. Helped by the start of operations at TNA, Toyo aims to enhance the value of Toyo and Nitto products as a reliable brand rooted in North America, while making efforts to expand its business and improve its corporate value on a global basis.
Toyo Tire North America, Inc.

FAST FACTS

1. Name:
Toyo Tire North America, Inc. (TNA)
2. Location:
White, Georgia (Bartow County), U.S.A.
3. Date established:
June 2004
4. Ownership:
Wholly-owned subsidiary of Toyo Tire International, Inc., which is wholly-owned U.S. subsidiary of Toyo Tire & Rubber Co., Ltd.
5. President:
Shozo (Carlos) Kibata
6. Capital
50 million US dollars
7. Total site area:
150 acres
8. Total floor area:
96,000 m2 (including 40,000 m2 warehouse site)
9. Total investment
180 million US dollars
10. Production capacity:
2,000,000 tires per year (passenger car and light truck tires)
11. Number of employees:
350 (at full capacity)
Toyo Tire Corporation
Corporate Communications Dept.
Hyogo Head office Telephone: +81-72-789-9100 Facsimile: +81-72-773-3272