Press Release
Aug. 06, 2008
Toyo Proxes R888 is fitted on Mégane Renaultsport R26.R model as an original equipment tires and sets new Nürburgring record.
OSAKA, JAPAN – August 6, 2008 - TOYO TIRE & RUBBER Co., LTD. (President and CEO: Kenji Nakakura) announces that Toyo Proxes R888 tires have been chosen by Renaultsport to be fitted to their Mégane R26.R model.


Conceived and designed by Renaultsport, the Mégane R26.R is the sportiest version ever produced of this popular car. Launched at the British International Motor Show last week, the Mégane R26.R is available from October in a limited edition of just 450 models, each with a plaque identifying the model number.


Prior to its unveiling in London, the Mégane R26.R also broke the lap record for a front wheel drive car at the Nürburgring. The car, fitted with 225/40R18 Toyo Proxes R888 tires completed the lap in just 8 minutes 17 seconds, setting a new record for a front wheel drive production car. The Nürburgring record and limited edition production run make the Mégane R26.R an instant classic and a very desirable proposition for collectors.


Toyo Proxes R888 tires are an option on the Mégane Renaultsport R26.R in conjunction with a roll cage for those who want to use the car on track. As the car is a lightweight circuit special with an unrivalled performance to price ratio, a roll cage and track tires are anticipated to be a popular option.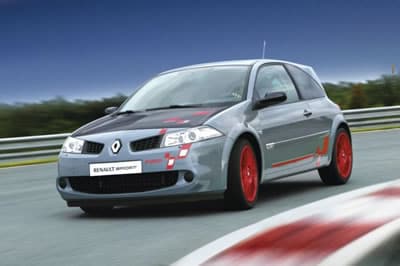 Toyo Tire Corporation
Corporate Communications Dept.
Hyogo Head office Telephone: +81-72-789-9100 Facsimile: +81-72-773-3272
Tokyo office Telephone: +81-3-5780-8158 Facsimile: +81-3-5780-8159