Press Release
Mar. 28, 2011
Toyo Tires' President Nakakura Visits Miyagi and Fukushima Prefectures
Osaka, Japan - March 25, 2011 - TOYO TIRE & RUBBER CO., LTD. (President and CEO: Kenji Nakakura) expresses our sincerest condolences to everyone who has suffered as the result of the recent Tohoku earthquake.
Toyo Tires has decided to donate 150 million Japanese yen to aid the victims of the earthquake and the restoration of the region.  Toyo Tires' President Nakakura visited Miyagi and Fukushima Prefectures to personally present the donations.
As result of the earthquake, Toyo Tires' business offices in the region have been adversely affected, and many of its employees and family members have suffered.  President Nakakura made the visits to encourage Toyo Tires' employees at the Sendai Plant (Iwanuma City, Miyagi Prefecture) and the Fukushima Rubber Co., Ltd. (Fukushima City, Fukushima Prefecture) while they strive toward recovery, and with the hope that the victims of the disaster can see their region restored as soon as possible.
On March 24th, President Nakakura met with Miyagi's Governor Yoshihiro Murai at the Prefectural Government Office.  The President presented the Governor with the donation, and told the Governor that Toyo Tires, with its strong ties to the region, will do everything in its powers to assist in Miyagi Prefectures' recovery.  President Nakakura then visited the Fukushima Prefecture March 25th and presented the donation at the Prefectural Government Office.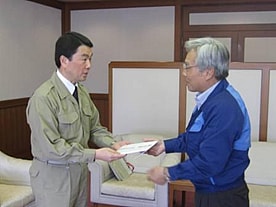 President Nakakura (right) presents the check to Miyagi Governor Murai (left)
As previously reported on 3/17/2011, Toyo Tire & Rubber Co., Ltd. donated 100 million yen to the Miyagi Prefecture and 50 million yen to the Fukushima Prefecture.
Toyo Tire Corporation Corporate Communications Planning Dept.
Hyogo Head office Telephone: +81-72-789-9100 Facsimile: +81-72-773-3272
Tokyo office Telephone: +81-3-5822-6621 Facsimile: +81-3-3865-2240