Press Release
Jul. 05, 2011
Establishment of a Joint Venture in China for Railway Vehicle Parts
Osaka, Japan -5 July, 2011- Toyo Tire & Rubber Co., Ltd. (President: Kenji Nakakura, hereinafter Toyo Tires) will establish a new joint venture company with Wuxi Meifeng Rubber Products Manufacturing Co., Ltd., called "Wuxi Toyo Meifeng Rubber Products Manufacturing Co., Ltd." (tentative business name) in Wuxi City, Jiangsu Province, China, to manufacture and distribute parts for railway vehicles (air springs and anti-vibration rubber).  The signing ceremony was held today, whereby the two firms executed the basic agreement to establish the joint venture.
Because railway transport is low in carbon dioxide emission yet highly efficient in mobilizing people and goods, there is a trend worldwide toward making greater use of railways as a means of transportation with the least amount of impact to the environment.
China in particular is making great strides in economic development, with its domestic GDP having rapidly grown to become the second largest in the world.  As the transportation infrastructure which supports this growth, the railroads are being expanded and route extensions planned at a rapid pace.  In subways, which are the urban means of transport, new rail lines are being opened at a rate of 20 cities every year.  Further, in the high-speed railways which connect the major cities, the Beijing-Shanghai line commenced full service in June of this year, and by 2020 a total extension of 16,000 kilometers are being projected.
Moreover, the Chinese government has announced that a total of more than 5 Trillion Yuan RMB (approximately 65 Trillion Yen) will be invested in the mid-term and long-term railway network plan.  The logistics network with China's neighboring countries through the railway network is also being planned at a steady rate.
Toyo Tires has more than 50 years of proven track record and reliability in developing and supplying anti-vibration rubber components for railway cars (air springs, anti-vibration rubber, etc.), which make possible the comfort and speed sought-after in rail transportation.  Toyo Tires has supplied not only the local railway lines of the various Japan Rail Group of companies, but also the state-of-the-art "N-700" family of bullet trains in Japan.  Moreover, Toyo Tires has been expanding sales of such parts globally to Europe, North America and China.
Meifeng Rubber possesses a high degree of technical prowess in brake pressure films and sealing materials for railway vehicles, and has an established sales network in China's railroad market.
Within the rapidly growing railway business, the two firms' objectives have coincided.  Toyo Tires has been working to advance its business into China's railway market which is undergoing spectacular growth, and Meifeng Rubber has been seeking to start a new business within the same market.  The dovetailing of these goals has led to the establishment of this joint venture for railway vehicle parts.
The new business model, which will be established through the combining of the firms' technological prowess, robust branding and sales strength, is expected to contribute to the further development and expansion of business for both firms.  It is thought that this may contribute not only to the expansion of railroad business in China, but contribute to the modal shift taking place globally towards mass transportation.
1. Summary of the Joint Venture Company (as planned)
Business Name
Wuxi Toyo Meifeng Rubber Products Manufacturing Co., Ltd.

(tentative name)

Location
Wuxi City, Jiangsu Province, People's Republic of China
Capital
5 Million USD
Equity Percentage
Toyo Tires 51%
Meifeng Rubber 49%
Number of Directors
Toyo Tires 3 Directors
Meifeng Rubber 2 Directors
Number of Employees
50 Employees
Date of Establishment
October 2011
Date of Production
June 2012
Sales Plan
100 Million Yuan RMB (approximately 1.2 Billion Yen)
*As of fiscal year ending March-end 2015
2. Toyo Tires
| | |
| --- | --- |
| Business Name | Toyo Tire & Rubber Co., Ltd. |
| Location | 1-17-18 Edobori, Nishi-ku, Osaka City, Osaka-fu |
| Capital | 30,484,000,000 Yen |
| Representative | Kenji Nakakura (Representative Director and President) |
| Nature of Business | Automobile tires, automobile parts, industrial rubber and plastic products, soft and hard urethane products, waterproof sheets, seat cushions, etc. |
| Established | 1945 |
3. MeiFeng Rubber
Business Name
Wuxi Meifeng Rubber Products Manufacturing Co., Ltd.
Location
No.1 Huaji Road, Wuxi City, Jiangsu Province, People's

Republic of China

Capital
5 Million Yuan RMB
Representative
Cao Xin
Nature of Business
Manufacture and distribution of rubber products for railroads,

automobiles and home appliances

Established
1957
4. Scope of Business of the Joint Venture Company to be Established
Manufacture and distribution of air springs and anti-vibration rubber for Railway Vehicle Parts.
(For Reference)
[ Scenes of the Signing Ceremony ]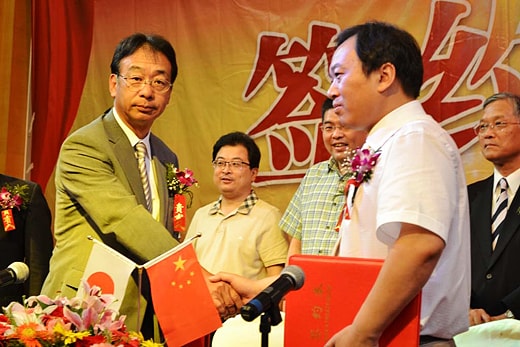 Photo Left: Toyo Tires Director Takafumi Ichikawa, (General Manager of Divertech Business Unit)
Photo Right: Meifeng Rubber Chairman, Mr. Cao Xin
[ Products Developed ]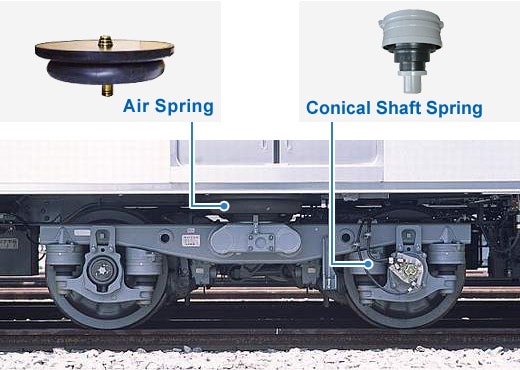 Toyo Tire Corporation Corporate Communications Planning Dept.
Hyogo Head office Telephone: +81-72-789-9100 Facsimile: +81-72-773-3272
Tokyo office Telephone: +81-3-5822-6621 Facsimile: +81-3-3865-2240