Press Release
Dec. 01, 2011
TOYO TIRES Launches New Brand NANOENERGY
Osaka, Japan – 1 December, 2011 – TOYO TIRE & RUBBER CO., LTD. (President and CEO: Kenji Nakakura, hereinafter Toyo Tires) has developed a tire that boasts a rolling resistance performance rating of AAA and wet grip performance rating of b under the Guideline for Tyre Labeling to Promote the Use of Fuel Efficient Tyres* (Labeling System**) released by the Japan Automobile Tyre Manufacturers Association (JATMA).
Toyo Tires has created a separate brand for the tire called NANOENERGY, based on the concept of Toyo Tires nanotechnology delivering green energy to the world. NANOENERGY tires will be available in a full range of sizes and models, starting in the domestic market and moving progressively into overseas territories including Europe, where compulsory labeling of fuel-efficient tires is due to be introduced next autumn.
The product line-up is divided into two categories: NANOENERGY 1, with an AAA-b rating, offers improved wet grip with superior fuel efficiency performance, while NANOENERGY 2, developed for a broad range of hybrid vehicles, boasts the AAA-c rating and combines environmental considerations with excellent handling performance.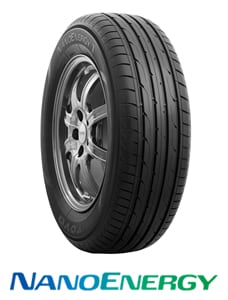 Fuel-efficient tires are designed to minimize energy losses suffered by the tire due to resistance, particularly contact friction from the road surface, thereby reducing fuel consumption and CO2 emissions.
However, reducing tire rolling resistance (a positive impact) has the unwanted effect of increasing the braking distance on wet roads (a negative impact), so the goal is to enhance braking performance and safety while at the same time improving wet grip performance.
While there are already several products with an AAA-c rating available on the market (including Toyo Tires products), the NANOENERGY tire is clear the hurdle of improving the wet grip performance rating from "c" to "b" without compromising the AAA rolling resistance rating.
The NANOENERGY is not simply an upgraded version of the AAA-c product. It represents a new approach based on different principles of tire design.
It is the product of Nano Balance Technology, a systematic collaboration of four nano-level element technologies—research, analysis, design and production. Nano Balance Technology was set up about a year ago to provide a comprehensive foundation for technical development at Toyo Tires.
Toyo Tires is committed to making the environmental NANOENERGY line a key part of the overall product range, while continuing to pursue the technology revolution by refining Nano Balance Technology as the way of the future.
■ Product line-up
Product name
Environmental ratings
Sizes
Released
NANOENERGY 1
Rolling resistance performance: AAA
Wet grip performance: b
One size only: 
195/65R15 91H
February 1, 2012
NANOENERGY 2
Rolling resistance performance: AAA
Wet grip performance: c
Ten sizes:
185/65R15 88H  
195/65R15 91H  
205/65R15 94H  
205/60R16 92H  
215/60R16 95H
195/55R16 87V
205/55R16 91V
215/55R17 98V [XL]
215/50R17 95V [XL]
215/45R17 91W [XL]
June 1, 2012
Note
*  About fuel-efficient tires
The logo denotes a fuel-efficient tire that has a rolling resistance coefficient rated at A or better and wet grip performance rated between "a" and "d".
More information about the labeling system can be found on the website of the Japan Automobile Tyre Manufacturers Association at http://www.jatma.or.jp/.
** The labeling system (display) was developed by the tire industry (as represented by the Japan Automobile Tyre Manufacturers Association, JATMA). It sets out pre-defined criteria for fuel-efficient tires in terms of rolling resistance and wet grip performance and is designed to provide consumers with more information about tire products.
Toyo Tire Corporation Corporate Communications Planning Dept.
Hyogo Head office Telephone: +81-72-789-9100 Facsimile: +81-72-773-3272
Tokyo office Telephone: +81-3-5822-6621 Facsimile: +81-3-3865-2240