Press Release
Nov. 05, 2013
Live from SEMA: First-ever Live Global Transmission of SEMA Event!

NITTO to Exhibit at SEMA Show 2013
Osaka, Japan - 1 November, 2013 - Toyo Tire & Rubber Co., Ltd. (Akira Nobuki, president) U.S. tire subsidiary announces that Nitto Tire U.S.A. Inc. ("NTU"; Keiko Brockel, president) will exhibit at SEMA Show 2013*1 in Las Vegas, Nevada over four days from Nov. 5 (Tues.) through Nov. 8 (Fri.).


NITTO Booth Image
The Nitto booth will adopt its silver brand color to present a luxurious, sophisticated image. The exhibit will feature Nitto's newly released NT421Q CUV tire, as well as a first-ever look at the popular Invo tire mounted on a Liberty Walk Ferrari 458 i. The booth will also boast a BMW M3 and off-road racing cars equipped with the NT05, showcasing the global appeal of the Nitto brand alongside the world's top status cars. The booth's giant central display will feature thrilling video of Nitto tires in action in NTU-supported off-road racing.

Newly released NT421Q CUV tire


Liberty Walk Ferrari 458 i equipped with Invo tires.
*This is a conceptual image. The actual car will be different.
Furthermore, as an innovative new project this year, NTU will present "Live from SEMA," a website that utilizes Nitto's strength in social web technology. Using the designated hashtag (#LivefromSEMA), posts by attendees of venue happenings and images of the dazzling vehicles to social media sites will be automatically curated to "Live from SEMA," enabling viewers throughout the world to check out the SEMA activity live. A further unique aspect of this project will be its bidirectional feature of accepting image requests from the around the world. Those unable to attend the event can use the aforementioned hashtag to post requests for images of specific brand vehicles or show areas, and show attendees will in turn capture and share the requested images, thus providing viewers from anywhere in the world the virtual experience of actually being at the show.
Link to "Live from SEMA" website: http://livefromsema.nittotire.com/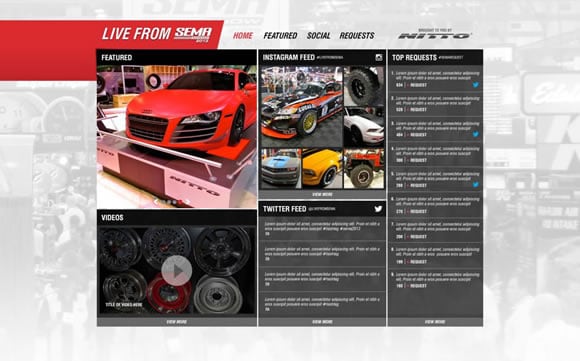 "Live from SEMA" website image
Nitto booth activity will be continuously updated on Facebook. For details, visit the official Nitto Facebook page.
Nitto Tire Facebook page: https://www.facebook.com/NittoTire
*1) SEMA Show
SEMA Show, the world's largest aftermarket parts trade show, is held each autumn by the Specialty Equipment Market Association (SEMA). The show attracts over 2,000 exhibitors from the auto industry showcasing the latest products and cutting-edge technology at a single venue, making the show highly popular as the optimal spot to catch up on latest auto industry trends. Over 100,000 industry participants and buyers from around the world are expected to attend.
Toyo Tire Corporation Corporate Communications Planning Dept.
Hyogo Head office Telephone: +81-72-789-9100 Facsimile: +81-72-773-3272
Tokyo office Telephone: +81-3-5822-6621 Facsimile: +81-3-3865-2240