Press Release
Dec. 01, 2014
Toyo Tires to Produce Original AC Milan Booster Film Made by Fans Worldwide
Film to be Shown at AC Milan's Home Stadium
Osaka, Japan – 25 November, 2014 -Toyo Tire & Rubber Co., Ltd. (Takuji Yamamoto, president) announces that it will produce an original film, titled "Driven to perform. To SAN SIRO." The film will be created by the company as a premium sponsor of the club to promote support of AC Milan of the Serie A Italian soccer league, and will be shown during regular league matches at the team's home stadium.
The film, which was independently planned as part of the company's global branding efforts, will be a callout to AC Milan fans throughout the world to participate in supporting the team, and will be the first such effort of its kind by a club sponsor.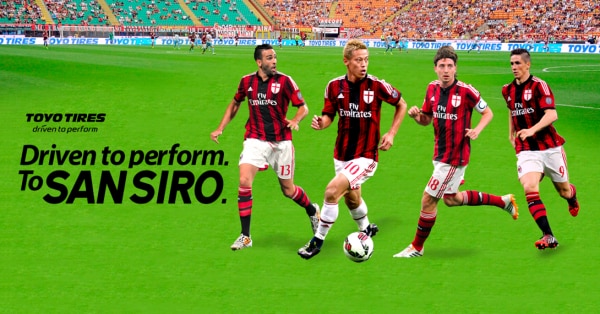 ■"Driven to perform. To SAN SIRO."
The Toyo Tires-produced movie will splice together several-second-long film clips of performances using a soccer ball, in which fans from around the world pass a single ball to one together in support of AC Milan.
Submissions will be solicited worldwide beginning December 1. Film clips submitted using the Instagram photo-sharing service will be released during the submission period starting December 8, and the clips receiving the most votes on Twitter and Facebook will be edited into the movie to support AC Milan.
Toyo Tires will screen the film to rouse support during AC Milan home games contested throughout the latter half of the 2014-2015 season at San Siro stadium, the hallowed grounds of Italian Soccer. Toyo Tires will continue to deliver new surprises to the world.
"Driven to perform. To SAN SIRO." special site: http://toyotires-milan.com/en/ (from December 1, 2014)
■Performance Film Submission Contest Overview
Submission dates: Monday, December 1, to Sunday, December 21, 2014
Voting dates: Monday, December 8, 2014 to Sunday, January 4, 2015
Production release scheduled for the end of January 2015
One winner will be selected among contest entrants in a drawing to receive a uniform signed by the members of AC Milan.
Toyo Tire Corporation
Corporate Communications Dept.
Hyogo Head office Telephone: +81-72-789-9100 Facsimile: +81-72-773-3272
Tokyo office Telephone: +81-3-5780-8158 Facsimile: +81-3-5780-8159