Press Release
Dec. 18, 2014
Toyo Tires' Sales Subsidiary in Thailand to Begin Delivery of Tires Produced at Malaysian Plant
Open Country A25 Adopted as OEM Tire for Nissan's NP300 Navara
Osaka, Japan – 18 December, 2014 - Toyo Tire & Rubber Co., Ltd. (Takuji Yamamoto, president) announces that Toyo's Open Country A25, which is produced at the company's plant in Malaysia*, has been adopted as the original equipment tire for Nissan Motor's new NP300 Navara pickup truck produced in Thailand. *Operation begun May 2013
The tire will be delivered through Toyo Tire (Thailand) Co., Ltd. ("TTT"; Kanji Kasai, president), the company's tire sales subsidiary in Thailand. This will be the first time for TTT to deliver a tire product to a car maker, as well as the first time that a tire produced at the Malaysia plant has been adopted as an original equipment tire.
Tire size: 255/70R16 111H

【left】Malaysia Plant  【right】Open Country A25
Nissan Motor's new 12th generation NP300 Navara pickup truck was developed based on the company's pickup truck production and development knowhow and reliability accumulated over 80 years. Nissan plans to produce and export the NP300 Navara from Thailand and sell it in over 180 countries throughout the world as a pickup truck that caters to the commercial and personal usage needs of all types of customers.
Toyo Tires has positioned Thailand, the largest automobile market in Southeast Asia, as a critical strategic market, and in order to meet the tire demand growing there each year TTT was established in April 2013 as a local sales subsidiary to bolster sales of replacement tires as well as realize and expand the supply of original equipment tires to local car makers.
In Thailand, SUVs and pickup trucks comprise over half of all owned vehicles, and Toyo Tires will continue to demonstrate the superiority of its products and further reinforce its positioning in this category.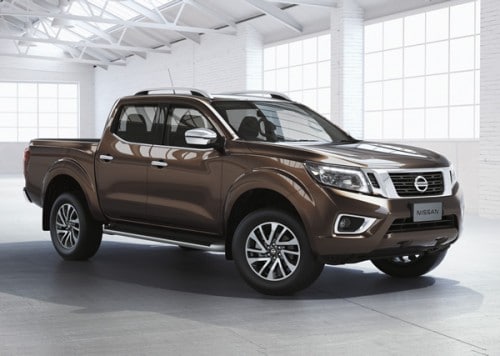 Nissan NP300 Navara
Toyo Tire Corporation
Corporate Communications Dept.
Hyogo Head office Telephone: +81-72-789-9100 Facsimile: +81-72-773-3272
Tokyo office Telephone: +81-3-5780-8158 Facsimile: +81-3-5780-8159