Press Release
Sep. 10, 2015
Documentary Film Produced by Nitto to be Shown on International ANA Flights
Osaka, Japan - 9 September, 2015 - Toyo Tire & Rubber Co., Ltd. (Takuji Yamamoto, president) announces that Nitto Tire U.S.A. Inc. ("NTU"; Keiko Brockel, president) has planned and produced two documentary films as part of the company's CSR initiatives. The films feature individuals who are pioneers in their respective fields, and will be shown inflight on All Nippon Airways (ANA) international flights beginning Tuesday, September 1.
■About the films
The World's First Stewardess: Ellen Church, Flying Nurse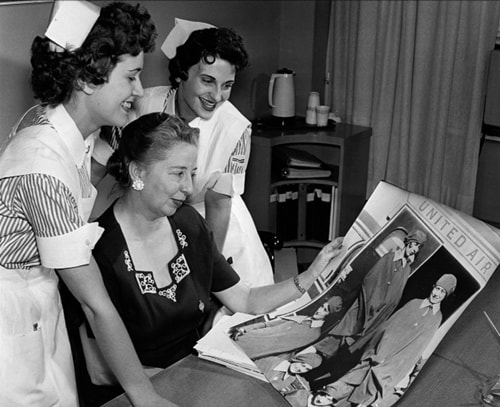 This film introduces the remarkable life of Ellen Church, an American woman who became the world's first stewardess. How did a young woman born in the Midwestern state of Iowa come to take to the skies? Why did she nobly persist in an age when sexual discrimination reigned and women were still regarded as lower in stature? The film documents Church's frustrations from the time of her birth to her proposal to have female cabin attendants on board passenger flights and her life thereafter.
Time: 49 minutes; language: English with Japanese voice-over.
Brain Ball: The Legacy of the Vancouver Asahi
The tale of the legendary Vancouver Asahi Japanese-Canadian baseball team, formed a century ago. This film documents the unknown Asahi baseball team, and features treasured footage of the team's members and people of that time. In order to overcome their larger Caucasian opponents, the Asahi employed a cunning strategy known as "Brain Ball" to outwit their opponents. Their baseball gave hope to the Japanese-Canadian community at a time when they were subject to bitter discrimination, and even attracted non-Japanese fans.
Time: 44 minutes; language: English (Japanese subtitles only).
NTU is a Japanese enterprise with business initiatives based in North America. As one of its CSR activities, the company produces documentary films that introduce to as many people as possible the spirit of fortitude and effort of various historical leaders who paved the way for others as predecessors.
    
(For reference)
■In-flight screening
ANA international flights; September 1, (Tues.) ~ November 30 (Mon.), 2015
* Excluding some aircraft
■Documentary films produced by NTU as CSR initiatives to date
<2011>
Sponsored production of the "The Untold Story of Ralph Carr and the Japanese," which focuses on the life of a politician who had a major impact on Japanese Americans.
Click the link below for details.
https://www.toyotires.co.jp/press/2011/110831.html
<2012>
Produced "Snow Dream – Roots of Sapporo Snow Festival," a documentary that looks at the origin and evolution of the Sapporo Snow Festival held each year in Hokkaido, where the company's winter tire test course is located.
Click the link below for details. 
https://www.toyotires.co.jp/press/2012/120110.html
<2013>
Produced "Journey to Washington," a documentary that looks back at the extraordinary life of congressman Daniel Inouye, who was instrumental in building the foundation for Japanese Americans today.
Click the link below for details.
https://www.toyotires.co.jp/press/2013/130930.html
<2015>
Planned and produced "The Life of Yoshitaro Amano: a Japanese Hero of the Andes," a documentary film that focuses on the life of Yoshitaro Amano, a Japanese businessman and researcher of Andean civilization who was active overseas during the Taisho and Showa eras.
Click the link below for details.
https://www.toyotires.co.jp/press/2015/150227.html
Toyo Tire Corporation Corporate Communications Planning Dept.
Hyogo Head office Telephone: +81-72-789-9100 Facsimile: +81-72-773-3272
Tokyo office Telephone: +81-3-5822-6621 Facsimile: +81-3-3865-2240