Press Release
Dec. 10, 2015
Toyo Tires and AC Milan release second video collaboration
AC Milan players chase down pair of bank robbers in spectacular fashion
Osaka, Japan – December 10, 2015 –TOYO TIRE & RUBBER CO., LTD. (President: Takashi Shimizu),  has teamed up again with world-famous Italian Serie A club AC Milan to create a second collaborative video. Titled 'Chase in Milan by TOYO TIRES', the video is due to be released globally on Thursday, December 10, 2015. https://youtu.be/u3irMAZLe_4
 With an aim towards global branding, Toyo Tires is developing a variety of collaborative campaigns with AC Milan as part of the tire manufacturer's sponsorship agreement. Continuing on from last year's joint effort, this year's video collaboration has again been developed for YouTube and boasts appearances from star players of AC Milan, including Keisuke Honda, Ignazio Abate, Riccardo Montolivo and Mattia De Sciglio.
Set in the streets of Milan, Italy, the video sees a pair of bank robbers come into the path of the AC Milan stars, who quickly take it upon themselves to chase down the runaway bandits. This comes through a good bit of teamwork with Toyo Tires' 'Race Queen', who is in complete control of an Audi R8 that is fully outfitted with Toyo Tires' high-performance PROXES T1 Sport tires.
In addition to all of the nifty teamwork involved, the story is chock full of gorgeous performances in its build-up to the two assailing thieves' arrest. Even the abilities of those from yesteryear become part of the action as legendary former free-kick specialist, and current AC Milan manager, Siniša Mihajlović, winds back the clock.
Most notably with its tire categories for pick-up trucks and SUVs, Toyo Tires has earned high praise in the marketplace for the standout quality of its product lineup – as well as for the power displayed by its tires in off-road rally competitions. Always looking to exceed consumers' expectations and deliver to the world surprises like that from no other brand, Toyo Tires is geared to continue pushing the envelope.
https://www.toyotires.com/

■Key information

■About Toyo Tire & Rubber Co., Ltd.
Toyo Tire and Rubber Co., Ltd. develops its business activities across the globe, focusing on manufacturing and sales of its core products: tyres. With operations in over 100 countries and regions, Toyo Tires deals in numerous automobile components, including tires and seat cushion parts made of urethane, which the company supplies to automotive manufacturers around the world.
■About Toyo Tire & Rubber Co., Ltd and AC Milan
Holding "driven to perform" as its brand statement, Toyo Tire & Rubber saw the same commitment to performance in A.C. Milan, and in April 2014 became the first Japanese company to officially support the team as a Premium Sponsor. The sponsorship agreement is a multi-year deal, covering the 2013–14*, 2014–15 and 2015–16 seasons.
*With the agreement commencing in April 2014, the initial season covered three months: April–June 2014.
■About the PROXES T1 Sport
Designed for European premium sports cars, the PROXES T1 Sport delivers high quality in comfort and increased control in dry and wet conditions.
This is achieved through the introduction of an asymmetric tread design, which additionally allows for a high degree of cornering. Wide straight grooves provide a wide water channel for better hydroplaning resistance while a high-hardness bead filler and improved contact pressure distribution provide total upgrades in linear steering response and braking and cornering performance in both dry and wet conditions.
https://www.toyotires.com/tire/pattern/proxes-t1-sport-ultra-high-peformance-summer-tires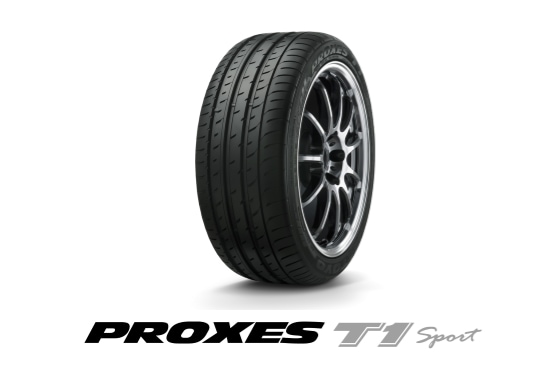 Toyo Tire Corporation Corporate Communications Planning Dept.
Hyogo Head office Telephone: +81-72-789-9100 Facsimile: +81-72-773-3272
Tokyo office Telephone: +81-3-5822-6621 Facsimile: +81-3-3865-2240