Press Release
Sep. 11, 2017
Toyo Tires Develops "noair" – A New Non-Pneumatic Tire
Hyogo, Japan – September 11, 2017 - TOYO TIRE & RUBBER CO., LTD. (President & CEO: Takashi Shimizu) has been conducting research in order to realize new possibilities for automobile tires with an eye on future changes in the mobility society. Toyo Tires announces the development of "noair," a neo-futuristic airless concept tire that does not require any filling of air.


Toyo Tires undertook a fundamental review of the existing "basic structure of pneumatic tires," which cushions impacts from the road surface by supporting the weight of the vehicle by filling the inside with air. Toyo Tires has been researching airless tires since 2006 under a new concept of ensuring the fundamental performance of a tire without the need for it to be filled with air. In May 2012, Toyo Tires introduced a prototype as a reference exhibit at a specialist automobile technology exhibition with the aim of demonstrating some of the technological developments that had been amassed up to that point. *Automotive Engineering Exposition 2012
Fundamental changes in the tire structure from previous prototypes and moving forward with resolving issues has led to substantial improvements in multiple performance indexes as well as making it possible to drive the tires at a practical level. Naming it the "noair" concept tire, Toyo Tires will continue to engage in research with the aim of practical application as well as efforts to advance technological developments.
■Characteristics of noair
For the inner core side, the basic tire structure comprises of special high-rigidity resin spokes to ensure sufficient strength to support the load. Basic tire performance, namely "drive, turn, stop" is also achieved by using a rubber material for the outer tread that comes into contact with the road surface. The section between the spokes and rubber tread, the outer diameter ring is reinforced with carbon fiber reinforced plastic (CFRP) which serves to reduce the load imposed on the spokes.
Previous prototypes supported the load through an "elliptical spoke configuration," but the latest version has evolved into an "X-shaped spoke configuration" that alternately crosses the width of the noair tire from the outside to the inside and vice-versa. Durability has been improved by achieving a completely unique support configuration form.
Furthermore, the number of spokes has been doubled (100 pitch) compared to the previous model, distributing contact pressure, reducing the impact sounds from the spokes that are generated when they come into contact with the ground, and achieves an even more quieter ride.

 
■Evaluation of characteristic values
Durability vastly exceeds the equivalent legal and regulatory requirements for Toyo Tires commercial products* (pneumatic tires) and at least eight times better than previous prototypes.
"Rolling resistance" – which expresses the amount of force that opposes the rotation of the tires – has been reduced by at least half compared to previous prototypes and is 25% better even when compared to Toyo Tires commercial products. On the other hand, superior environment and safety performance levels were also achieved, such as reducing "wet braking distance" – which measures braking performance on wet roads – by 4%. One of the factors underscoring this result was the adoption of fuel efficient tread rubber composed through "Nano Balance Technology," a unique material design core technology used by Toyo Tires when commercializing fuel-efficient tires.
Road noise has been significantly improved compared to previous prototypes, with a level similar to that of current pneumatic tires.
*Toyo Tires commercial products "TOYO TEO+ (Toyo Teo Plus)": tire size 155/65R13, rim: 13×4.5-J, air pressure: 200/220 kPa
*Airless tire: external diameter 540 mm; width 140 mm; rim equivalent to 14 inches
*Evaluations were conducted in-house at a Toyo Tires tire proving ground (Tsuno-cho, Koyu-gun, Miyazaki prefecture).
■Performance on actual cars
According to the results of performance tests conducted by driving the tires on actual cars, where evaluations are made by a designated driver from the Tire Evaluation Development Department, although there are still some issues related to noise within the vehicle and ride quality, handling stability and noise outside the vehicle have been significantly improved, with progress made in narrowing the gap with Toyo Tires commercial products (pneumatic tires) for a majority of the indexes.
■Future prospects
Toyo Tires has made dramatic advances from previous prototypes in terms of tire-related possibilities through technological breakthroughs, such as material selection, unique structural design, enhancement and integration of various technologies, and optimization of the overall balance.
Bearing in mind that this concept tire will soon reach a level where it can be fitted to actual vehicles and driven, in addition to giving this concept tire a name, Toyo Tires is considering shifting from the laboratory-level to a market perspective, such as by creating color variations for the spokes.
When considering a society where futuristic mobility, such as EVs and compact cars, will start forming a section of the market, it is currently expected that the need for maintenance-free tires will increase. Furthermore, as it is thought that transportation vehicles which do not run the risk of flat tires will be more effective from a safety perspective, airless tires that do not require filling up with air show great potential.
Although there are some outstanding issues to be resolved before they enter practical use, Toyo Tires will continue to acquire knowledge from multiple fields through the disclosure of current technological levels as well as further advance research and technological development to open up possibilities in the mobility society.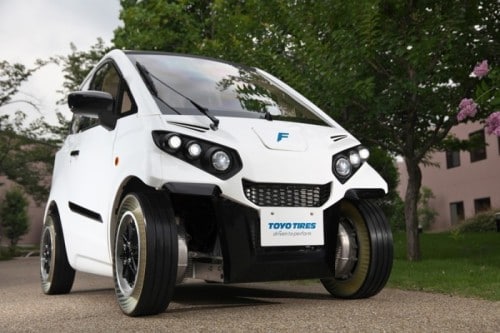 Toyo Tire Corporation Corporate Communications Planning Dept.
Hyogo Head office Telephone: +81-72-789-9100 Facsimile: +81-72-773-3272
Tokyo office Telephone: +81-3-5822-6621 Facsimile: +81-3-3865-2240