Press Release
Aug. 24, 2018
OPEN COUNTRY wins 4th consecutive victory at Asian Rally
Supported teams monopolize first, third and fourth places.
Hyogo, Japan – Month date, 2018 – Toyo Tire & Rubber Co., Ltd. (Headquarters: Itami City, Hyogo Prefecture; President: Takashi Shimizu) announces that a team supplied with and supported by our Open Country M/T tires for SUVs won overall victory (AUTO Class) at the "23rd Asia Cross Country Rally (AXCR, abbreviated term: Asian Rally) 2018", which was held from August 12 to 18 of this year. Furthermore, our OPEN COUNTRY M/T SUV tires have now been mounted on the individual winning car for this rally for four consecutive years since 2015, marking a fourth victory as full-fledged off-road tires designed to meet the challenge of a rally.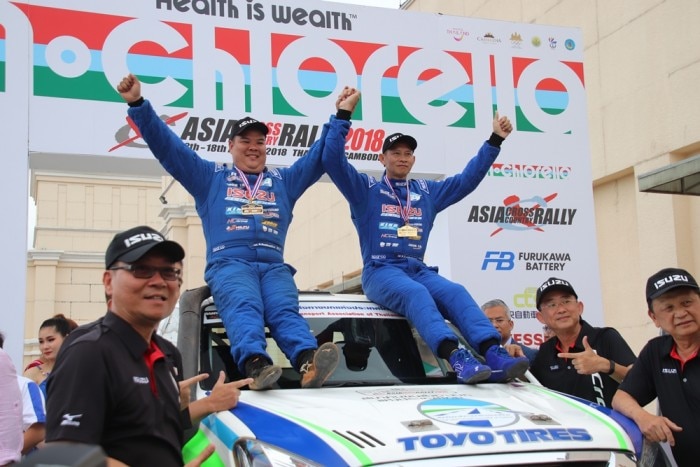 Team Natthaphon Angritthanon was the winner
AXCR is the biggest international rally in Asia, holding an equal ranking with the Dakar Rally in terms of cross-country rallies sanctioned by the Fédération Internationale de l'Automobile (International Automobile Federation, FIA). The Asian Rally, which just celebrated its 23rd anniversary, covers some 2,200 kilometers from the start in Pattaya, Thailand, until the finish in Phnom Penh, the capital of Cambodia, with competitors split into various classes, namely MOTO/QUAD, SIDECAR, and AUTO.
With the rainy season starting in mid-May throughout the region, course conditions proved severe, with muddy roads through the jungles and rocky roads through the mountains.  In order to drive under those conditions, tire performance is a critical factor in determining the outcome of the race.
Not only must these tires perform well on rough roads, but they also need to be tough enough to handle the most extreme off-road driving, in terms of braking and traction performance and resistance to external damage.  As such, Team Natthaphon Angritthanon, which was equipped with our OPEN COUNTRY M/T SUV tires (size: LT235/85 R16) won overall victory in its AUTO Class, while two other teams that were also equipped with OPEN COUNTRY M/Ts, namely Team Sirichai Sricharoensilp and Team Wongwirot Palawat, came in third and fourth respectively. Thus, three of the top four teams were equipped with our OPEN COUNTRY M/T SUV tires.
 
What's more, the "Racing Development FLEX SHOW AIKAWA Racing" team, led by actor Show Aikawa, also successfully completed the race, coming in 16th against the world's top off-road racers while similarly equipped with our OPEN COUNTRY M/T SUV tires.
■ OPEN COUNTRY series
We have accumulated ability and results through continued participation and victories in internationally renowned races, including the "BAJA 1000" – often considered the world's most grueling off-road race, and improved the tire durability and resistance to external damage required for pickup trucks, SUVs and CUVs to a high level. The OPEN COUNTRY series, which combines aggressive pattern design with exceptional basic performance, is highly evaluated and supported as a tire brand – especially in America, where large SUVs are most popular.
■ OPEN COUNTRY M/T
With M/T standing for Mud Terrain, the OPEN COUNTRY M/T is a full-fledged SUV/CCV tire for off-roading with performance and durability designed for driving on any road surface, as well as rough terrain and muddy ground. Its aggressive yet functional tread design contributes not only to driving in poor conditions, but also improves traction and braking performance. An extremely tough tire construction with exceptional resistance to external damage has been achieved by applying the know-how accumulated through such off-road races.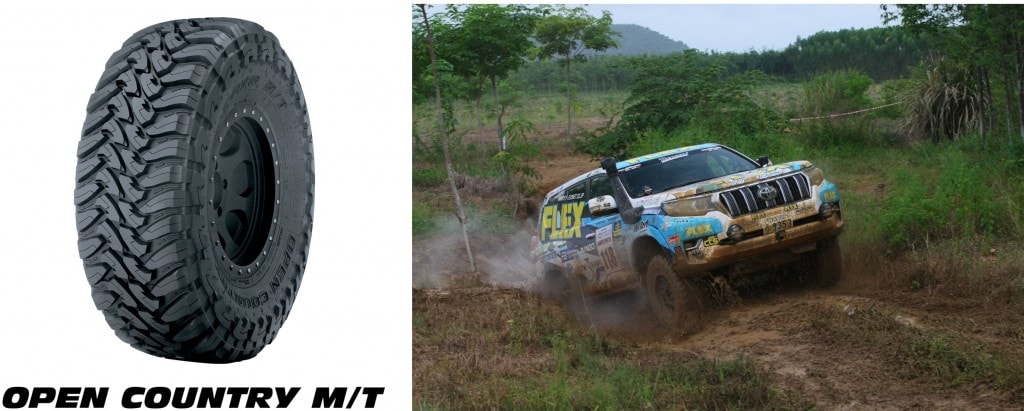 (The Racing Development FLEX SHOW AIKAWA Racing team in action)
■ Reference (Media comments by our supported teams after the race)
"We won by driving to the absolute limit – but it was fun. TOYO TIRES's OPEN COUNTRY M/T provided reliable grip not only on the hard paved roads, but also under many other conditions, which was a major factor."
- The winner: Natthaphon
"I think Show Aikawa could comfortably go flat out and completed the entire rally due to an unwavering trust in the tires. This is surely thanks to OPEN COUNTRY M/T's all-round performance and unfailing grip under any circumstances, regardless of muddy puddles, dry sandy stretches or rain-lashed asphalt, coupled with its enduring toughness."
- Takahiro Yasui, co-driver and navigator for FLEX SHOW AIKAWA Racing
We will continue to offer SUV tires that afford the ultimate value in support of "real driving".
Toyo Tire Corporation
Corporate Communications Dept.
Hyogo Head office Telephone: +81-72-789-9100 Facsimile: +81-72-773-3272
Tokyo office Telephone: +81-3-5780-8158 Facsimile: +81-3-5780-8159