Press Release
Dec. 27, 2018
Complete renewal of the company site and products site
Hyogo, Japan - December 27, 2018 - Toyo Tire & Rubber Co., Ltd. (Headquarters: Itami City, Hyogo Prefecture; President: Takashi Shimizu) conducted a complete renewal of its company site, which communicates information about various business activities nationwide, and its products site, which compiles and communicates tire information developed for the domestic market. Moreover, we would like to announce that a GLOBAL WEBSITE that globally promotes the brand was newly established and made public on 25 December, 2018.
(Company site: top page)
In line with the change of our company name to TOYO TIRE Corporation on January 1, 2019, we have made changes to our company site and products site domain (URL). To align with these changes, we have revamped the design and architecture of the top pages of each of the sites, and we have newly established a GLOBAL WEBSITE URL.
 
Our company has positioned our website as an essential medium that will allow for independent communication with society, and as such, we have conducted a complete renewal of our company site in June 2014. On the company site, in addition to comprehensively displaying our business outline such as management direction, business overview, research and technological development, CSR activities, and products information, various social media content has been prepared so that we can continue to release information about the dynamics of our business activities.
This revision aimed to unify the website design developed for the Western market, based on the TOYO TIRES Global Website Standard that contains measures to make uniform the expression of our brand for an increase in global messaging. In addition, this was meant to rearrange the content and build information, taking into account the site visitor's experience. At the same time, we implemented the strengthening of the systems that distribute access burdens and other matters.
The TOYO TIRES Global Website Standard that was launched in October 2018 was positioned as an essential communication platform so that the brand can connect with many people. In addition to the visual component and text, we based the concept of the redesign on the "creation of experience", which will uniformly provide a message, from the site's information architecture to interactions.
Based on this, with the renewal of the company and products sites and the newly established GLOBAL WEBSITE, we aimed for the those who visit to feel sympathy with the "value of TOYO TIRES" along the lines of technology, passion, and ideas, and we made efforts to measure the actual comprehension of such ideas.
■ Main Renewal Points for This Time
 ・Company site(Japanese)
The company site was renewed to rearrange information and the design so that we can provide a clear and accurate brand value to visitors to the website who had interest in our overall business activities. For example, on the research and technological development page, while incorporating information and data that scientifically supports the platform technology for rubber materials design and that for tire design, which are key technologies of our company, the information was reorganized so that visitors could better understand our company's unique use of technology.
(company site: research and technological development)

 ・TOYO TIRES Tire Products Site(For Japanese Domestic Market)
On the products site, several areas were improved to further make the user experience comfortable. For example, with the tire search system, efforts made for the screen transition were evaluated, from the insertion of the search criteria to the retrieval of results. The design was renewed so that it could provide the most optimal information with the least number of steps from the top page.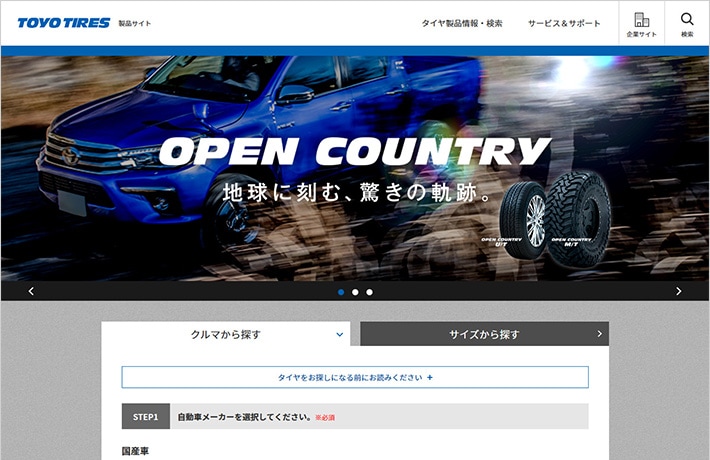 (TOYO TIRES Tire Products Site: tire search system)

・GLOBAL WEBSITE
The English site, which had been made available as an extra feature on our company site until now, was made into an independent, newly established GLOBAL WEBSITE, with the aim to strengthen the information communicated to stakeholders worldwide including those in countries and regions with which TOYO TIRES had few connection points in the past. In addition, this global site also aims to strengthen the guidance of visitors to each of the various regional websites that our company has developed overseas.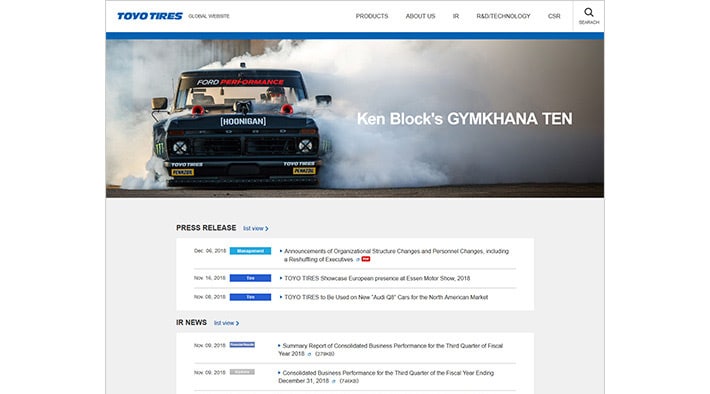 (TOYO TIRES Global Website: top page)
Toyo Tire Corporation
Corporate Communications Dept.
Hyogo Head office Telephone: +81-72-789-9100 Facsimile: +81-72-773-3272
Tokyo office Telephone: +81-3-5780-8158 Facsimile: +81-3-5780-8159
Press Release is intended for media purposes, and is current of the date of publication.
Information is subject to change with or without notice.