Press Release
Apr. 03, 2019
"PROXES Sport SUV" Tire Ranked Highest in Russian Auto Magazine

Hyogo, Japan – April 3, 2019 – Toyo Tire Corporation (Headquarters: Hyogo, Japan; President: Takashi Shimizu) announces that the company's "PROXES Sport SUV" premium tire was ranked highest in the summer SUV tire test conducted by Russian auto magazine "AutoReview".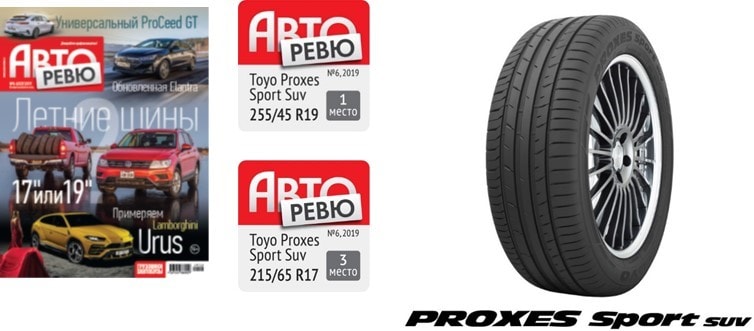 "AutoReview" in which the tire test was published 
 (March 18, 2019 edition)
"AutoReview" is Russia's leading automotive magazine, known for establishing an objective car safety assessment program (ARCAP) and publishing the results in the magazine.
This recent tire test equipped European SUVs with high-performance summer tires and assessed the performance of the same product in two different sizes*.         ※255/45 R19 104Y XL, 215/65 R17 99V
In addition to high wet grip performance on wet surfaces and excellent handling on dry surfaces, the TOYO TIRES "PROXES Sport SUV" premium tire received high marks for features such as its tough side-cut resistance in a side impact test, coming in first in the 19-inch tire category and third in the 17-inch category.
The "PROXES Sport SUV" tire has an "A" in wet grip performance, the highest grade possible in the European tire labeling system. In order to achieve even higher quality on-road SUV drive, TOYO TIRES uses proprietary computer simulation technology to create a higher degree of balance among various performance features such as dry handling, wet handling, wet grip, tread life, and skid resistance.
Toyo Tire Corporation Corporate Communications Planning Dept.
Hyogo Head office Telephone: +81-72-789-9100 Facsimile: +81-72-773-3272
Tokyo office Telephone: +81-3-5822-6621 Facsimile: +81-3-3865-2240
Press Release is intended for media purposes, and is current of the date of publication.
Information is subject to change with or without notice.