Press Release
Mar. 18, 2019
TOYO TIRES Announces New Team in the 2019 D1GP Series
Hyogo, Japan – Month date, 2019 – Toyo Tire Corporation (Headquarters: Itami City, Hyogo Prefecture; President: Takashi Shimizu) announces that a new team has been assembled to compete in the "2019 D1 Grand Prix Series (D1GP)" drift competition* opening at the Tsukuba Circuit (Ibaraki Prefecture) on Saturday, June 29, 2019.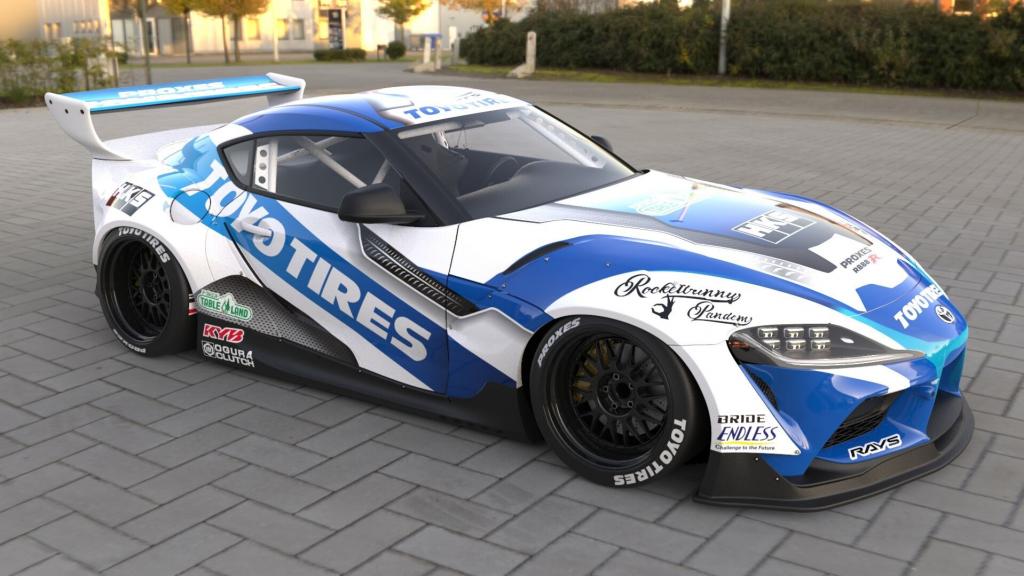 (Masato Kawabata will drive The Supra : CG image)
TOYO TIRE formed its "Team TOYO TIRES DRIFT" team in 2007 and has been competing in the D1GP ever since. In 2019 the new team will consist of three drivers: Masato Kawabata (ranking 2018 TANSO Champion), Hideyuki Fujino (2018 third-place TNASO finisher) and Daychapon Toyingcharoen (Kingdom of Thailand). Each driver's racing suit and the vehicle color design has been updated to improve the visibility of the "TOYO TIRES" brand. Unified as one team, the drivers and crew will battle hard throughout the planned 7-stage event.
Moreover, Masato Kawabata will also be driving a new car based on the new Toyota Supra, which will be released in Japan this spring.
Masato Kawabata and Hideyuki Fujino are both former D1GP champions, while Daychapon Toyingcharoen is also a Thai drift series champion. We hope that you will join us in cheering on the popular, world-class 2019 "Team TOYO TIRES DRIFT."
*: Drift Competition
A motor competition in which drivers cause the racecar's wheels to slide, and the outcome is determined based on sliding technique, visual quality of driving, and performance delivered to the crowd. Drift drivers perform at a level that exceeds the limits of normal driving and racing, cutting their steering wheels in the opposite direction the car is turning in order to control their cars with an unparalleled level of balance. Compared to other motorsport races and rally competitions, the outcome is determined much more by the skill of the drivers than the performance of the machines.
 
■ New team drivers for 2019
(From left to right: Hideyuki Fujino, Masato Kawabata and Daychapon Toyingcharoen)
(For Your Reference)
■2019 Exhibition Match(Scheduled)
| | |
| --- | --- |
| Mar. 23(Sat)& 24(Sun) | Exhibition Match Odaiba Special Venue Tokyo |
■2019 D1 Grand Prix Series(scheduled)
| | |
| --- | --- |
| Jun. 29(Sat)& 30(Sun) | Round 1 & 2 Tsukuba Circuit Ibaraki |
| Jul . 27(Sat)& 28(Sun)  | Round 3 & 4 Tokachi Speedway Hokkaido |
| Aug. 24(Sat)& 25(Sun) | Round 5 & 6 Ebisu Circuit Fukushima |
| Nov. 2  (Sat)~  3(Sun)  | Round 7 Autopolis Oita |
Toyo Tire Corporation Corporate Communications Planning Dept.
Hyogo Head office Telephone: +81-72-789-9100 Facsimile: +81-72-773-3272
Tokyo office Telephone: +81-3-5822-6621 Facsimile: +81-3-3865-2240
Press Release is intended for media purposes, and is current of the date of publication.
Information is subject to change with or without notice.