Press Release
Nov. 15, 2019
The Largest Custom Car Show in Europe

Exhibit at Essen Motor Show
Hyogo, Japan – November 15, 2019 – Toyo Tire Corporation (Headquarters: Itami City, Hyogo Prefecture; President&CEO: Takashi Shimizu) announces that its European sales subsidiary company, Toyo Tire Europe GmbH (President: Kenta Kuribayashi), will have a TOYO TIRES booth at the Essen Motor Show to be held in Essen, Germany from November 29 (Fri.)* through December 8 (Sun.) of this year.
* November 29 (Fri.) is Preview day.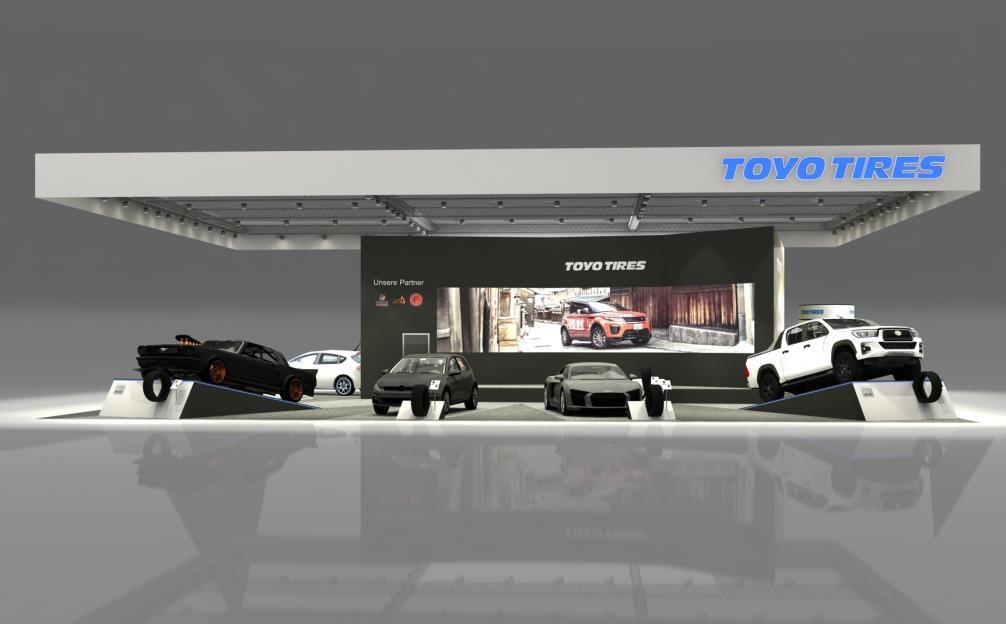 (Image of the booth)
The "Essen Motor Show" is Europe's largest custom car show, where over 500 automotive companies exhibit and promote unique custom cars and the latest aftermarket parts to approximately 360,000 visitors.
This year's TOYO TIRES booth will exhibit vehicles such as the original demo car that was also featured at TOKYO AUTO SALON 2019, the "TOYOTA Hilux" mounted with "OPEN COUNTRY M/T" tires, as well as the custom car that was used by the global rally driver Ken Block in his "CLIMBKHANA" video, the "HOONICORN V2" mounted with "PROXES R888R" tires, and highlight the worldview of the TOYO TIRES brand.
In addition, there will also be tires exhibited, including the new product of winter tire "OBSERVE S944" that was released this year for the European market. A total of ten kinds of tires, including the tires mounted on vehicles, will be exhibited to introduce a wide-ranging product lineup that is available on the market.
While the event is being held, on December 7th and 8th, Ken Block himself will make his way to Germany, and is scheduled to participate in events such as talk shows and autograph signings.
This fall, TOYO TIRES established the "Europe R&D Center" (Germany) as its technology development site in Europe, where cutting-edge automotive information is gathered. From January 2022, the company is also planning to start operations at its new tire plant (Serbia), which will be a state-of-the-art smart plant that utilizes IoT. Going forward, in anticipation of high performance/high value-added products being developed and manufactured in Europe, TOYO TIRES is striving to increase its brand presence in the European market.
 
 ■ Essen Motor Show Profile
   Dates: November 29 (Fri.) through December 8 (Sun.) 2019 (November 29 (Fri.): Preview day)
   Location: Messe Essen in Essen, Germany
   TOYO TIRES Booth: Hall 3 Booth 3A29
End
Toyo Tire Corporation
Corporate Communications Dept.
Hyogo Head office Telephone: +81-72-789-9100 Facsimile: +81-72-773-3272
Press Release is intended for media purposes, and is current of the date of publication.
Information is subject to change with or without notice.