Press Release
Feb. 25, 2020
Visualization of tire force using AI/digital technology

Toyo Tire's Tire Sensing Technology Concept
Hyogo, Japan – February 14, 2020 - Toyo Tire Corporation (Headquarters: Itami City, Hyogo Prefecture; President & CEO: Takashi Shimizu; hereinafter, "Toyo Tire") announced that it has developed tire sensing technology that visualizes tire performance while driving in real time by using AI and digital technologies to detect information on the tire conditions including tire wear and load, and road condition which changes due to weather and other.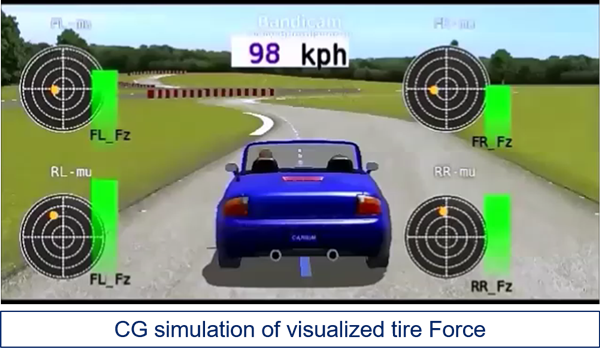 A mobility society is facing an age of CASE*1, automotive tires will need to become more intelligent information and communication functions, offer enhanced precision and operations management for vehicle control, and provide information to support maintenance.
As the core technology to achieve this, Toyo Tire is moving forward with the concept of creating new added value by developing sensing technology. Tires are the only part of a car that is in contact with road surface. So, Toyo Tire is found out to be useful to take in various data from the tires using themselves as a device.
*1:CASE is an acronym for Connected/Autonomous/Shared & Service/Electric. This acronym reflects four major trends that embody the state of changes in the automotive society.

Toyo Tire has developed a sensing technology whereby sensors are attached into the tires to detect road conditions while driving and the condition of the tires. This technology estimates limit for tire performance (grip) via sophisticated arithmetic processing of array of acquired information. In accordance with this, this technology will make it possible to detect and visualize data to ascertain whether the scope of performance and tire force*2 being exerted during driving to request level to handle actual road conditions the vehicle is travelling on.
*2:Actual tire performance (Toyo Tire's unique designation) estimated based on air pressure, temperature, road surface detection, load, frictional wear and irregularity data input from a car's tires.
 
In this manner, should the technology be able to make tires function as an information acquisition device, utilize the obtained data, and detect tire performance limit of the performance as well as current performance real time for individual vehicles. This could potentially be linked to the vehicle to contribute to the achievement of higher precision cruising stability and surport to avoid dangers on the road.
Toyo Tire plans to move ahead with open innovation to integrate this tire sensing technology it has built with various external detecting and other technologies to contribute to further advances in mobility.
■Technology for detecting tire force
The concept of Toyo Tire's tire sensing technology is to serve as a base technology that contributes to high precision driving, including safety by having tires function as an information acquisition device. Further our technology furthermore extract "performance required of tires to address road surface conditions while driving" and "actual performance being exerted while driving" based on the information detected.
It will be possible to calculate this tire performance by establishing a tire force estimation model that approximates the output in the form of tire force by inputting the information acquired from sensors attached to the tires into this model. The company plans to link this to the vehicle by combining the tire force estimation model with other devices in the vehicle.
This tire force estimation model is built using data analysis and AI which is similar to those technologies that recognize, process and respond to voices or images, including smartphones. This was established in partnership with SAS Institute Japan*3.
*3:Leading company in analytics to implement the introduction of sophisticated IoT solutions and use of AI technology in a wide array of industries via innovative software and services
   (https://www.sas.com/ja_jp/home.html)
■Tire force estimation model
To build the tire force estimation model which uses data analysis and AI, we used traning data attained by synching the tire sensors with various measuring devices attached to the vehicle and its tires/wheels.
After achieving POC (Proof of concept), we confirmed the possibilities of this model, gathered training data set under various conditions, repeated trial and error on learning methods, and continued with development.
At present, we have successfully used this model to estimate and detect tire force on our test course. Toyo Tire is currently gathering tire force data in real time using sensors mounted onto actual vehicles while driving on public roads.
The achievement of this technology would not only contribute to the safety and security of mobility but expand the potential of creating new added value by detecting how tires are used.
The company's goal is not to simply obtain data using sensors. As a tire manufacturer, Toyo Tire aims to support the safety and security of mobility with its tire performance detecting technology, which is the company's sensing technology concept, while also expanding its possibilities as a new business model.
【Notification】
We introduce the scripts of our open session, "The possibilities opened by Tire Sensing," held on February 7, 2020.
<Presentaition>
https://www.toyotires-global.com/rd/data/2020/200207_script1_e.pdf
<Panel discussion>
https://www.toyotires-global.com/rd/data/2020/200207_script2_e.pdf
<Q&A>
https://www.toyotires-global.com/rd/data/2020/200207_script3_e.pdf
Toyo Tire Corporation
Corporate Communications Dept.
Hyogo Head office Telephone: +81-72-789-9100 Facsimile: +81-72-773-3272
Press Release is intended for media purposes, and is current of the date of publication.
Information is subject to change with or without notice.