Press Release
Apr. 02, 2020
Toyo Tire Signs a Strategic Partnership with JAOS
Hyogo, Japan – April 2, 2020 - Toyo Tire Corporation (Headquarters: Itami City, Hyogo Prefecture; President & CEO: Takashi Shimizu; hereinafter, "Toyo Tire") announced that it has signed a strategic partnership agreement with JAOS Corporation (Headquarters: Kita-Gunma-gun, Gunma; President: Daijiro Akahoshi; hereinafter, "JAOS").
JAOS, a comprehensive automotive components manufacturer, supplies original accessories for SUV and 4WD. JAOS also supplies as an OEM vender for automotive manufactures based on its well-earned reputation in the automotive aftermarket. To increase its brand recognition and new product development, JAOS has participated in a number of off-road races both in Japan and overseas, including the Asia Cross Country Rally with numerous impressive results.
Toyo Tire remains committed to product development and capacity ramp-up of SUV tires in order to
expand sales of its SUV tire brand "OPEN COUNTRY."
Toyo Tire and JAOS aim to increase the value of their brands in the SUV and 4WD market around the world through mutual collaboration in marketing activities. The two companies will leverage their aggregate knowledge gained through joint participation in motorsports events and original product testing, for delivering products with enhanced appeal to the market.
Hereby, Toyo Tire and JAOS have agreed to sign the partnership agreement for building a mutually complementally relationship of their strengths, and further enhancing their respective corporate value in the SUV market.
■about JAOS Corporation
Established in 1985, JAOS Corporation is a comprehensive automotive components manufacturer for SUV and 4WD. With the release of multiplied hit products, including a large-sized grille guard "JAOS Bull Bar" and the standard for customized suspension "BATTLEZ Suspension Series," it successfully scaled up its reputation in the 1990s RV (recreational vehicle) boom in Japan. JAOS has established a unique position as an automotive component manufacturer by strengthen its marketing activities and product development that targeting the needs of the SUV and 4WD aftermarket, which also sets itself as an OEM supplier for auto manufacturers in present day.
 
■ Mitsubishi DELICA D:5 JAOS Style          ■ Suzuki Jimny SIERRA JAOS Style
  (tires: OPEN COUNTRY R/T)                                 (tires: OPEN COUNTRY M/T)
■Toyota HILUX TEAM JAOS 2020ver. (Design image of our race cars)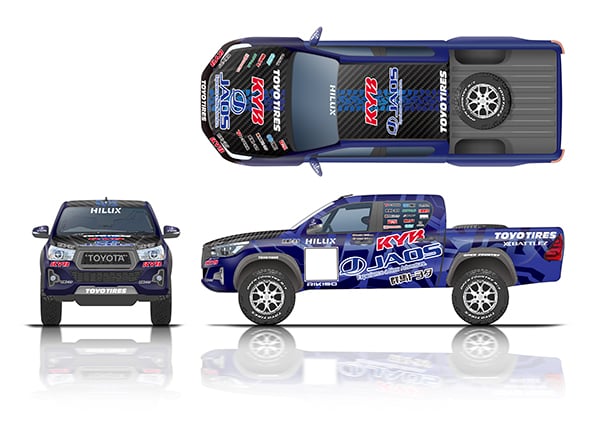 Toyo Tire Corporation
Corporate Communications Dept.
Hyogo Head office Telephone: +81-72-789-9100 Facsimile: +81-72-773-3272
Tokyo office Telephone: +81-3-5822-6621 Facsimile: +81-3-3865-2240
Press Release is intended for media purposes, and is current of the date of publication.
Information is subject to change with or without notice.