Press Release
Jul. 22, 2020
A Brand New Maintenance Solution for Logistics Support

Toyo Tire Develops a Model Estimating Tire Conditions for Trucks and Buses
Hyogo, Japan - July 22, 2020 - Toyo Tire Corporation (Headquarters: Itami City, Hyogo Prefecture; President & CEO: Takashi Shimizu; hereinafter, "Toyo Tire") announced today the development of the system that monitors changes in conditions of tires installed on trucks, buses, and other transport vehicles and automatically gathers data on the driving conditions of individual vehicles. Also developed an AI-programmed model that estimates the state of use (wear) of tires based on the data gathered by the system, as well as external information, including manufacturer data on each tire and weather parameters.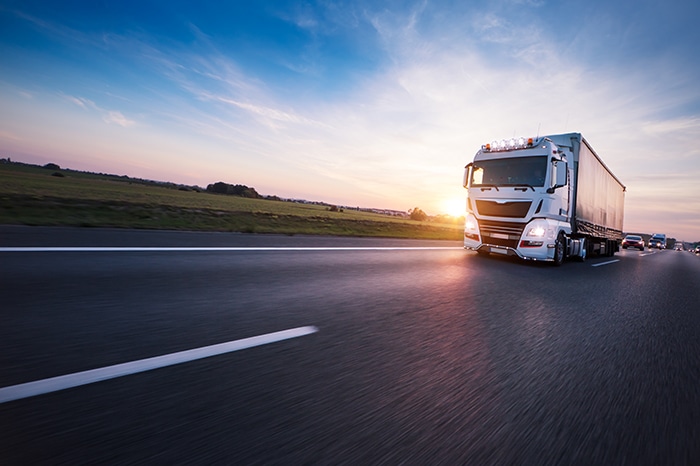 ※Unauthorized copying and replication of this image are prohibited.
■ A new maintenance solution for logistics service
Many transport service providers are taking a variety of approaches in the pursuit of economic rationality, with a primary focus on "seeking greater safety and efficiency in logistics." Knowing that "conducting proper maintenance at the right time" is the surest way to maximize safety and efficiency, they rely on both internal and external resources to keep abreast of the service situation of their vehicles, which varies from one vehicle to another, and conduct detailed inspections.
As a tire manufacturer, Toyo Tire knows the paramount importance of proper tire maintenance. As such, we have continuously explored possible approaches that satisfy both the safety and efficiency of logistics service. A common practice in the transport industry is that engineers use devices to manually measure the tread depth of individual tires to check for wear every one to three months. In a vast improvement to this cumbersome process, this innovative estimation model monitors the use conditions of tires to achieve proper maintenance without having to physically take measurements.
Going forward, we are hoping to develop this model into a full-fledged business for transport service providers and offer incidental maintenance support that only a tire specialist can.
We believe that this maintenance solution will also address other issues customers might have, such as safety and cost reduction, as it tells them when to replace and rotate their tires, provides the optical driving routes, and gives them tips on driving so that they can extend the lifespan of their tires, while at the same time allowing us to recommend tires that meet their specific needs.
■ The automated tire information gathering system for trucks and buses
A brand new offering from Toyo Tire, this automated gathering system uses sensors installed on wheels of trucks, buses, and other transport vehicles (TPMS*1) to automatically gather data on tire conditions, such as air pressure and internal temperature. Together with such input from tires, this unique system creates cloud stores of real-time information on location and acceleration by using the global positioning system (GPS).
The amount of wear and aging patterns of tires vary considerably depending on the service details of each vehicle. This system automatically gathers and stocks the set of information needed to increase the estimation accuracy of tires' conditions. With this original system, Toyo Tire aims to realize a scheme for transport businesses to utilize this real-time data for the maintenance of their vehicles.
*1)TPMS:Tire Pressure Monitoring System  Uses sensors with a built-in transmitter to monitor the air pressure and internal temperature of tires while driving.
■The tire use (wear) state estimation model for trucks and buses
This estimation model combines the data gathered in the automated tire information gathering system with tires' manufacturer data and weather and other data from external databases, and uses AI to analyze the data thus aggregated, making it possible to estimate and detect the tires' use conditions with higher accuracy.
After a series of demonstrative experiments, Toyo Tire has come up with this model, which allows ransport service providers to digitally estimate use conditions of tires of their transport vehicles — that is, the extent of tire wear, which varies depending on the service details of individual vehicles — without taking measurements of each tire.
■ A conceptual diagram of our maintenance solution
(Reference)
■ Toyo Tire's innovation partner
Toyo Tire teamed up with Nihon Tata Consultancy Services Co., Ltd. (President: Hiromichi Kakihara)*2 for the deveiopment of the automated tire information gathering system for trucks and buses and SAS Institute Japan Ltd. (Representative Director: Tetsuya Hotta)*3 for the development of the tire use (wear) state estimation model for trucks and buses, respectively.
We will continue to consider building the provision of such maintenance solutions as a business model.
*2) Nihon Tata Consultancy Services Co., Ltd, which is a member of the Tata Group, is committed to the transformation, simplification, and enhancement of customers' business. A global company that provides IT services, consulting, business solutions, and digital solutions, with a unique delivery system (Location Independent Agile delivery model) in which multiple teams distributed around the world collaborate and effectively promote agile development. Has achieved outstanding speed and quality. (https://www.tcs.com/jp-ja/Corporate)
*3) Leading company in analytics to implement the introduction of sophisticated IoT solutions and use of AI technology in a wide array of industries via innovative software and sevices. (https://www.sas.com/ja_jp/home.html)
■ Toyo Tire's unique advantage made possible by digital technology
In developing tires, we tap into two sets of base technologies: one is for the development of materials from scratch, and the other is for product design by using state-of-the-art simulation technology. In each case, we push the boundaries by continuously introducing next-generation technologies, as we proactively use MI*4 and AI and optimize material structures on the nano level. In addition to the ongoing efforts to realize the smart factory concept through the use of the Internet of Things (IoT) at our production sites, we aim to achieve an organic linkage among digital data at customer contacts by, for example, pursuing a plan to develop "sensing tires" by highly evolving the inherent functions of tires and realizing new maintenance solutions like the ones mentioned above. Our goal here is to form a "loop of added value," which involves feedback of data on the status of use by customers to the materials development team and tire design team, which in turn should optimize production, thus beginning the loop anew.
*4) MI:Short for materials informatics, which increases efficiency in searching for new and alternative materials that would otherwise be unidentified by using AI and other technologies.
Toyo Tire Corporation
Corporate Communications Dept.
Hyogo Head office Telephone: +81-72-789-9100 Facsimile: +81-72-773-3272
Tokyo office Telephone: +81-3-5780-8158 Facsimile: +81-3-5780-8159
Press Release is intended for media purposes, and is current of the date of publication.
Information is subject to change with or without notice.