Press Release
Sep. 24, 2020
TOYO TIRE Supports Teams for Drivers Competing in the SCORE Baja 500 with OPEN COUNTRY
Hyogo, Japan — September 17, 2020 — Toyo Tire Corporation (Headquarters: Itami City, Hyogo Prefecture; President & CEO: Takashi Shimizu; hereinafter, "Toyo Tire") announces that it will team with its U.S. tire sales subsidiary, Toyo Tire U.S.A. Corp., (hereinafter "TTC") and its Mexican tire sales subsidiary, NT Mexico S. De R.L. De C.V., (hereinafter, "NTM"), to supply Toyo OPEN COUNTRY M/T-R tires, designed for pickup trucks and SUVs, to support the performances of the teams of drivers competing in the 52nd SCORE Baja 500, to be held in Baja California, Mexico over four days from Tuesday, September 22 through Sunday, September 27th.

(Left: Andy McMillin's truck; right: Robby Gordon's vehicle)
SCORE Baja 500 is held in June each year and is known as one of the world's most challenging off-road racing events. This year, however, the event is taking place in September due to the impact of the COVID-19 pandemic.
Participating vehicles start from San Felipe, a town on the Baja California Peninsula of Mexico, and run the entire course of 500 miles (approx. 800 km) at high speeds over heavily undulating desert terrain and rocky mountain ranges. Finishing the sandy and rocky course within the time limit calls for not only excellent driving technique but also a vehicle equipped with highly durable tires that deliver race-winning performance.
Toyo Tire will supply Toyo OPEN COUNTRY M/T-R tires, a specially tuned racing version of the OPEN COUNTRY M/T tires that are highly rated in the U.S. for pick-up trucks and SUVs geared for serious off-road driving. The OPEN COUNTRY series has undergone years of development based on technical feedback and experience accumulated through off-road races in various parts of the world. It supported the overall winner of last year's SCORE Baja 500 with a tread that provides improved traction, braking, and driving performance over hazardous terrain and a structurally tough design for high resistance to external damage.
In this year's race, Toyo Tire has its eye set on an overall win as it is supplying OPEN COUNTRY M/T-R tires to Andy McMillin (last year's overall winner of the SCORE Baja 500 and this year's hopeful for a back-to-back victory), and Alan Ampudia (overall winner in his own home town for the SCORE Baja 1000), as well as vehicles competing for teams that have support agreements with Toyo Tire, TTC, and NTM.
* Watch last year's race action on YouTube.
YouTube: https://www.youtube.com/watch?v=aieYIhToTEw
[Reference information]
■ Supported Drivers

■ OPEN COUNTRY Series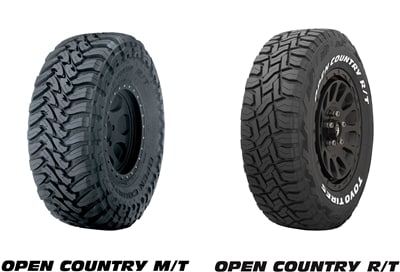 The OPEN COUNTRY Series is Toyo Tire's flagship brand targeting the SUV market. Toyo Tire has helped vehicles equipped with OPEN COUNTRY tires to achieve outstanding results numerous times in international races, giving us the opportunity to hone durability and resistance to external damage to a high degree of perfection. The excellent basic performance and aggressive pattern design is highly rated in the U.S., where large SUVs are particularly popular.
Toyo Tire Corporation
Corporate Communications Dept.
Hyogo Head office Telephone: +81-72-789-9100 Facsimile: +81-72-773-3272
Tokyo office Telephone: +81-3-5822-6621 Facsimile: +81-3-3865-2240
Press Release is intended for media purposes, and is current of the date of publication.
Information is subject to change with or without notice.