Press Release
Feb. 25, 2020
Establishment of Real-time Simulation and Snow Prediction Technology Using T-MODE
Hyogo, Japan – February 25, 2020 – Toyo Tire Corporation (Headquarters: Itami City, Hyogo Prefecture; President & CEO: Takashi Shimizu hereinafter, "Toyo Tire") announces that it has established real-time simulation and snow prediction technology using the T-MODE automotive tire development process, which integrates CAE*1 and AI.
*1CAE: Computer Aided Engineering
 ■Real-time simulation technology which uses machine learning
In 2000, Toyo Tire established the original version of T-mode, an automotive tire development platform. In July 2019, the company announced an advanced, systemized version, in the form of T-MODE, an evolved automotive tire development process.
In the conventional development process, design specs are input and a simulation is run. The design specs are revised and the simulation process is performed repeatedly until the calculated performance values achieve the targeted performance. The more frequent this process must be conducted, the longer the overall process term is. Toyo Tire succeeded in integrating various data accrued from simulations run thus far in T-MODE utilizing SPDM*2.
By using this data and inputting the design specs into the system, we are able to immediately predict tire performance values through AI. Owing to this, Toyo Tire established epoch-making real-time simulation technology.
In addition, for the establishment of this technology, Toyo Tire conducted joint research with Osaka University*3. A hierarchical diagram was prepared which transects tire design specs and tire performance in accordance with design engineering concepts. Based on this, the company succeeded in the visualization of the relationship between tire design specs and tire performance by using data science methodologies. In light of this connection, machine learning was implemented based on the simulation data. Consequently, this made it possible to conduct calculations in a short time and make precision predictions.
*2SPDM:Simulation Process and Data Management. This is an infrastructure system that centrally manages various data and shares standardized processes.
*3Osaka University, Graduate School of Engineering, Department of Mechanical Engineering, joint research with Associate Professor Shintaro Yamasaki, Assistant Professor Kentaro Yaji, and Professor Kikuo Fujita.
【Tire Design Specs & Performance Hierarchy Structure (Conceptual Diagram)】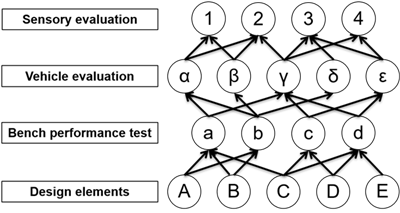 【Comparison Rolling Resistance of Predicted & Actual Values*4】
*4After inputting design specifications, a comparison was conducted of predicted values calculated in real time (horizontal axis) and actual values derived from simulations (vertical axis).
■Snow prediction technology
Previously, Toyo Tire established a method for predicting the snow traction performance of a tire in specific types of snow quality (fresh snow, slush). However, by using the newly evolved simulation platform technology of T-MODE, it is now possible to predict with a high level of precision the snow traction performance of a tire in the actual environment it is being used.
To measure the shear resistance force*5 from snow in the actual conditions of use, Toyo Tire received knowhow from Tokyo University of Marine Science and Technology, Nagaoka University of Technology, and National Institute of Technology, Nagano College*6. Joint development was carried out of the measurement method and measurement was conducted. This facilitated testing conducted with an experimental analysis system for annular shear characteristics to measure the shear force working between tire rubber and natural snow, taking into account load and speed factors during driving and braking.
Owing to this, Toyo Tire succeeded in the visualization of deformation in block during driving and braking in various environments in which tires are used. This enables proper consideration of tread patterns that suit the environment in which the tires are used.
The newly established snow prediction technology will be used to develop new products.
*5Shear resistance force: The tire, which has a large block and deep grooves in the ground contact area, treads down the snow and there is resistance from the snow when the tire shears in the direction of the contact area.
*6Joint research with Toshikazu Fujino, associate professor at Tokyo University of Marine Science and Technology, Masajiro Abe, professor at Nagaoka University of Technology, and Kenji Yanagisawa, associate professor at National Institute of Technology, Nagano College.
【Traction analysis】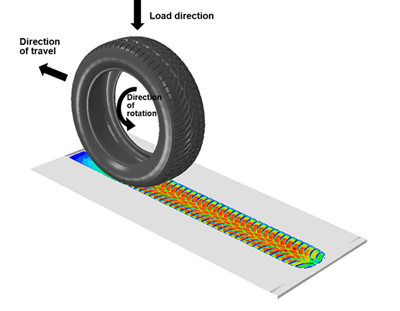 【Deformation of Sipes When Applying Traction】
Toyo Tire aims to continue carefully analyze ever-changing market trends to develop products that differentiate from rival products by using the evolved T-MODE while fully leveraging its unique resources.
Toyo Tire Corporation
Corporate Communications Dept.
Hyogo Head office Telephone: +81-72-789-9100 Facsimile: +81-72-773-3272
Tokyo office Telephone: +81-3-5822-6621 Facsimile: +81-3-3865-2240
Press Release is intended for media purposes, and is current of the date of publication.
Information is subject to change with or without notice.