Press Release
Mar. 25, 2021
Unveiling an Off-Road Version Corporate Visual, "Ignite your BLUE"
Hyogo, Japan – March 25, 2021 – Toyo Tire Corporation (Headquarters: Itami City, Hyogo Prefecture; President & CEO: Takashi Shimizu; hereinafter, "Toyo Tire") announced today that it has created a new corporate visual capturing the world perspective and messages that the TOYO TIRES brand hopes to convey.

As of April 2020, Toyo Tire has embraced the key phrase "Ignite your BLUE," superimposing an emotional image of "human's innermost passion is burning like a blue flame" onto the goal of the TOYO TIRES brand and conveying the message globally through visuals and advertisements. 
On this occasion, the company has spotlighted large SUV tires, which are its strength area, attaching the "OPEN COUNTRY M/T" to a pickup truck and creating an off-road version visual.
Based on Toyo Tire's blue corporate color, the corporate visual shows people continuing to make challenges and a car bravely speeding forward in the great outdoors, expressing the Toyo Tire Group's brand statement indicating its frontier spirit, "Open Roads Await."
This new corporate visual will be released through the Web on a special page on the Toyo Tire corporate website and its official Facebook page.
Toyo Tire will continue to support everyone who gives their all in pursuing their chosen path while making challenges to create ingenious tires. 
◇Captured images (samples)

◇Video
  Global version (30 sec.) :Open Roads Await -Ignite your BLUE- Off-Road Ver.
  https://movie.toyotires.co.jp/category/videos/all-videos/video/6241119286001
◇Music
 Words / Music: Flynn Hudson
 Sung by: Flynn Hudson, Boris Merkfeld feat. Simon Alexander
 Produced by: Christian Mix-Linzer, Anna Murakami, Emika Kusunoki
 Title: Ignite Your Blue - Aggressive Remix -
  A full-length version of the song will be distributed on Toyo Tire's corporate film special site and the leading digital music service Spotify.
◇OPEN COUNTRY M/T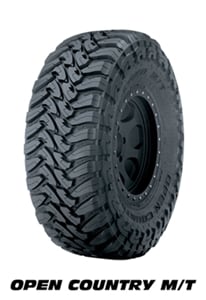 The OPEN COUNTRY M/T is a full-fledged off-road tire with performance and durability designed for driving on any road surface, as well as rough terrain and muddy ground. Its aggressive yet functional tread design not only supports driving in poor conditions, but also improves traction and braking performance. The tire has a tough structure that applies the know-how accumulated through such off-road races and makes it highly resistant to external damage.
For more information about the OPEN COUNTRY M/T, please click here.
https://www.toyotires.com/product/open-country-mt
◇"Ignite your BLUE" corporate film special site
  Global page: https://www.toyotires-global.com/igniteyourblue/
◇Key visual / Corporate website
    To coincide with the production of the new corporate film, the key visual will be renewed, and a special site for the off-road version of "Ignite your BLUE" will be opened on the corporate website.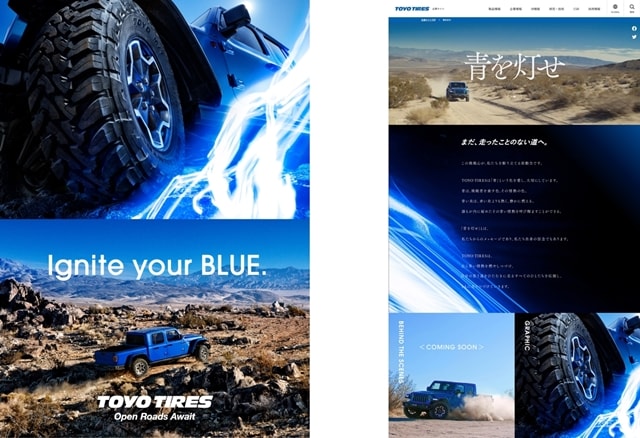 Key visual                                                                Corporate film special site
Toyo Tire Corporation
Corporate Communications Dept.
Hyogo Head office Telephone: +81-72-789-9100 Facsimile: +81-72-773-3272
Tokyo office Telephone: +81-3-5822-6621 Facsimile: +81-3-3865-2240
Press Release is intended for media purposes, and is current of the date of publication.
Information is subject to change with or without notice.