Press Release
Sep. 30, 2022
TOYO TIRE to Publish "Sustainability Report 2022" in English
Hyogo, Japan – September 30, 2022 – Toyo Tire Corporation (Headquarters: Itami City, Hyogo Prefecture; President & CEO: Takashi Shimizu) inform that it has published "Sustainability Report (English)," which summarizes the direction of our Group's goals for sustainability and the main related activities.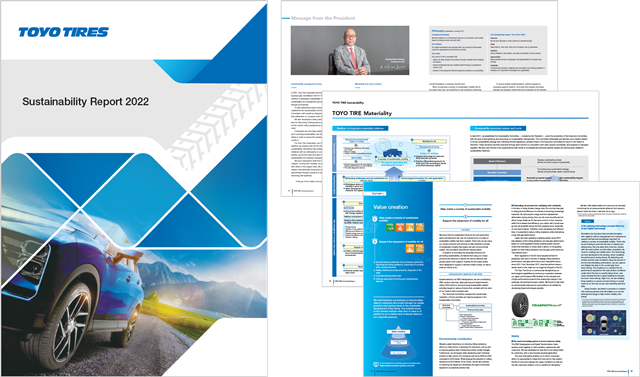 Our Sustainability Management Policy announced in February 2022 stated that by making ESG the foundation of our corporate activities, we aim for the integrated promotion of our business and sustainability. We have set specific action themes and short-, medium-, and long-term targets for ESG to improve sustainability, centering on the seven material issues that our Group will focus on. We are currently forging ahead with the plans and measures to achieve these targets.
TOYO TIRE's Sustainability Report 2022 gives detailed accounts of our approaches to sustainability management and value creation, as well as explications of our initiatives in fiscal 2021 concerning material and other ESG issues.
For the proper assessment of the TOYO TIRE Group's corporate activities, our Sustainability Reports are compiled based on the Global Reporting Initiative (GRI) Standards, an international guideline for sustainability reporting, thus ensuring the quality and credibility of their content.
■Main composition of the TOYO TIRE's Sustainability Report 2022
1. Message from the President
President & CEO Takashi Shimizu explains our policies aimed at achieving sustainability management. By incorporating sustainability initiatives in business management that are aligned with the Medium-Term Business Plan, he declares his determination to fulfill the responsibility of a signatory to the United Nations Global Compact (UNGC) while at the same time seeking to increase corporate value.

2. TOYO TIRE Sustainability
An overall picture of the sustainability goals, value creation, and materiality that the TOYO TIRE Group strives for, as well as the Group's sustainability promotion system for each project, are explained.

3. Sustainability Activities Report
Guiding policies and achievements for each of three domains of the Group's materiality (value creation, foundation for value creation, and risk management) are presented. Also reported are ESG issues outside the scope of the material issues in the three areas of the environment, society, and corporate governance.
■Report media
The TOYO TIRE Group publishes a report, in English and Japanese, which summarizes its sustainability activities. We will continue to provide and update information on our activities on the Sustainability page of our website.

TOYO TIRE corporate website "Action for Sustainability"
https://www.toyotires-global.com/csr/

Click the link below to download the PDF version
https://www.toyotires-global.com/csr/report/index.html
 
Toyo Tire Corporation
Corporate Communications Dept.
Hyogo Head office Telephone: +81-72-789-9100 Facsimile: +81-72-773-3272
Tokyo office Telephone: +81-3-5780-8158 Facsimile: +81-3-5780-8159
Press Release is intended for media purposes, and is current of the date of publication.
Information is subject to change with or without notice.