Bush / Coupling
Bush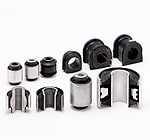 Product description
Anti vibration parts used for the suspension system ensuring required durability as well as minimizing the vibration and the noise from suspension.
Technical features
Various features are available for the limited space. Hydraulic part is also available.
Coupling
Product description
Anti vibration parts between the propeller shafts transmitting the engine power to the wheels and at the same time minimizing the blooming noise from the rotating shafts.
Technical features
The tire code and the rubber is enhancing the durability.