G: Sound governance
Challenge
Engage in corporate management that meets societal needs and has a lasting positive reputation for value
Our policy
The Toyo Tire Group practices the principles of Japan's Corporate Governance Code in an appropriate fashion to ensure effective corporate governance. We established the Toyo Tire Group Charter of Corporate Behavior as a set of common principles for all Group companies to ensure we always prioritize the desire to be useful to society through proper working practices as the basis for our decision-making and pursue integrity in corporate activities to help realize a sustainable society. We also formulated the Toyo Tire Group Code of Conduct to assist all executives and employees in implementing the Charter of Corporate Behavior, and seek to instill that Code across the whole Group.
Responsible Executive (as of April 2022)
Director, Corporate Officer and Vice President of the Corporate Headquarters
Activity promotion system (as of April 2022)
Corporate governance system
Our corporate governance system consists of the Board of Directors, which is responsible for decision-making and supervisory functions, and, under that, the Nomination & Compensation Committee, which acts as an advisory body to the Board of Directors on matters relating to personnel affairs, compensation and other matters pertaining to directors. We also have an Executive Committee that makes decisions on business execution, various special committees that deliberate and consult on individual fields, and an Audit & Supervisory Board, a body that audits the Board of Directors and the execution of directors' duties. This system enables all these functions to be fully exercised.
The number of members on the Board of Directors is limited to 11 in order to ensure swift decision-making. It is essential to consider diversity in the Board composition in terms of gender, age, background, skills and other relevant factors to ensure a good balance of the knowledge, experience and capabilities required to effectively fulfill the Board's roles and responsibilities.
We have introduced a monetary compensation scheme that involves the granting of transfer-restricted shares to internal directors as an incentive to consistently improve our corporate value and to promote a deeper sense of shared value with our shareholders.
We also manage any conflicts of interest in an appropriate manner. The outside directors we appointed are judged to have no conflicts of interest with general shareholders and have been registered as independent officers with the stock exchange. We commission regular external evaluations of the Board of Directors to ensure the Board and the various committees function well and effectively.
Governance structure As of April 2022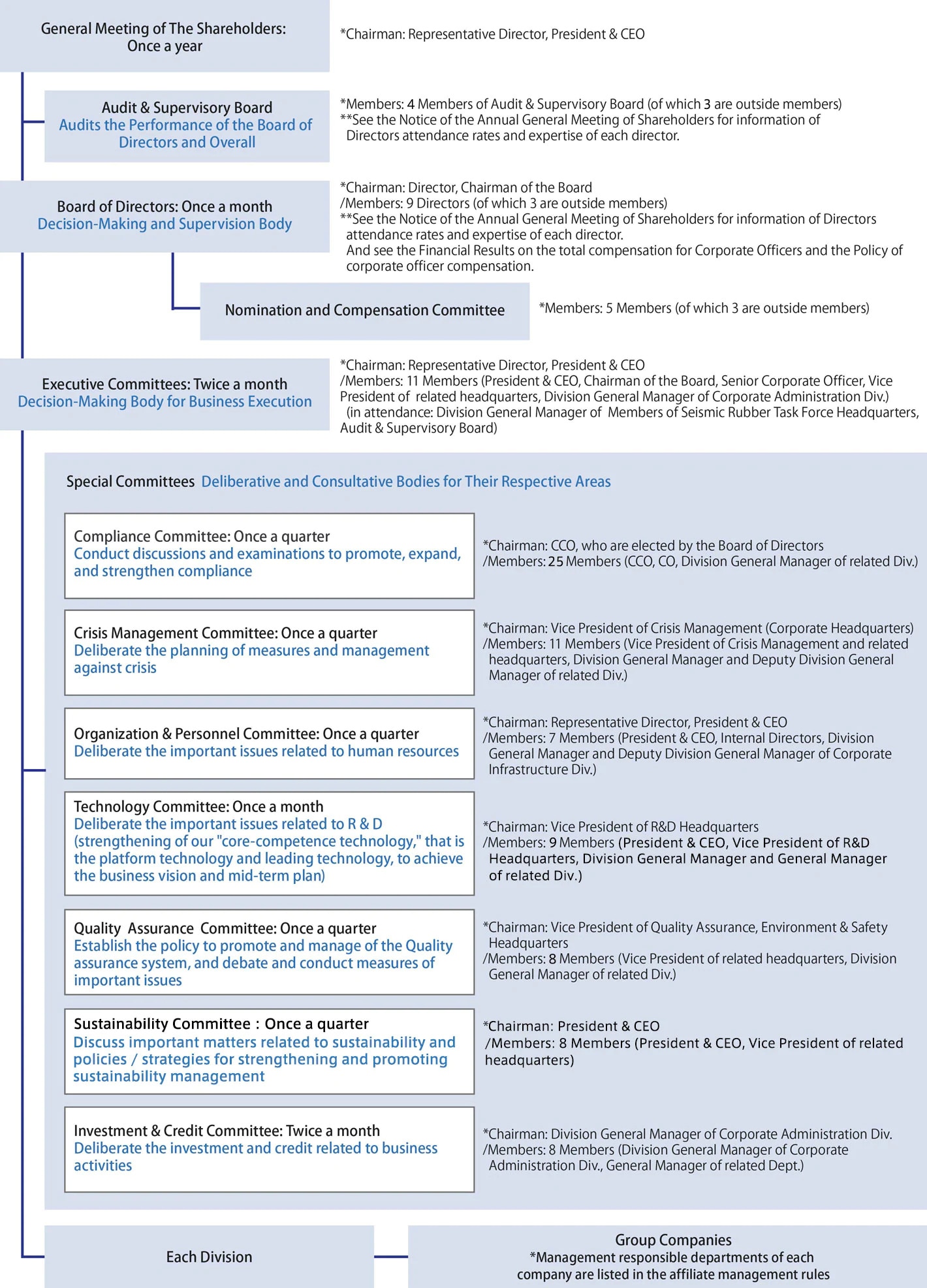 Internal control system
We determine our basic policy for building of internal control systems at Board of the Directors meetings and then put appropriate systems in place. We review the basic policy each year to reflect changes in our business environment and other factors. The Board of Directors resolves any reviewed items as we strive to develop and operate more effective internal control systems.
In addition to establishing and operating our reporting hotline for employees to report and consult directly on compliance issues that may develop into crisis events, we have created multiple reporting routes and established a system for conveying necessary information to the Group's governance bodies.
* Within Toyo Tire Corporation
Grievance mechanism
Reporting Hotline (Creating an Internal Control System) Targets: Employees, Business Partners
Customer Relations Department Targets: Customers, Local Communities
Inquiry Form (on the Website) Targets: Customers, Shareholders and Investors, NGOs
IR meetings Targets: Shareholder, Investor
Main resources for promoting activities (2021)
Total executive compensation (2021)
Directors (10): 307 million yen *Maximum annual limit: 450 million yen
Audit & Supervisory Board members (4): 49 million yen *Maximum annual limit: 80 million yen
* The above numbers of executives and total compensation include compensation of 57 million yen for 6 outside officers (outside directors and outside Audit & Supervisory Board members). Those numbers also include compensation for one director who retired in 2021.
* The above total amount of compensation includes the provision of bonuses for officers recorded in 2021 of 117 million yen.
* Includes 8 million yen for transfer-restricted shares granted.
Initiative: Corporate governance
Instilling our philosophy
All executives and employees across the Toyo Tire Group conduct their work based on our corporate philosophy, and we have been instilling that philosophy into all employees since it was first determined in 2017.
Our philosophy is a written expression of the thoughts and ideas that the Group most values. We have positioned our company philosophy as a pinnacle concept that embodies the precious founding spirit we pass on to future generations. We have defined our corporate purpose in our mission and clearly stated in our company vision the type of company we need to become to fulfill that mission. We have also determined our fundamental values, as a basis for the thoughts and ideas that all executives and employees should wish to cherish going forward.
In the new business plan, Medium-term'21 Plan, announced in February 2021, we reiterated that our core purpose was to realize our philosophy, and that our business plan was designed to realize that philosophy.
We have added an introductory lecture on our company philosophy at the start of in-house training programs. Training for general managers includes case work to help participants understand the importance of instilling visions and strategies derived from our philosophy in the workplace as well as group work to convey how this philosophy pervades each workplace. The training has helped raise awareness of the need to instill our company philosophy by sharing issues and initiatives pursued by other divisions.
Going forward, we will strive to create an environment in which we instinctively employ our philosophy through our work.
Board of Directors' initiatives
The Toyo Tire Board of Directors meets once a month in principle to decide on important matters and supervise the execution of business by directors. The Board met 17 times in 2021, including some extraordinary meetings. Outside directors attend Board of Directors meetings and other important meetings to encourage an active discussion and monitor and supervise company management.
Since 2017, we have conducted an annual registered questionnaire of all directors and Audit & Supervisory Board members regarding the operation, composition, activities and other features of the Board of Directors to help us analyze and evaluate its effectiveness. To ensure a fair result, the aggregation, analysis and evaluation of the responses are outsourced to an independent body, and we use the result to improve the functions of the Board of Directors.
[ Overview of questionnaire analysis and evaluation, and future response ]
Following on from our good performance last fiscal year, the high evaluations that we received on many items and the continued improvements witnessed suggest that the overall effectiveness of the Board of Directors has been secured. In particular, the supervision of management function has been strongly evaluated for six consecutive years.
However, some did request better provision of information in order to improve Board effectiveness.
We will continue to work to improve these and other issues.
Nomination & Compensation Committee
We established the Nomination & Compensation Committee as an advisory body to the Board of Directors to further strengthen the independence, objectivity and accountability of the Board with respect to personnel affairs and compensation of directors, and to further enhance our corporate governance system. The committee deliberates on relevant matters and provides advice, suggestions and reports to the Board of Directors.
Engaging in dialogue with shareholders and investors
Toyo Tire Corporation holds an annual General Meeting of Shareholders, and quarterly financial results briefings. Top management conveys its opinions on performance trends, business environments and future outlook for the Group to institutional investors and securities analysts when we announce interim and full-year business results. In addition to these activities, we also seek to promote understanding of Group strategy by creating multiple opportunities for the company president and other senior executives to engage in a dialogue on the issues that interest institutional investors and securities analysts, and providing quarterly opportunities (individual interviews) for investors to communicate and ask questions of IR staff. We also respond proactively to dialogue requests from institutional investors around the world either in the form of individual interviews or conferences.
In 2021, senior executives engaged with investors through small meetings on three occasions (32 attendees from 24 institutions) and IR staff handled 373 interviews for shareholders and investors from 322 institutions. The COVID-19 pandemic was still ongoing when we announced the medium-term business plan in February 2021, so we conveyed information in different ways depending on the circumstances, including briefing sessions for video distribution and conference calls. We are currently promoting active dialogue with shareholders and institutional investors by increasing opportunities to engage with senior executives, and other means.
Enhancing our communication tools
We are working to improve the way we convey corporate results and various other materials and the way we display information on our IR website in order to disseminate comprehensive management information on Group business strategy, targets, current initiatives and other matters in a prompt and readily understandable manner. We also publish annual reports as a means of deepening understanding and interest in the Toyo Tire Group among many different stakeholders, including institutional investors both inside and outside Japan.