Continue innovating next-generation mobility technology
Challenges
Developing products, materials and technology for a society of next-generation mobility
Creating recycling technologies for products and raw materials
Innovating low-impact alternatives to substances of concern (eliminating microplastics, etc.)
Supporting safe driving (improving safety awareness through data)
Enforcing intellectual property strategy
Stakeholders with high involvement
Direct: Customers (consumers), suppliers, employees, research bodies
Indirect: Shareholders and investors, creditors, local communities, NGOs, industry groups
Our policy
The value we provide through our products and services must support the evolution of mobility required for a new age. To achieve this, we are continuously innovating new technologies that help foster a society that is environmentally sustainable and supports safe driving.
Responsible Executive (as of April 2022)
Director, Corporate Officer and Vice President of R&D Headquarters
Activity promotion system (as of April 2022)
R&D Headquarters is responsible for promoting initiatives in this area. The Technology Committee oversees all initiatives and reports on progress to the Sustainability Committee.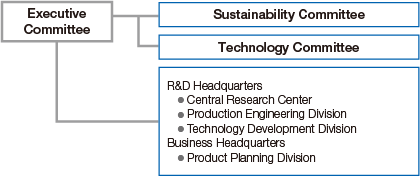 Grievance mechanism
Reporting hotline (whistle-blowing system): For executives, employees and suppliers
Customer Relations Department: For customers (consumers) and local communities
Online inquiry form: For customers (consumers), shareholders and investors, and NGOs
Activities: Creating recycling technologies for products and raw materials
As part of our social responsibility as a global manufacturer, we see it as our duty to contribute to the transition from a linear to circular economy. The Toyo Tire Group are therefore working to increase the use of sustainable materials (defined as recycled and naturally-derived raw materials).
As an example, by 2025 we plan to sequentially introduce into the market materials that have high wearability, and recycled raw materials such as recycled rubber from used tires or recycled carbon black. We are also using open innovation to actively promote technological development that minimizes use of petroleum-derived raw materials, which have a major impact on climate change, and increases use of low-impact biopolymers and other naturally-derived raw materials.
Activities: Supporting safe driving (improving safety awareness through data)
In the development of wear prediction technology for trucks and buses, we have continued from last year in conducting and collecting data from demonstration tests, and are working to improve the accuracy of our AI models at predicting tire lifespan. We have also made a remote tire management app available to customers, and are now considering its practical application.
In the development of tire sensing, we have obtained measurements from model vehicles on a test course and public roads, and constructed a model to estimate "tire force*1" under actual driving conditions. With a view towards eventual implementation, we have developed an app that can visualize real-time tire force and display it to the driver.
* Tire force is a term assigned by Toyo Tire that refers to actual tire performance as estimated from information input from the tire, such as air pressure, temperature, road surface distinction, load, wear and any detected anomalies.
We have developed an app that displays tire force in real time in a way that is visible to the driver.
Activities: Enforcing intellectual property strategy
We are continuously developing technological innovations and products that help work towards a society that is environmentally sustainable and supports safe driving. It is only when these new technologies and products are delivered to our customers and are finally used that they first transform into social value. So that customers can use our technologies and products with peace of mind, they must be securely protected through intellectual property rights, and we systematically apply for and manage such rights for our sustainability-related intellectual property. We also believe that these continual efforts will help us secure a presence in a society of nextgeneration mobility.
[TOPIC] The 11th company-wide technology development presentation awards
At the Toyo Tire Group, we develop technologies for practical application that meet the needs of our customers and clients, and that incorporate feedback from our production and sales divisions. Each year we hold the company-wide Technology Development Presentation to report to top management and announce our latest technological developments and the results of those initiatives. In 2021, the presentation was held online and assessed entries based on the five perspectives of originality, rationality, future potential, development speed, and presentation. This initiative will be continued in the future as we further our technological developments to continue responding to the needs of society.
2021 Awarded Topics
Outstanding Technological Development Award
Development of ultra-strong rubber as an alternative to natural rubber
Summary: There is growing worldwide demand for natural rubber, a primary raw material for tires, yet there are fears that excessive forest clearance has a detrimental impact on ecosystems, so the sustainability of rubber must be ensured. In this study, a unique mesh structure was introduced into synthetic rubber to develop a new material with physical properties equivalent to those of natural rubber. We are also creating synthetic rubber with naturally-derived raw materials, and will propose environmentally responsible materials created through a fusion of these technologies.
Unique Award
Development of material to improve balance between rolling resistance and wet-grip performance through rubber interface structure control technology
Summary: To gain both rolling resistance and wet grip performance, which are antinomic abilities in tires, we extensively utilized information on the interface between rubber raw materials — collected by using nano analysis technology that is one of the four systems forming our Nano Balance Technology — to predict optimal interface structure, and created a new compound to achieve that.
Surprise Award
Researching tire wear mechanisms to improve wet grip performance
Summary: To improve the wet grip performance of tires, we performed research focusing on the following three phenomena: temperature dependency of rubber performance; contact phenomena between tire and road surface; and movement of tire tread pattern during breaking. We are using this research to develop an experimental analysis method to evaluate the characteristics of these phenomena related to tire friction, and are also applying the ideas for improved wet grip performance we have gained into new product development.