Ensure the fundamentals of manufacturing: quality and safety
Challenges
Improving product quality
Increasing customer satisfaction
Visualizing manufacturing quality using MES
Creating an RFID system to ensure traceability
Promoting improved awareness of tire safety
Relevant stakeholders
Direct: Customers (consumers), suppliers, employees, research bodies
Indirect: Shareholders and investors, creditors, local communities, NGOs, industry groups
Our policy
Our principle for manufacturing is to provide high-quality and safe products and services that are useful to society, and our fundamental philosophy and action guidelines for product safety are set forth in the Toyo Tire Group Global Product Safety Policy. The policy details our commitment to focusing on product safety and environmental protection in every step of the value chain, from product planning, development and design to production, sales, use and end of product life.
We operate a product quality management system based on IATF 16949 (or ISO 9001 at some production bases) to take measures against risk.
Global Product Safety Policy
1. Fundamental Philosophy
As a responsible global company, we will promote sustainable management through our corporate activities to further enhance economic, environmental and social value.
We continue to strive and contribute to the creation of sustainable society as global environment protection first, which is put not only safe but also human health harmless.
2. Action Guidelines
1. As a company aiming for sustainable growth by creating a better symbiotic relationship between people and the earth, we provide environmentally friendly, safe and reliable products and services to our customers and society.
2. To assure the safety of products, we comply with the necessary internal and external rules, laws, regulations, standards and guidelines. We aim to develop products with a higher level of safety and lower environmental impact.
3. We consider product safety and global environment protection from the stages of product planning, development and design, through to production, sales, use, and even after the end of use.
4. We aim to manufacture without the production loss from the product planning, development, and design stages.
5. We consider recycling in the product planning, development, and design stages.
6. We conduct education and awareness-raising concerning every employee layer regarding product safety and environmental protection.
7. We well-inform and educate customers about methods of suitable use for products and misuse prevention. And we listen earnestly to their opinions and desires, and reflect them in our products. Thus, we will provide the safe and health-friendly products, and promote the global environmental protection.
Quality management system status
ISO 9001 certification (as of the end of May 2023)
Production facilities: 14 sites (3 Toyo Tire Corporation sites*1, 11 affiliated company sites)
Sales bases (affiliated companies): 4 sites
*1 The Kuwana Plant has independently acquired certification at two sites: its tire production plant and automobile parts plant.
IATF 16949 (formerly ISO/TS 16949) certification (as of the end of May 2023)
Production facilities: 9 sites (3 Toyo Tire Corporation sites, 6 affiliated company sites)
Responsible executives (as of April 2023)
R&D: Director, Corporate Officer and Vice President of R&D Headquarters
Production Technology: Corporate Officer and Vice President of Production Headquarters
Products and services: Director, Corporate Officer and Vice President of Sales Headquarters
Quality assurance: Corporate Officer and Vice President of Quality Assurance, Environment & Safety Headquarters
Action promotion system (as of April 2023)
Quality Assurance, Environment & Safety Headquarters is responsible for promoting initiatives in this area, and reports progress to the Sustainability Committee.
Grievance mechanism
Reporting hotline (whistle-blowing system): For executives, employees and suppliers
Customer Relations Department: For customers (consumers) and local communities
Online inquiry form: For customers (consumers), shareholders and investors, and NGOs
In addition to the above routes, our technical service departments, Group sales companies and distributors also receive inquiries and complaints.
Activities: Improving product quality
Improving the development & production process
In manufacturing, we believe it important to achieve greater quality in upstream business processes. We aim to not only raise the quality of the products and services we introduce to the market, but also that of the development and production process itself.
For our Group's newly developed products, the Quality Assurance Division checks the design reviews that are performed at each step, from product planning to the production preparation stage, to ensure that reliable quality is designed in from the start.
At our Tire Technical Center, we are implementing robotic process automation (RPA) software that automatically processes routine tasks. Through this, we aim to see how it improves operational efficiency by preventing potential risks in the course of business, such as human errors and fraud.
Meeting the quality standards of each country
We are aiming to strengthen our own quality standards throughout the Group in order to fully comply with the increasingly complex quality-related laws in each country — such as environmental performance and quality legislation promoting vehicle fuel efficiency improvements and reduced CO₂ emissions, being rapidly introduced in the face of rising climate change risks. Once per year in each of our tire and automotive parts divisions, we hold global quality assurance meetings led by those in charge of quality assurance and other relevant employees at our production sites in and outside of Japan. These meetings are opportunities for each site to share and collectively discuss initiatives related to product quality and quality system improvements in production processes, and requests about quality from suppliers. The four sites for Group tire testing and evaluation in Japan received ISO/IEC17025 certification (general requirements for the competence of testing and calibration laboratories) for the first time in 2013, and have since been improving test accuracy and confidence to continuously conduct tests that conform to standard requirements.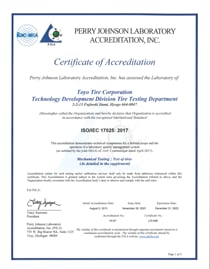 Example efforts to meet quality standards
Collecting information locally
Making recommendations by participating in industry groups
Exchanging opinions with regulatory institutions
Sharing information on the latest legal and regulatory trends
Giving presentations on legal and regulatory matters
Improving service quality at sales companies
So that our customers can choose our products with confidence, peace of mind and satisfaction, we are striving to improve the job skills of tire technicians and the level of service provided by sales associates and front office staff at our tire sales subsidiaries.
For example, Toyo Tire Japan Co., Ltd. and independent distributors in Japan conduct job-specific training to foster talent that possesses the required level of service quality for their respective roles, such as sales and customer service. To equip employees with the awareness and skills required to convey product value to customers clearly and correctly, they also provide specialized training for sales associates, technicians and front office staff.
We also hold a Truck and Bus Tire Servicing Contest with the primary goal of improving the skills and service level of technicians who exchange tires and perform inspections and after service, especially considering recent social issues such as wheel separation accidents. Technicians selected from all over the country compete with each other to show their skills, and the activity also illustrates how their own jobs help both customers and society, fostering a sense of duty and motivation toward their work. We will continue to provide service to customers both remotely and in-person, taking necessary precautions against COVID-19.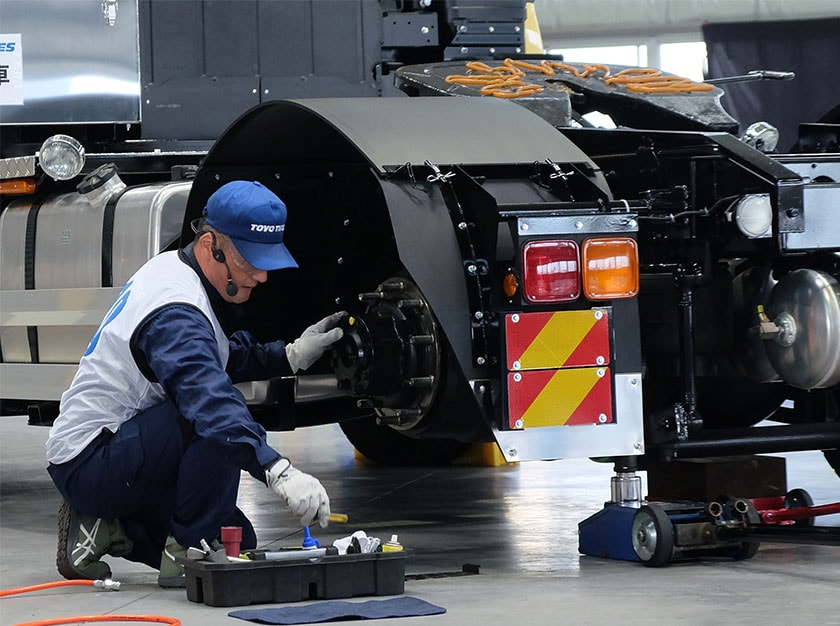 Truck and Bus Tire Servicing Contest
Activities: Increasing customer satisfaction
Maintaining and improving quality and satisfaction
As a manufacturer, we understand that our products and services link us to both customers and society, and devote ourselves each day to maintaining and improving product quality at our production sites. We are also conscious of improving the "quality of organizational citizenship behaviors" at all workplaces, and strive to provide products and services designed with a customer-centric approach.
We also conduct ongoing product satisfaction surveys in markets where each product is available, and relay customer requests as feedback to design and production sites.
For example, for more than 50 years, we have held Quality Control (QC) circle activities to proactively raise quality control standards using employee insight from the frontlines. QC circles began at production sites and have now spread to sales divisions, with about 300 total circles currently running within the Group. Members bring with them their experience and knowledge in order to resolve problems, and work to improve quality by understanding current conditions, setting goals, developing activity plans and analyzing issues.
Each year we run a company-wide QC circle event where circle representatives from around the world visit our head office to present local initiatives for improving quality control and eliminating waste and loss in the workplace, with the aim of achieving a global information and learning exchange. Just as in 2021, the 2022 event took place remotely with circle representatives from each base making online presentations that were assessed by a panel of judges. Moving forward, we will continue supporting QC circles to further improve worksite autonomy and customer satisfaction.
Responding to feedback from consumers
Every piece of feedback that we receive from our customers is valuable and provides us with opportunities to understand their expectations for the Group and improve our products and services. In 2022, our Customer Relations Department received a total of 2,669 inquiries in Japan. We respond to phone and online contact from customers both accurately and simply.
We analyze the content of these inquiries and send the findings to relevant departments to improve the usability of our products and services. Such efforts have led to the development of the Open Country series, our popular line of SUV tires, and the improvement of the readability of our catalogues and websites.
We take complaints seriously, and work with the Group's sales divisions and technical service departments to ensure that issues are dealt with promptly and satisfactorily, and that the problem or complaint is resolved so that we can build a long-lasting positive relationship with the customer.
Actiities: Visualizing manufacturing quality using Manufacturing Execution Systems (MES)
Visualizing manufacturing process quality data to improve processes
Our Group aims to construct a quality assurance system where defects in manufacturing processes can be predicted and prevented before they happen. We are introducing automatic measuring equipment into tire manufacturing processes to create a system that can collect digital information from equipment related to quality and production, then visualize it. This makes it possible to assure quality for each individual manufacturing process, analyze collected data, and detect changing trends in processes through monitoring. After the launch of the manufacturing execution system (MES) at our Serbia Factory, newly opened in 2022, we will introduce the system at other production sites as well as work on training human resources and creating a corporate culture that encourages utilization of data.
[TOPIC] The new Serbia Factory
In December 2022, the Group opened its first passenger vehicle tire production plant in Europe.
Equipped with the latest technology, including enterprise resource planning (ERP) and MES, the Serbia Factory is a smart factory that visualizes production processes and links together highly productive equipment with incredible precision to unlock a higher dimension of production management system optimization.
In 2019, we established an R&D center in Germany where we continue to search for and research cutting-edge materials, collect the latest information on vehicles and markets, and advance the study of high-performance technology development in the structure, shape and pattern design processes. Taking advantage of these cutting-edge technologies, the Serbia Factory will produce high-performance, competitive tires that meet market insights, including the shift to electric vehicles.
Adjacent to the plant building is also a test course with a 720-meter straight track and a total length of 1,690 meters. By conducting tire test runs on actual cars and carrying out quick evaluations of compliance with the European region's detailed regulation and certification, we can deliver attractive products to market faster.
On the premises we have also set up one of the largest solar power generation systems in Serbia (with a capacity of 8.4 MW), which will generate 10.15 GWh of electricity annually and help reduce 7,100 tons of CO₂ emissions.
While the Factory will produce tires to meet local demand in the European region, it will also strategically supply our main market in North America.
The Serbia Factory will create new business value in the European and North American regions and supply the market with highly competitive products, helping us use our expert manufacturing to bring the fun of driving to even more customers.
Activities: Creating an RFID*2 system to ensure traceability
In May 2022, the Global Data Service Organization for Tires and Automotive Components (GDSO) was established as an international non-profit organization working to standardize and share tire data in the industry. We are creating technology to equip tires with radio frequency identifier (RFID) tags, and investigating how to utilize the acquired data.
*2 Creating an RFID system to ensure traceability
Activities: Promoting improved awareness of tire safety
As a tire manufacturing and sales company, we at the Toyo Tire Group see it as our duty to educate customers on the importance of regular tire inspections for improving safety. Each year we run tire safety awareness events.
[TOPIC] Tire safety awareness activities in 2022
We believe that one of our important duties is to teach drivers about using tires properly. Since the emergence of COVID-19, demand for cars as a mode of transportation has increased, and with it the need to further improve awareness of safety precautions, such as regularly checking tire pressure and driving carefully in adverse weather. Toyo Tire Corporation and sales subsidiary Toyo Tire Japan Co., Ltd. thus run tire safety awareness activities to help meet this need.
In 2022, we conducted safety awareness activities for 1,931 staff members of small car dealers, and over 1,000 drivers also participated in activities at six locations across Japan.
Using our proprietary driving simulator, participants experienced the difference between worn and new tires when breaking on wet roads or getting a puncture, maneuverability under different tire pressures, and hydroplaning. The activity was successful in improving awareness of tire safety, with participants reflecting that it made them more aware of tire safety and the importance of checking treads and tire pressure regularly.
We will continue using our driving simulator to further boost interest in tires and help make drivers aware of how to use them properly.
A participant using the driving simulator