Priority Theme 5: Harmony with Local Communities
Priorities
Engagement with local communities
Preserving biodiversity
Stakeholders Affected by Our Activities
Directly:Local Communities, Environment
Indirectly:Shareholders and Investors, Creditors, NGOs
Reasons for being Priority Issues
With the goal of sharing our joy with all people related to our business activities (stakeholders) and contributing to the enrichment of society, we have positioned resolving social issues through dialogue and collaboration as well as contributing to the development of local communities as issues that should be addressed with priority.
Policies
It is our opinion that overcoming environmental problems, securing human resources, and the stable growth of local economies are indispensable for our continued growth into the future.
Therefore, we will create common values with local communities by contributing to environmental protection to the extent that our business activities impact the environment, supporting raising next-generation children, and the growth of local communities by the Group's resources and collaboration with stakeholders based on various forms of communication.
At production facilities that are expected to have a particularly significant impact on the environment as the scale of our business grows, we will make use of a precautionary approach to respond to the risk that our impact on biodiversity in surrounding areas will increase.
Ideal Status in 2020
Contributing to local community development while responding to stakeholders' voices
Goals
We will resolve social issues through collaboration with stakeholders and aim to create common values.
Responsibilities
Corporate Officer of Corporate Headquarters
Activity Promotion System
*Domestic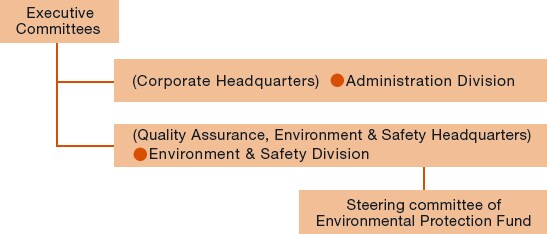 *Overseas (at affiliated companies), promote social contribution activities according to social issues of each country and region
Toyo Tire Group or one of our group companies belongs to the following trade associations:
Grievance Mechanism
Reporting Hotline (Creating an Internal Control System)…Targets: Employees, Business Partners
Customer Relations Department…Targets: Customers, Local Communities
Inquiry Form (on the Website)…Targets: Customers, Shareholders and Investors, NGOs
Interview with NGOs…Targets: Local Communities, NGO
Main Resources
Fiscal 2017 subsidy expenses for environmental conservation activities (includes donations from employees to the Toyo Tire Group Environmental Protection Fund*; Japan only): about 14.39 million yen
Fiscal 2017 subsidy expenses for raising next-generation children (non-consolidated): about 3.78 million yen
Fiscal 2017 subsidy expenses for developing local communities (non-consolidated): about 10.40 million yen
* Toyo Tire Group Environmental Protection Fund: A fund established in 1992 to support non-profit organizations that undertake activities to protect the environment in partnership with Toyo Tire Corporation, domestic affiliated companies that Toyo Tire Corporation, has at least a 50% stake in, and corporate officers and employee of those companies, etc. Gift matching system under which the company contributes the same amount of money donated by employees.
Activities in 2017