Creating Disaster Resistant Workplaces
Creating Disaster Resistant Workplaces
Disaster Prevention Training
We have enhanced our efforts related to fire prevention management and strengthened our disaster prevention and mitigation efforts taking into consideration our experience with major disasters such as the Great East Japan Earthquake.
Activities such as practical firefighting training and blind earthquake training have been introduced at all business sites, and the goal is for workers to repeatedly participate in these activities to improve their effectiveness and to increase the number of participating employees. We conduct firefighting training for hazardous materials that is NFPA600 compliant, which means they meet the standards set by the National Fire Protection Association (NFPA).
FY2017 Emergency Management performance
Disaster prevention drill implementation record
Domestic: 22 sites (Total number 5,084)
Oversea: 11 sites (Total number 3,071)
TOPIC
Disaster drill was carried out in collaboration with Tire Technical Center for the first time after Headquarters relocation
The Headquarters Toyo Tire Corporation that relocated at May 2017, carried out the disaster drill in collaboration with Tire Technical Center and our Group companies within the premises.
On the day of the drill, we carried out on the assumption that an earthquake off the south of Wakayama prefecture (M 8.0) occurred, a shake of less than 6 seismic intensity occurred in Osaka, and it was fired from the employee cafeteria on the 1st floor of the headquarters. There was a total of 604 participants. After completing the drill, we verified the training results and improved the site and reviewed the plan and manual.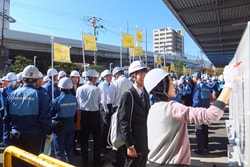 Disaster Prevention Training