Diversity of Human Resources
Employment Situation
We are committed to ensuring fair employment practices and treatment of employees across our organization. We are also striving to create workplaces where diverse individuals can fully demonstrate their capabilities, regardless of nationality or gender.
In terms of recruiting, the Toyo Tire Group endeavors to secure necessary human resources through various methods - not only new graduate and mid-career recruiting, but also disabled persons and the reemployment of retired employees.
For example, for Toyo Tire Corporation, the employment rate target for female, foreign nationals, and returnees/students who returned from study abroad was 30% of new graduates, but in fiscal 2017, the figure was only 17.3%.
Efforts to promote diversity, and equal opportunity, etc. include supporting women in the workplace.
Specifically, we have been established various human resources systems as well as conducting human resource development planning, career counseling for all employees, and gender-equality awareness training. Initiatives are not limited to women, and we work to create a workplace where all employees, whether male or female, can take on new challenges; to provide career development support, taking into consideration diverse values and lifestyles; and to strengthen workplace communication. As a rule, women and men receive the same compensation in our Group.
To create workplaces where diverse individuals can fully demonstrate their capabilities, we are promoting work-life balance through reforms to how people work. For example, as part of efforts to support employees with family responsibilities, we have established childcare and family-care leave systems, which enable employees to concentrate on raising their children (up to the age of two) or caring for family members (for a maximum of one year). We have also introduced a system to restore expired annual leave, to allow employees to use their unused paid leave granted in the year before last. In the past, allowable reasons for the use of the annual leave restoration system were illness/injury, childcare, family nursing care, and volunteer activities, but hospital visits and hospitalization for infertility treatment have been added to the list, enabling employees to use their expired annual leave to accompany their spouses for infertility treatment.
We are also moving forward with efforts to formulate a policy to reduce excessive work time.
Total number and rate of new employee hires
*Full-time employee including mid-career hiring (Toyo TIre & Rubber Co., Ltd., at the end of 2017)
Total number: 260
Rate by age group: (30age less) 191: (30-50age) 67: (50age over) 2
Rate by gender: (Men) 236: (Female) 24
Diversity of employees
*Full-time employee (Toyo TIre & Rubber Co., Ltd., at the end of 2017)
Rate by gender: (Men) 3,624: (Female) 222
Rate by age group: (30age less) 813: (30-50age) 2,353: (50age over) 680
Number of People with disabilities: 22
Number of female managers: 41
Number of Foreign man: 7
Please click here to read more about information on employees and other workers.
TOPIC
Contributing to the Creation of Employment from the local community by Enhancing Production Capability at Overseas Facilities
Since our foundation, the Group has worked to create a three-way (Japan, Americas, and Asia) global supply system and has contributed to the creation of employment and more reviving the economy in communities where the Group operates.
For example, Toyo Tire North America Manufacturing Inc.(TNA), our Group's first overseas plant, has expanded its supply system since it was established in 2004, and even though the number of employees has grown to over ten times the original number since that time, they still plan to increase employment ahead of the operation of a system with greater production capability in 2019.
Furthermore, with an eye on continued growth in 2020 and after, we will not only move forward with an examination of creating new production sites with the idea of reinforcing a system with greater production capability at Toyo Tyre Malaysia Sdn Bhd (TTM) and supplying products to global markets, but also contribute to the economic development of countries and regions we plan on expanding into in the future.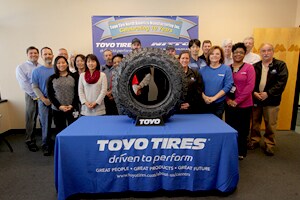 Staff of TNA(Left) and TTM(Right)
Review Labor Standards Taking into Consideration Customary International Law
The Group makes various pledges in its Toyo Tire Group Code of Conduct Handbook, including to support the International Labor Organization (ILO) Declaration on Fundamental Principles and Rights at Work; to prohibit harassment and all other forms of discrimination in the workplace (including any and all discrimination based on nationality, race, place of origin, sex, sexual orientation, physical attributes, disability or illness, or religious or political beliefs) ; and to prohibit forced labor as well child labor of children under the working age.
We view labor-related issues as priority issues and have established company-wide working groups and are moving forward with efforts to review labor standards and establish company policies taking into consideration customary international law so that we can construct a decent work environment in all workplaces as the foundation of our Group's future growth.
Current Situation of Labor Management Relations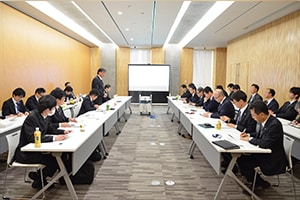 Labor-Management Conference on Business Management Measures
We consider the establishing of constructive dialogues between companies and labor representatives is a way to share information on workplace issues which will lead to solutions to these issues.
For example, having obtained the approval of the Toyo Rubber Labor Union, the sole negotiating organization, Toyo Tire & Rubber Co., Ltd. clearly states terms related to discussions and negotiations with the union in its labor contracts. The Toyo Rubber Labor Union has 3,330 members (as of the end of September 2017). All employees of the Company join the labor union except managers and executives.
In order for labor and management to share information on business issues and hold discussions to achieve our Group's vision, we hold the Labor-Management Conference on Business Management Measures (six times a year) and Central Conference (once a year), which bring representatives for labor and management together.
Improvement of Education and Training Programs
Advanced Facilitation Training
We consider our people to be our most important resource to support continued business growth and we are aware of the importance of developing these human resources. In this changing labor environment, we have expanded our education and training, the goals of which are for employees to acquire the skills needed to achieve business management targets.
For example, Toyo Tire & Rubber Co., Ltd. divides its training programs into three categories: "Grade-Specific Training", "Selective Training", and "Independent Training". We created training programs to meet the objectives of these three categories and employees' grade levels and years of service. In particular, for fiscal 2017, we reinforced training related to basic business skills required for employees until they become managers.
To encourage our employees to work toward their future goals, our Company defined our career development policy. Each department develops career path plan and share it with the rest of the company.
There are regular reviews of an employee's career development based on career counseling with superiors and subordinates as well as medium-term training plans.
We also provide training for new managers, career design training for employees nearing 40, and transition support seminars for employees who are close to retirement so that employees maintain employment aptitude.
FY2017 Training
Stratified Training
Title
Target
Times/Periods
Trainees
Logical Thinking
5th year of joining company
14 hours
18
Presentation
6th year of joining company
15 hours
18
Advanced Facilitation
6th year of joining company * Superiors
14 hours
17
Management Literacy *Correspondence training
Basic Management strategy
6th-9th year of joining company
3 months
91
Advanced Management strategy
12th-15th year of joining company
3 months
98
Basic Marketing
6th-9th year of joining company
4 months
91
Advanced Marketing
12th-15th year of joining company
4 months
97
Basic Accounting
6th-9th, 12th-15th year of joining company
4 months
188
Selection Training
Title
Times/Periods
Trainees
Overseas Trainee
2years *Max
4
Management Personnel Development
-ACTⅠ
156.5 hours
11
-ACTⅡ
156.5 hours
10
TOPIC
Selective Management Human Resources Education and Training on the Theme of Toyo Tires Group Vision for 2030
Management Human Resources Education and Training Achievements Presentation Session
Every year, we hold selective management human resources education and training where they study various management ideas from a variety of perspectives. In the training, business strategy proposals are developed through group discussions based on case studies and efforts are made to create human networks through inter-departmental exchanges of leaders.
In fiscal 2017, we conducted an extensive eight-month business environment analysis related to Toyo Tires Group Vision for 2030. The analysis covered numerous topics such as changes in the state of world, mainly the automotive industry, and customer demands. Discussions were held on business strategy orientation as we look ahead to 2030.
At the joint results presentation, participants gave presentations on their training achievements to management, and an evaluation was made based on various factors such as an environment summary, vision setting and issue framing skills, reasoning and implementation skills, and risk management skills.