Training Human Resources with Technical Expertise
Training Human Resources with Technical Expertise
With an eye toward a future in which the market environment is projected to be dramatically different due to the mobility revolution, the Toyo Tire Group is focusing its efforts on training professionals who can transform difficulties and crises into opportunities for sustainable growth. Human resource training supports technological innovation, the backbone of our Group, and we will engage in education and training that focuses on basic knowledge education, exchanges with parties outside the company, and passing on technology.
For example, Toyo Tire Corporation aims to train human resources with "problem-solving skills and innovative capabilities" based on thinking oriented toward customer needs as well as "logical thinking and facilitation capabilities," which are important abilities. This will be done through company-wide, grade-specific training. At each of our technical headquarters, we will conduct training for young employees so that they acquire technical expertise and promote annual human resource training to achieve each organization's mission.
In fiscal 2017, the technology headquarters responsible for our tire development conducted about 115 hours of education and training for tire technicians who joined the company less than five years previous in order to advance the skills of young employees. The goal of this training is also to raise teaching skills of mid-level employees by having them serve as instructors. As for the results of these education and training activities, a check is made using post-class tests to ensure that the target level is achieved. Continual efforts are also made to raise instructor levels through the conducting of surveys and evaluations by superiors.
Main training programs implemented in FY2017
Basic courses for young employees by mid-level employees
Outside training
TOPIC
Holding of the 7th Company-wide Technology Development Presentation
At Toyo Tire Corporation, technological development that meets customer needs and responds to the opinions of the Production and Sales Departments is conducted while constantly keeping commercialization in mind. In addition, we hold a company-wide technology development presentation as a venue to present the Company's cutting-edge technology-related efforts and their results to management.
For fiscal 2017, there were six entries. Three awards, including the Outstanding Technological Development Award, were presented after evaluating the entries based on five perspectives (originality, logicality, future prospects, development speed, and presentation content).
The 2017 awards
Outstanding Technological Development Award:

Leading Development of Automotive Parts for EVs

Unique Award:

Development of New Tire Production Methods

Surprise Award:

Development of Polymers That Adapt to Changes in the Mobility Environment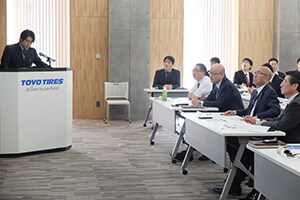 The 7th Company-wide Technology Development Presentation