Priority Theme 1: Product and Service Reliability and Innovation
Priorities
Ensuring product quality based on thorough customer orientation
Efforts to alleviate and adapt to climate change
Development of human resources with technical expertise
Affected Stakeholders
Directly: Customers, Business Partners (Car Manufacturers), Employees, Co-researchers & Joint Developers,
Indirectly: Shareholders and Investors, Creditors, Local Communities, NGOs, Business Organizations
Reasons for being Priority Issues (Opportunity & Risk)
In the business environment, TOYO TIRE foresees the following; further diversification of consumers, increased demand or tightening of regulations for products and services that concern climate change and globalization of the areas to which the Group's products and services are distributed in the future, etc. We necessary to respond to these changes in the business environment. So, we regard our priority issues as the development and supply of products and services that meet the needs of the next-generation mobility society, strengthening of technological and material development to achieve this, improvement of quality, and training of human resources.
Policies
TOYO TIRE states as its manufacturing principle that we will "strive for the highest level of quality, safety, and societal benefits in our products and services" and we will ascertain changes in market trends and customer needs in an accurate and timely manner, and promote product development through unique ideas and a drive to take on new challenges not influenced by conventional wisdom. At the research and development stage, we will support a precautionary approach towards environmental issues, and continue to develop products and services that reduce, prevent, and minimize the negative impact on the environment.
As for product quality and safety, we operate a quality management system based on ISO9001 and IATF16949 (the former ISO/TS16949) and have established risk countermeasures through foreseeing and predicting. And all the manufacturing bases of the Toyo Tire Group have been certified to the ISO 9001 family of quality management systems. Furthermore, our fundamental philosophy and action guidelines regarding product safety is clearly defined in the "Toyo Tire Group Product Safety Charter."
Toyo Tire Group Product Safety Charter
1. Fundamental Philosophy
Throughout our corporate efforts to provide better movement and greater comfort, we provide even safer products to customers, consumers, and society, and contribute to the creation of a wealthy and abundant society.
2. Action Guidelines
-1.As an environment-creating corporation that seeks to make even more symbiotic relationships between people and the earth, we provide customers, consumers, and society with products and services that are trusted and safe.
-2.To assure the safety of products, we comply with the necessary internal rules and external laws, regulations, standards and guidelines, and based on conformity with them, seeks even higher product safety.
-3.We consider product safety from the stages of product planning, development and design, through to production, sales, and even after the end of use.
-4.We conduct education and awareness-raising concerning product safety for every employee layer and seeks to raise product safety consciousness.
-5.At TOYO TIRE, in addition to informing and educating customers and consumers about methods of suitable use for products and misuse prevention, we listen earnestly to their opinions and desires and reflect them in our products as we pursue thorough product safety.
Quality Management System Certification Status
■ISO9001 (Certified by the end of January 2020)


Production facilities: 16 sites


- Toyo Tire Corporation: 3 sites*
- Affiliated companies: 13 sites

Sales bases (Affiliated companies): 4 sites

*The Kuwana Plant has independently acquired certification at both its tire production plant and automobile parts plant (2 business sites).

■IATF16949* (Certified by the end of January 2020)
*the former ISO/TS16949
Production facilities: 10 sites


- Toyo Tire Corporation: 2 sites
- Affiliated company: 8 sites
Ideal Status in 2020
Providing eco-friendly products and services founded on high quality and safety
TOYO TIRE's SDGs (Ideal Status in 2030)
We will contribute;
- to widespread of mobilities that will be enable social participation by using higher functionality technologies.
- to progress of mobilities by focusing on adding of value of products and technologies.
- to the mobility industry efforts that will adapt to climate change and aim to mitigate the influence by climate change by innovations.
- to sustainable resource recycling through optimization of resource utilization and improvement of product durability.
- to realize the safe and secure mobility society through implementing safety awareness and supporting for improving maintenance skills.
Goals
As a quality improvement Goal, through the product planning and production transfer preparation stages, which include logistics from material purchases through delivery of products to customers, we perform quality risk analysis (quality planning and quality design) for each process and are sure to reflect that in each R&D project.
We will work to ascertain the state of their quality with a constant awareness of customer satisfaction by referring customer opinions of our products and services. Through the collaboration between the Quality Assurance, Production, Sales, Engineering, and other departments, we will work to make improvements in order to provide even higher quality products. We also push forward with efforts to improve current issues from various perspectives through personnel exchanges with all Group companies.
We will improve functionality (environmentally friendly and safety) in all product development activities, which are our goals in solving environmental and social issues through our products and services. We will also promote human resource training and personnel exchanges (research and technology), which support these technological innovations.
Responsibilities (April 2020)
R&D:Corporate Officer & Vice President of R&D Headquarters
Production Engineering:Corporate Officer & Vice President of Production Headquarters
Provision of products and services:Corporate Officer & Vice President of Sales Headquarters
Quality Assurance:Senior Corporate Officer & Vice President of Quality Assurance, Environment & Safety Headquarters
Activity Promotion System (April 2020)
R&D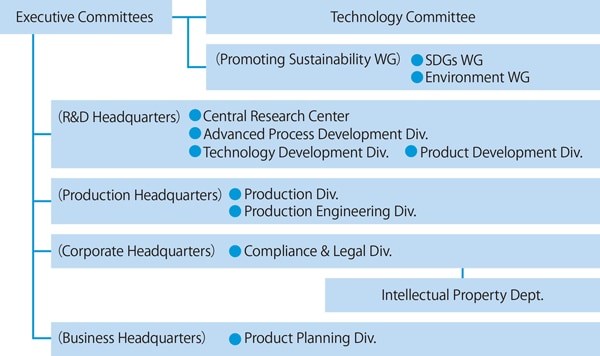 Quality Assurance
TOYO TIRE belongs to the following trade associations:
Grievance Mechanism
Reporting Hotline (Creating an Internal Control System) *Targets: Employees, Business Partners
Customer Relations Department *Targets: Customers, Local Communities
Inquiry Form (on the Website) *Targets: Customers, Shareholders and Investors, NGOs
In addition to responses that use the above as a point of contact, our Technical Service Department and the Group's sales companies and distributors handle consultations and complaints related to products and services.
Main Resources (Fiscal 2019)
R&D expenditures: 11.092 billion yen *Of which, 1.265 billion yen is for basic research.
Expenses related to environmental protection during R&D: 314 million yen
Capital investments to streamline operations, improve quality, and reinforce production equipment: 42.633 billion yen
Technological research bases: 8 sites (Japan, U.S., Malaysia and Germany)
TOYO TIRE intends to construct a new tire plant in the Republic of Serbia. Prior to this, in the fall of 2019, we established Europe R&D Center in Germany in an attempt to build a solid technological foundation, reinforce product development, and establish proprietary technologies with a focus on next-generation mobility in Europe.
Furthermore, we conduct joint research with numerous universities and research institutions in order to solve environmental and social issues.
Activities in 2019