Creating Safe and Healthy Workplaces
Issues to be addressed
・Global-level worker safety and health management
TOYO TOYO TIRE believes that it is the responsibility of all stakeholders to prioritize safety in all of their corporate activities. In addition, promoting the health of employees leads to improved productivity and improved corporate value, and we recognize this to be an important business issue for the future business growth. The globalization and diversity are progressing for our employees within the company. And preventing industrial accidents and promoting the health of workers, creating a comfortable work environment, and continuing to manage and improving them, does not only reduce economic damage and loss of life, but also lead to improvements in performance and corporate value, such as better productivity and quality. Thus, we have positioned these as issues that should be addressed with priority.
Affected Stakeholders
Directly: Employees
Indirectly:Local Communities, Shareholders and Investors, Creditors, Business Organizations
Guiding Policies
At TOYO TIRE, labor and management work together to operate an occupational health and safety management system based on OSHMS Guidelines (Guidelines on Occupational Safety and Health Management System, Ministry of Health, Labour and Welfare) and promote safety and health throughout the company. These efforts consist primarily of conducting risk assessments and implementing necessary measures based on their results under the leadership of top management.
Decisions on annual policies, targets, and plans related to occupational health and safety are made at the Company-wide Safety and Health Meeting, a joint labor-management committee, which also evaluates the progress of plans and makes necessary improvements.
Occupational Health and Safety Management System Certification Status (in FY2020)
OSHMS: 4 sites in Japan
- Good Safety Company: 4 sites in Japan
- ISO45001: 2 sites in Malaysia
- Safety production standardization certification: 3 sites in China
TOYO TIRE's SDGs (Ideal Status in 2030)
We will contribute to create a society where everyone is able to work safety and healthy though "smartness" -development and introduction of technologies that reduce the human load, e.g. AI and IoT.
Goals
The frequency of accidents, lost-time accident rate, number of fires, and several other indicators are used to ascertain the state of occupational health and safety in the workplace, and efforts are made to improve conditions at workplaces.
Fiscal 2021 Occupational Health and Safety Policy (Safety, Disaster prevention, Health)
| | |
| --- | --- |
| Safety: | Creating a true safety culture by integrating the "top-down" approach by the leadership team at bases/sites and the "bottom-up" approach by way of small group activities |
| Disaster management: | Reinforcing fire prevention/management and enhancing preparedness for fires and natural disasters and upgrading drills |
| Hygiene: | Protecting mental/physical health and the sound work environment so that employees can improve their performance while feeling motivated and happy |
We have compiled the Industrial Accident Response Manual to mitigate risks to the company and employees, protect employees' safety and the company's credibility, and minimize the occurrence of accidents by taking prompt action when a labor-related accident occurs. Stipulated clearly in this manual are concrete steps to follow when an industrial accident occurs, a requisite risk management system against industrial accidents, procedures in ordinary times, the code of conduct for employees, and procedures in times of emergency.
At production facilities where employees with diverse backgrounds work, we make announcements in multiple languages and use illustrations and color-coded warnings signs so that all the employees can work safely.
As a result of these efforts, in fiscal 2020, our total incidence rate of occupational accidents in Japan decreased by 28% from the previous year.
Responsibilities (April 2021)
Director, Corporate Officer & Vice President of Quality Assurance, Environment & Safety Headquarters
Activity Promotion System (April 2021)
Annual policies, targets, and plans related to occupational health and safety are decided and the progress of the plan is evaluated and improved at the Company-wide Safety and Health Conference held jointly with the labor union. The Conference is chaired by a director in charge of quality, environment and safety.
*Toyo Tire Corp.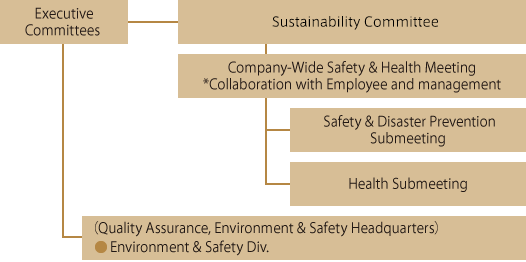 *Affiliated companies promote activities by safety disaster prevention managers and Health managers of each company according to laws and regulations of each country.
TOYO TIRE belongs to the following trade associations:
Grievance Mechanism
Reporting Hotline (Creating an Internal Control System) *Targets: Employees, Business Partners
Customer Relations Department *Targets: Customers, Local Communities
Inquiry Form (on the Website) *Targets: Customers, Shareholders and Investors, NGOs
Labor-Management Council Meetings *Targets: Employees
Main Resources (in FY2020)
Qualified Person of Safety Assessor* (Fisca2020): 290 people in Japan
Information Sharing and activities Promoter with HQ *the main manufacturing bases in Japan
Safety Education and Training Facility (Fiscal 2020): 7 sites in and outside Japan
Fire Prevention Inspector (Fiscal 2020): 239 people in Japan
Sanitation Supervisor (Fiscal 2020): 23 people in Japan
Industrial physic (Fiscal 2020): 14 people in Japan
* Employees who possess the knowledge and skills needed to evaluate the safety of machinery and the overall ability to judge its appropriateness.
Activities in 2020