Priority Theme 2: Contribution to the Global Environment
Priorities
Efforts to alleviate and adapt to climate change
Efforts to reduce water risk
Resource recycling efforts
Stakeholders Affected by Our Activities
Directly: Local Communities, Environment, Customers
Indirectly: Shareholders and Investors, Creditors, NGOs, Business Organizations
Reasons for being Priority Issues
The Toyo Tire Group is actively engaged in efforts to reduce, prevent, and minimize its negative impact on society, which is growing as the scale of the Group's business increases. In particular, environmental issues such as alleviating and adapting to climate change, reducing water risk, and resource recycling are considered likely to arise and have a major impact on society as our Group continues to conduct business into the future. So, these issues are positioned as priority issues to achieve our sustainability.
Policies
In the Toyo Tire Group Global Environmental Charter, we clearly indicate our fundamental philosophy and action guidelines for promoting environmentally conscious behaviors and activities.
Furthermore, we support international norms such as the United Nations Rio Declaration on Environment and Development and Agenda 21 and have quickly established countermeasures for environmental issues based on a precautionary approach, including risk assessments, in order to fulfill our environmental responsibilities.
We respond to organization issues by operating ISO14001-based environmental management system, and disclose the environmental performance of our corporate activities in our CSR report.
Toyo Tire Group Global Environmental Charter
Fundamental Philosophy
Through corporate activities that offer the means to provide joy in movement and comfort in daily living, we protect the planet that is our home and contribute to the creation of a wealthy and abundant society.
Action Guidelines
1) Compliance with laws and regulations
We comply with laws and regulations related to the environment and work to protect it.
2) Reduction of environmental impacts
We strive to generate fewer waste materials in our business activities and suppress the consumption of energy and harmful chemical substances as much as possible to reduce the negative impact on the environment. Moreover, we preserve and effectively use resources through recycling and other efforts.
3) Development of environment-friendly products
At the product planning stage, we consider every step, from production to post-use, and strive to develop new products and new technologies that are friendly to the earth. Moreover, we continue to develop and provide products, technologies and services that are useful for global environmental protection, including through energy conservation and pollution prevention.
4) Harmony with society
As a member of both global and local communities, we strive to realize even better living environments through use of the Toyo Tire Group Environmental Protection Fund and dialogues with different sectors in society.
5) Internal and external awareness raising and public relations activities
We implement clear and comprehensive education and awareness-raising activities about all aspects of the environment for every employee level. We also endeavor with public relations activities for our customers, society, and local residents.
6) Expansion of efforts overseas
We comply with local environmental laws and regulations in all countries and regions we conduct our business and establish environmental management systems there to build harmonious relationships with local communities.
7) Response to emergencies
To prevent environmental disasters, we conduct thorough management and maintain and improve our equipment. At times of emergency, we immediately carry out investigations, take countermeasures, and strive to prevent any recurrence.
Maintaining/Improving Management Systems
We appoint officers and staff members responsible for safety and environment and advance the improvement of management systems, while ensuring that the enforcement divisions clarify our action plans and work to realize an even better environment. Moreover, we conduct annual auditing to confirm the results of our environmental protection activities, evaluate them, and implement new measures.
Environment Management System Certification Status
Manufacturing bases and R & D bases which was certified by ISO 14001 (the end of December 2017)
Domestic 7 sites (Percentage of certified sites: 63.6%*)
*Parameter: 11 sites (Toyo Tire Corporation and affiliated companies in Japan)
Oversea 7 sites (Percentage of certified sites: 70.0%*)
*Parameter: 10 sites (Affiliated companies outside of Japan)
Ideal Status in 2020
Promoting environmental management on a Group-wide basis
Goals
For our activities within Japan, we have also formulated the Toyo Tire Group Global Environmental Action Plan, the target year of which is 2020. We create annual activity plans, set objectives, and manage efforts to achieve this plan. Furthermore, we translate the activity plan and objectives into English each year and share it with each overseas business site.
As for global warming countermeasures, since the adoption of the Paris Agreement in 2015, countries throughout the world have set greenhouse gas reduction targets and compiled measures that each entity should undertake as global warming countermeasure plans. We are also moving forward with a review of our medium- and long-term targets taking into consideration laws, ordinances, regulatory standards, and plan targets for countries and regions in which the Group conducts business.
Toyo Tire Group Global Environmental Action Plan (Established in 1992, and Final revision in 2015)
Correspondence with
the Toyo Tire Group Global Environmental Charter
Mid-Term / Long-Term
Targets and Plans (In Japan)
Action Guidelines
1) Compliance with Laws and Regulations
Protect the environment by complying with environmental laws and regulations and agreements with local residents.
2) Reduction of Environmental Impact
Preventing Global Warming
Reduce CO2 emissions intensity per unit of production by 15% compared to fiscal 2005 by the end of fiscal 2020.
Energy Conservation
Reduce energy consumption per unit of production by an average of at least 1% per year on a medium- to long-term basis.
Waste Reduction
Achieve a 100% recycling rate by the end of fiscal 2020 and maintain it thereafter.
Reduction of Harmful Chemicals Substance Use
Reduce VOC (volatile organic compound) emissions by 50% compared to fiscal 2000 and maintain it.
Eliminate SOC (substances of concern) use.
Green Procurement
Promote preferential purchase of environment-friendly raw materials and development of environment-friendly technologies.
3) Development of Environment-Friendly Products
Environmental Consideration at Development Stage
Minimize the use of environmental load substances in products at the development stage.
Development and Provision of Products and Technologies that Reduce Environmental Impacts
Promote tire weight and noise reduction and fuel efficiency improvement, and develop energy-conserving products.
4) Harmony with Society
Toyo Tire Group Environmental Protection Fund
Contribute to environmental protection and the creation of a sustainable society by providing financial assistance to non-profit organizations involved in biodiversity and environmental conservation in Japan and overseas.
Interaction with Local Communities
Participate in and cooperate with regional events (cultural festivals, cleaning, etc.).
Support employees' voluntary social contribution activities.
5) Internal and External Awareness-raising and Public Relations Activities
Raise employees' environmental awareness and disclose information on the Group's environmental activities to customers and the general public through CSR reports, etc.
Provide environmental education and training suitable for employee's positions/duties.
6) Expansion of Efforts Overseas
Management Systems
Understand and comply with local laws and regulations.
Harmony with Local Communities
Respect the culture and customs of each country/region and endeavor to harmonize with local communities.
7) Response to Emergencies
Prevention of Environmental Disasters and Accidents
Execute thorough management of environmental conservation facilities, and measure and control pollution loads.
Review and Improvement of Emergency Response and Other Related Manuals
Conduct emergency response drills.
Reforming Management Systems
Management Systems
Develop and improve a concrete action plan for each plant/business office in line with the Toyo Global Environmental Action Plan.
Conduct business activities in accordance with the ISO14001 guidelines.
Environmental Accounting
Conduct environmental accounting in accordance with the Ministry of the Environment's Environmental Accounting Guidelines.
Environmental Auditing
Execute internal and external auditing.
The FY2018 Policy
*Domestic
Plan
Target
Conduct on-site confirmation by industrial waste disposal operators

For Local governments that require compliance with ordinances 100%
For Local governments that require efforts Conduct as planned

PCB waste processing
Conduct as planned
Conduct environmental audits and follow up on results

Audit scope: Laws, regulations, ordinances, etc. Sites audited during previous year
Number of major findings: 0
Correct or review the pointed out issues: 100%

Conduct energy conservation activities
Reduce energy consumption per unit of production by at least 1% year-on-year

Independently set and achieve targets regarding year-on-year change
Reduce CO2 emissions per unit of production 15% compared to fiscal 2005 by December 2019

Introduction of renewable energy

(for Unincorporated sites) Formulate plan for the following year to adopt renewable energy.
(for incorporated sites) Formulate plans to increase use the following year.

Complete plans during the fiscal year
Volume used should exceed current renewable energy use

Establishing a Sound Material-Cycle Society by maintaining and increasing waste recycling rate
Achieve a waste recycling rate of 100% by December 31, 2018
Reduce and manage of water resources

Reduction of water withdrawal by source: Independently set and implement targets
Management of water discharge: Improve management precision

Respond to biodiversity preservation activities, continue volunteer activities to maintain forests around business sites

Participate in the following volunteer activities (once a year)

"Millennium Hope Hills Project"
"TOYO TIRES MIDORI-NO-TSUNAGARI in Mie", Others

Expanding support for environmental activity organizations

Increase the number of organizations that directly receive subsidies
Start new support activities
Responsibilities
Corporate Officer of Quality Assurance, Environment & Safety Headquarters
Activity Promotion System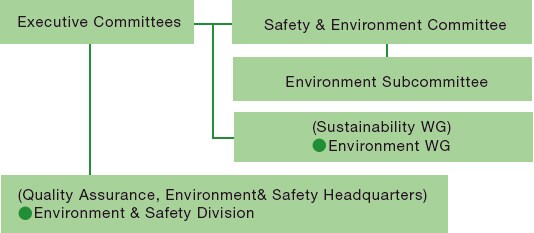 *Overseas (at affiliated companies), the environmental manager of each company promotes activities based on the group policy examined and established by the Sustainability Promotion WG.
Toyo Tire Group or one of our group companies belongs to the following trade associations:
Grievance Mechanism
Reporting Hotline (Creating an Internal Control System)…Targets: Employees, Business Partners
Customer Relations Department…Targets: Customers, Local Communities
Inquiry Form (on the Website)…Targets: Customers, Shareholders and Investors, NGOs
Main Resources
Expenses to alleviate and adapt to climate change in main business area: (Fiscal 2017) 268 million yen
Expenses to prevent pollution of air and water systems in main business area: (Fiscal 2017) 570 million yen
Expenses to conduct recycling in main business area: (Fiscal 2017) 344 million yen
Expenses to reduce environmental burdens that occur upstream and downstream of main business activities: (Fiscal 2017) 25 million yen
Expenses for management activities related to environmental protection in main business areas: (Fiscal 2017) 88 million yen
* The calculations conform to the Environmental Accounting Guidelines 2005 Edition (Ministry of the Environment). Includes depreciation for depreciable assets.
* Main business area: Japan
Activities in 2017