Resolving Global Issues by Our Products
TOYO TIRE has been conducting business for more than 70 years since its establishment and has constantly made technical innovations, in addition to seizing changes and evolution in society, and has delivered products and services that contribute to resolving social issues to customers in global.
The Innovative Technology of TOYO TIRE
We will introduce the innovative technology of TOYO TIRE which always keeps running aiming at the future.
TOPIC
Evolution of the Rubber Material Fundamental Technologies

Artificial intelligence (AI) technology and machine learning are making sweeping changes everywhere, and material development is no exception. As part of our continued efforts to advance Nano Balance Technology, our proprietary fundamental technology for developing rubber materials, we have developed novel technologies for predicting properties of rubber materials and supporting rubber compounding design that use materials informatics (MI)*1.
In 2018, we began verifying technologies for rubber compounding and property prediction using MI technology based on our legacy database in a bid to increase the accuracy and efficiency of the technologies. Going forward, we will be seeking to develop high-performance products and reduce development lead-time and costs by creating an environment where our data is fully utilized and development moves forward using pioneering analytical approaches and prediction data.
*1 AI-enabled technology that searches for new and alternative materials with greater efficiency than conventional techniques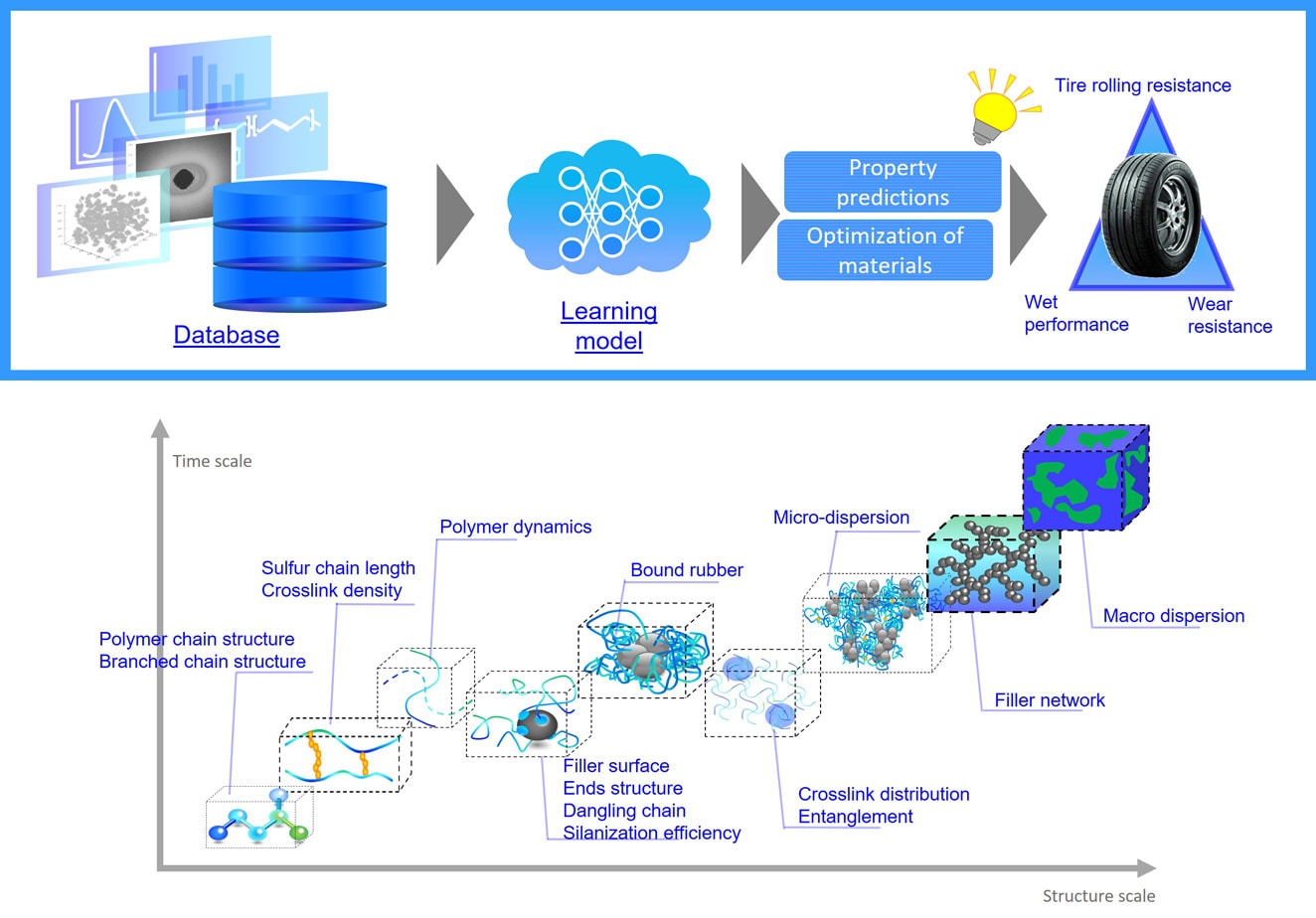 Supporting the Participation of Diverse Individuals in Society
In developed countries such as Japan, several issues exist such as the rapid decline in population, the increase of the aging population, and measures to take for vulnerable road users as a result of natural disasters. Through our products and services, we contribute to the mobility society that supports the participation of diverse individuals in society. For example, the Toyo Tire Group's truck and bus tires underpin networks of logistics and public transportation around the world. Our tires enjoy a high degree of popularity among our customers and users for their superb durability and fuel efficiency, guaranteeing safe and comfortable transportation for ever-diversifying drivers and passengers alike.
Accommodating Increasingly Sophisticated Customer Needs
Along with changes in the social environment, the values of people involved in mobility and customer needs for the Toyo Tire Group are becoming increasingly sophisticated. We not only address issues that our stakeholders expect us to resolve but also create a framework for maintenance work and solutions that only tire manufacturers can.
We have developed a model that automatically collects and stores data to monitor changes in the state of tires depending on the driving conditions of individual vehicles while also sensing road conditions, thus estimating the state of use (wear) of tires for trucks, buses, and other transport vehicles. We are working to develop this model into a full-fledged business for transport service providers.
Beyond solutions to challenges, we are also developing products that bring to market something new and delightful. A prime example here is the neo-futuristic airless concept tire, noair, a maintenance-free tire that offers a "spare-less solution," in response to emerging trends in the mobility society, including the spread of self-service gas stations, charging electric vehicles at home, and car-sharing services. In 2017, noair became the first non-pneumatic tire in the industry that can be mounted on passenger cars and driven at high speeds. Because vehicles with airless tires are not allowed to drive on public roads due to a lack of applicable laws at this moment, we are working on their application to "ultracompact cars."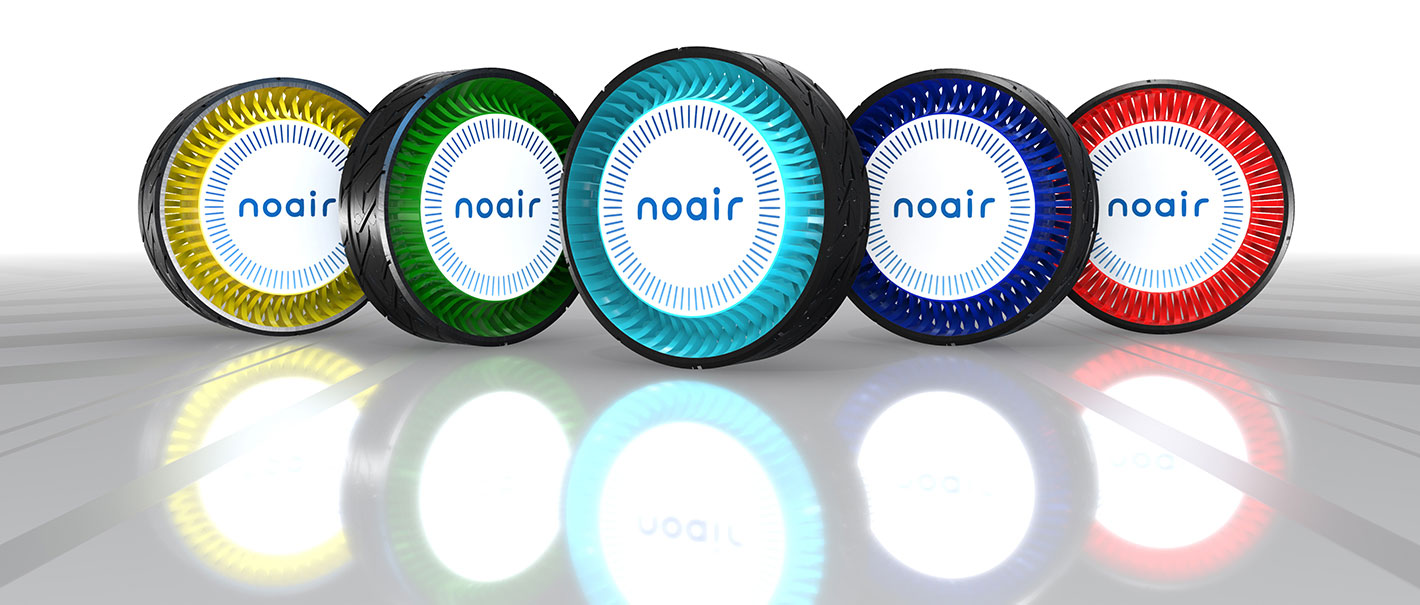 TOPIC
Three Tire Products Received the Good Design Award 2020


Three of our tire products, OBSERVE GIZ2 (studless tire for passenger cars), CELSIUS (all-season tire), and M646 (all-weather tire for trucks and buses), won the Good Design Award 2020, a prestigious award sponsored by the Japan Institute of Design Promotion.
One special feature that the three have in common is our proprietary pattern design technology with selected elements that enable the tread surface to demonstrate functional roles as it contacts the road surface. The accolade was given because they embody our commitment to developing products that not only accommodate diverse usage environments, such as weather and road conditions, but also match the times by accurately reacting to changes in customer needs. We will continue gathering a broad range of market information in pursuit of further evolution of tire performance in our effort to develop high-value-added tires.

TOPIC
Announcing Tire Sensing Technology Concept
Using AI and Digital Technologies


As the mobility society is undergoing once-in-a-century changes, we believe that automotive tires must provide the information needed to manage vehicle operations and support maintenance. It is thus only natural that we came up with the idea of using tires—the only part of a car that is in contact with the road surface—as a device for gathering information, so that we can create new added value. One of the outcomes of such efforts is tire sensing technology, which visualizes tire performance while driving. Sensors attached to tires detect the road surface conditions and tire wear to estimate actual tire performance, based on which the current grip of tires is assessed and displayed in real-time. With this, drivers can see the tire performance required for the road surface conditions they are driving on and if their tires are exerting their tire force*1>. Currently, we are gathering tire force data in real-time using sensors mounted onto vehicles while driving on our Miyazaki Tire Proving Ground and public roads.
We will seek co-creation with external partners to further evolve mobility with tire sensing technology.
*1 Actual tire performance estimated based on a variety of data input from tires, including air pressure, temperature, road surface detection, load, frictional wear, and irregularity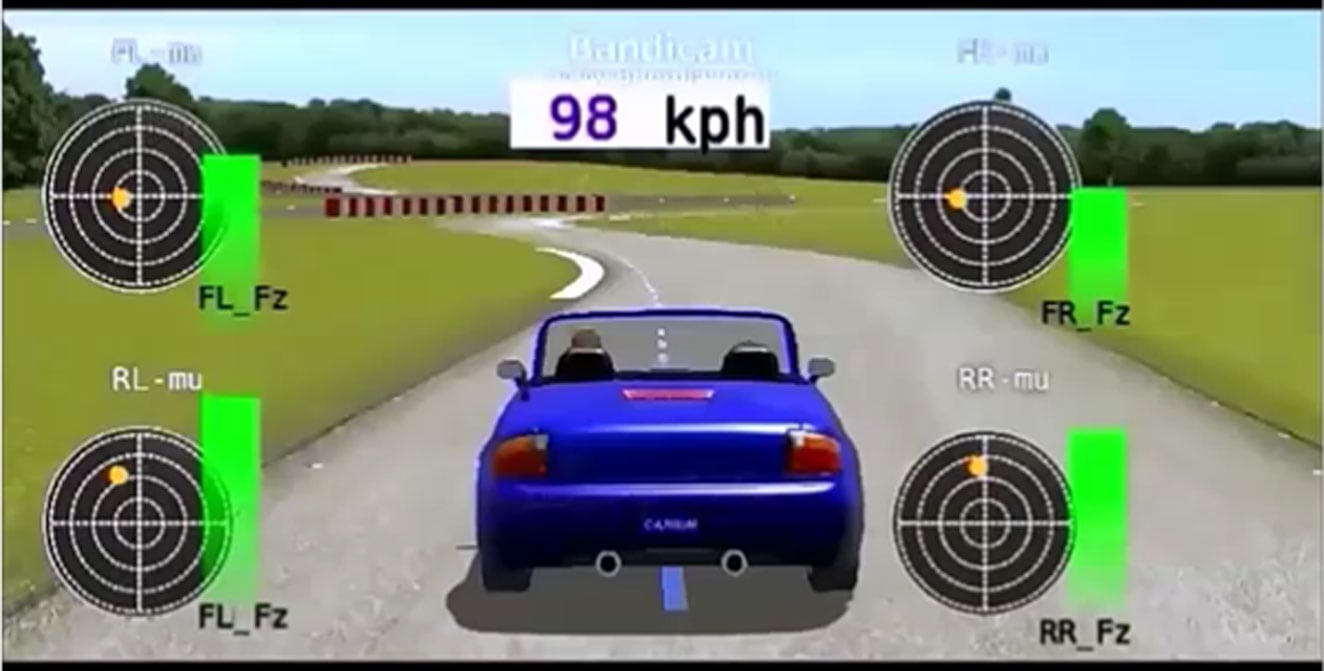 CG simulation of visualized tire force
Responding to Climate Change Risks
In the mobility industry, we are actively engaged in developing technology to respond to the various climate change risks that is expected in the future, such as improving technology for fuel-efficiency and low emissions, and the development of next-generation mobility to replace engine vehicles, etc. In our company, we are also engaged in the development of processing technologies that control energy loss, fuel-efficient tires, and automotive parts for next-generation mobility. And by deploying these products in markets throughout the world, we are contributing to the mobility industry's response to climate change risks. For example, TOYO TIRE Corporation has begun joint development of a suspension module (composite components) for electric vehicles (EV) with GLM Co., Ltd. which is the EV manufacturer. We are developing automotive parts to achieve a comfortable ride by automatically controlling the vehicle's shock absorbers and damping the juddering or vibrations to best suit the road conditions, and we are aiming for commercialization in 2020.
TOPIC
Addressing Changing Seasonal Factors due to Climate Change—OBSERVE GIZ2

As the climate changes, daytime temperatures in some snowy regions of Japan in mid-winter are rising. Because of this daily temperature range, the road surface changes from wet, when snow turns to slush, to icy, when water freezes. Accordingly, studless tires are expected to flexibly cope with such changes in road surfaces due to temperature differences.
TOYO TIRE's answer to this growing need is OBSERVE GIZ2, which offers optimal performance during snowy months in Japan in this era of changeable seasonal factors due to climate change. This new offering from TOYO TIRE is designed to not only enhance wet grip performance to deal with changing road surface conditions but also curb the loss of friction on the ice due to aging of rubber to extend tires' service life.
Responding to Resource Depletion due to Climate Change and Increased Demand
While many natural resources are limited, it is essential to the sustainable growth of society to resolve the issue of shortages in natural resources caused by climate change and population growth. We are working on reducing the use of raw materials in each production process from the design stage, through research on next-generation material such as new functional rubber and sustainable raw material, and development of material and products with a high-level of wear resistance.
For example, we have established a new development process that significantly reduces fuel consumption while maintaining a high level of wear resistance by using our proprietary technology, Nano Balance Technology, to optimize resource characteristics. We started supplying products using this technology in the spring of 2019, thus contributing to resource-saving by extending product service life.