Improving the Environment and the Society through our Products
Tire Technology
The Toyo Tire Group works to develop high-performance, high-quality tires through proprietary R&D technology.

We conduct research and development on structural design, material design, and analytic & production technologies in order to develop new generation of tire technologies. We are working closely with universities and public research institutes on reducing environmental impact, improving performance, and developing new systems.
Proprietary Technology of Our Group
Nano Balance Technology:


Platform technology for material design. We will work to optimize operations so that we can achieve the required level by conducing R&D activities through the integration of the four nano-level systems of "research, analysis, material design, and processing."

T mode:


Integrating general tire simulations that analyze tire movement and structure with driving simulations, which analyzes car movements, makes it possible to design tires to match the car type and use.

e-balance:


This is platform technology for truck and bus tires that enable an increase in important basic tire performance related to wear resistance, uneven wear resistance, fuel efficiency, and durability.

A.T.O.M. (Advanced Tire Operation Module):


This makes it possible for us to produce tires with superior precision, quality, and unique design needed for large tires.
Tire development process flow chart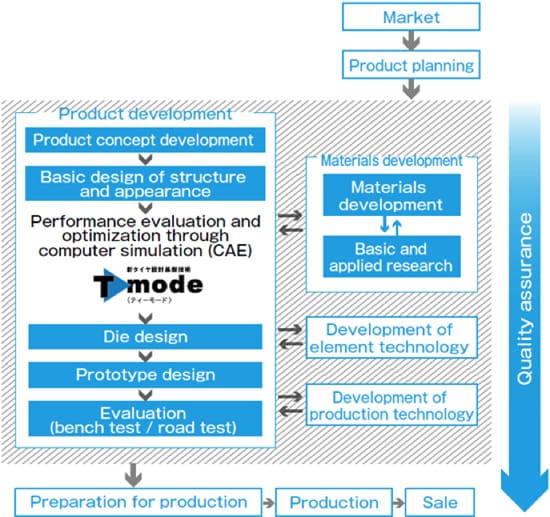 "A.T.O.M." Delivers Precision, Quality, and Unique Design
Our proprietary production system, Advanced Tire Operation Module "A.T.O.M." makes it possible for us to produce tires with superior precision, quality, and unique design needed for large tires. This system was implemented at Toyo Tire North America Manufacturing Inc. (TNA) in 2005. Since then, it has been implemented at more locations all over the world with further improvements.
Using "A.T.O.M.", a thin strip of rubber is extruded onto a rotating building drum to directly form circular treads. Compared to the conventional manufacturing method where a flat rubber piece is folded and glued into a cylinder, tires made with "A.T.O.M." do not have a large joint portion that weighs more. Therefore, "A.T.O.M." was extremely useful in manufacturing large tires where uniformity was more difficult to achieve. This reduced uneven wear that causes shorter product life and inferior handling.

Since "A.T.O.M." also allows us to modify sidewall thickness, we are able to produce tires with aggressive designs on sidewalls. This unique design is our strength that sets us apart.

A.T.O.M.'s molding drum (left) and sidewall design produced with A.T.O.M. (right)
Developing an Innovative "Aggressive Design Process"
For drivers, design is one of the important characteristics. Especially for pickup trucks, SUVs, and CUVs in the US, unique and aggressive tire design is an important criterion. A high level of customizability (wider rims and more height) is also very important.
When universal design is the mainstream, it is difficult to set valuation criteria for designing products catered to those who value individuality. We need valuation criteria for design "FAVORABILITY" which is difficult to measure.
Our company first establishes valuation criteria (verbal and visual design concept) for every product we develop based on the "3C Analysis"*. Based on these criteria, we start designing a new product. Then, the design goes through multiple changes as we incorporate ideas based on the market data and market trend provided by the marketing manager in the US. This is how we are able to design a product that meets the customers' exact needs.

When we make a product that is so creative in design, however, it becomes difficult to balance with performance (longevity, noise control, etc.).

During the tread pattern design process, we make the tire on the computer based on the initial design. We can then perform various analysis and simulations to determine the surface contact and movement of the tire so that we can continue to fine tune the design as well as predict its performance. After this process, the product finally becomes more complete with a tread pattern that maximizes performance without compromising creativity.

We strive to meet our customers' needs at a higher level using this kind of "Aggressive Design Process" that combines various technologies and cross-functional cooperation.
*

An analysis of marketing environment that includes customer (customers and markets), competitors, and company (Toyo Tire Group).
Tread Pattern Design Simulation
Delivering Products with Convenience and Safety (US)
We offer more all season tires in certain areas in the US where there is little snow. That is because it is difficult, both economically and space wise, for the customers in these areas to use summer tires most of the year and switch to winter tires for a brief snow season. However, there were some safety concerns associated with all season tires. They were slippery in certain snow and ice conditions. Sometimes, they required customers to install chains on their tires. This is difficult to do when you are not used to it. Our US distributor, Toyo Tire USA Corporation, sells "CELSIUS", an all-weather tire for the customers in those areas. CELSIUS has the performance characteristics required for both a summer tire and a winter tire, and it has become a very popular product. CELSIUS has the design with the functionalities of a winter tire on the inside of the contact surface and the design with the functionalities of an all-season tire on the outside. Its running performance in snow and ice meets the requirement for "the 3PMSF symbol*", yet it also offers better wear performance than a winter tire.
*

A three-peak mountain snowflake (3PMSF) symbol: The symbol helps consumers identify tires with a higher level of snow traction. It indicates that the tire meets the required performance in snow testing.
CELSIUS, All Weather Tire
TOPIC
Published "noair" Airless Tires
The paradigm shift in the mobility society, such as greater use of electric vehicles (EV), autonomous driving technology, and car sharing, is expected to reduce opportunities for automotive tire maintenance.

Our Group has been working on research and technological development of airless tires since 2006 in order to "pursue maintenance free tires" and realize a "spareless solution." In September 2017, we became the first company in the industry to hold a technological announcement regarding the new tires "noair", non-pneumatic tires that can actually be mounted on passenger cars and driven at high speeds.

With "noair", there is no need to worry about flat tires and there is no need to carry a spare tire. This leads to reducing the weight of cars and increasing fuel efficiency. In addition, through proprietary technology such as the X-shaped spokes made from a special resin and adopting fuel efficient rubber tread developed using Nano Balance Technology, these tires have lower rolling resistance compared to conventional tires.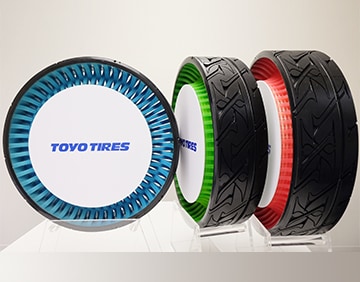 noair
"noair" mounted on a vehicle
*The vehicle is the FOMM1.0, an EV by FOMM Corporation
Improving Tire Performance
With increased the risk of climate change and abnormal weather, there are demands for better tire performance, such as greater fuel efficiency, wear resistance, and wet braking performance, to reduce or adapt to those risks. We are continuing to research and develop products that meet the needs of society, centered on our proprietary Nano Balance Technology.

As a result, tires launched in fiscal 2017 provide greater performance, including fuel efficiency, wear resistance, and wet performance than previous tires.
Please click here to read more about reductions in energy requirements of products and services.
Simultaneously Achieving Excellent Rolling Resistance and Wet Grip Performance
"PROXES Sport" is our premium sport tire that was released in Europe and Japan in 2017. They are made with new formulation of rubber materials developed using advanced "Nano Balance Technology" to achieve superior rolling resistance and wet grip performance.
We were able to analyze road contact pressure on tires and evenly distribute the pressure. This improved wet grip performance (reduced breaking distance) by 7% compared to our existing products (PROXES T1Sport) and obtained "a" rating, the highest wet-grip rating per the Japanese labeling system, in all tire sizes. We reduced the rolling resistance by 23% compared to our existing products. The tires offer superior performance in other areas such as better dry and wet handling, comfort, and longevity. These performance characteristics are all necessary in high-end sport tires.
[Performance comparison on tire labels]
TOPIC
Three Tire Products Win 2017 Good Design Award
Three of our new tire product types launched in fiscal 2017 were won the Good Design Award. This makes it the seventh consecutive year that our tires have received the award.

The award-winning products were the new OPEN COUNTRY A/T plus sport utility vehicle (SUV) tires launched in March 2017, the Winter TRANPATH TX studless tires for high-roof SUV and minivans launched in August 2017 (both TOYO TIRES brand), and the NT421Q SUV tires (NITTO brand) with superior fuel efficiency launched in February 2017. This is also the first time that a NITTO brand tire was presented with the award.
OPEN COUNTRY A/T plus:


Realizing both fuel efficiency and wear resistance as well as high levels of noise control and traction that meet ECE R117-2 international standards

Winter TRANPATH TX:


Communicate the handling stability and ice braking performance

NT421Q:


A grade of "A" for rolling resistance and "b" for wet grip under the Japanese tire labeling system
TOPIC
Creating a Development Process that Dramatically Reduces Fuel Consumption for Truck and Bus Tires
Transportation, a part of the social infrastructure, is currently faced with the need to tackle issues such as compliance with environmental regulations and improving transport efficiency. Under such circumstances, improving the wear performance and fuel efficiency of tires for trucks and buses used on transport vehicles is expected to be one way of solving these problems.

With the goal of developing "high performance truck and bus tires" that meet these demands of society, we leveraged our Nano Balance Technology to establish a new development process that dramatically reduces fuel consumption while maintaining high wear performance.

This new "nano processing technology" approach allowed us to achieve an ideal filler state with even and ideal dispersion, and to successfully develop a rubber-compounding technology that reduces energy loss (tanδ*) by approximately 20% in natural-rubber compounds compared to conventional methods, while maintaining wear performance.

We plan to commercialize these technologies through development and production of new tires for trucks and buses in 2018.


* tanδ: The value of loss modulus divided by the storage modulus when a sine wave is applied to a viscoelastic material such as rubber
Particle dispersion state of filler (left: conventional process/right: new process)
The research building of TTM, which is under development
Automotive Parts Technology
In order to response to diversification of where cars are sold throughout the world, we are moving forward with efforts to develop automobile anti-vibration rubber parts that also possess cold resistance and high durability in addition to conventional products that focus on heat resistance.

For leading technology development, we are moving forward with development based on increasing performance while reducing weight and aiming to apply these to next-generation vehicles. As for analysis technology, we are working to create the most optimal designs in terms of low weight and reduced costs by increasing the sophistication of our analysis system, including seeking a correlation between actual car performance and equipment evaluations.
TOPIC
Joint Development of Suspension Module for EVs Launched with GLM
The development of EVs has accelerated, with many different automobile manufacturers mapping out their own mass production plans in quick succession. In order to meet the demand of a future mobility society, the Toyo Tire Group has concluded an agreement with EV manufacturer GLM Co., Ltd. to jointly develop suspension modules for EVs.

The primary parts being promoted for development by the companies are "active air suspension*1 to ensure a smooth flat ride*2." We are aiming for commercialization before the end of 2020.

We take the view that jointly developing product modules for EVs with GLM as a partner will contribute to expanding the potential for deepening and advancing our future mobility. We aim to become a supplier that can propose greatly added value by accumulating experience in total design and packaging of suspension modules specifically to resolve the unique technical issues confronting EVs through our collaboration with GLM.
*1 Active suspension: Suspension that electronically dampens vibrations in vehicles

*2 Flat ride: Ensures a comfortable ride by damping juddering or vibrations with automatic control of the vehicle's shock absorbers to best suit the road conditions
sport EV made by GML (right)