Promoting Compliance
Spreading Awareness of the Charter of Corporate Behavior and Code of Conduct
TOYO TIRE compiled not only the "Toyo Tire Group Charter of Corporate Behavior" as corporate action principles applied uniformly across the Group in order faithfully conduct business activities but also the "Toyo Tire Group Code of Conduct" for each director and employee to put the charter into practice. Taking into the consideration differences in laws, regulations, and customs between countries and regions, the various Group companies outside Japan have created independent codes of conduct using the code of conduct as action guidelines.
We have newly created and distributed the "Code of Conduct Handbook: Global Version." This handbook translated into 9 languages: Japanese, English, Russian, German, Italian, Chinese, Thai, Malaysian, and Portuguese, and defines the basic actions that every Director and employee of the Group should take. We are working to spread the code of conduct throughout the Group and reinforce compliance.
In Japan, reading aloud the Code of Conduct Handbook and the Supplementary Reader that explains specific cases relevant to production sites and sales sites are done by all corporate officers and employees, including those at Group companies, and after completing the training, participants submit a pledge that states they will promote compliance.
The Group companies outside Japan have established their own code of conduct that reflects the differences in laws and customs of each country and local community, based on the Toyo Tire Group Code of Conduct, and are working on fostering compliance awareness.
[Example training sessions in each region]
U.S.: The TTHA Group organizes training sessions periodically to strengthen compliance. In FY2019, 186 employees participated in training on information security, harassment, and driving safety for a total of 405 hours.
237 employees in the corporate headquarters and sales companies received IT security awareness training. Additionally, phishing tests were conducted throughout the year, and employees from TOYO TIRE NORTH AMERICA MANUFACTURING INC participated in cyber security awareness training as part of their all-employee meeting last year.
China: Once a year, our affiliates in China give training to all of their employees on a topic that addresses their respective compliance risks. After the sessions are over, a questionnaire survey is sent to the trainees to check their level of understanding. In FY2019, for example, TOYO TIRE (SHANGHAI) CO., LTD. gave a legal compliance seminar that was focused on the four topics of commercial bribery, use of SNSs, anti-impersonation, and falsification. TOYO AUTOMOTIVE PARTS (GUANGZHOU) CO., LTD., on the other hand, conducted a compliance training session as part of their employee training that included industrial safety and health and enhancement of environmental awareness.
Europe: In FY2019, member companies of the TTE Group provided e-learning on competition laws to all of their employees. They also held compliance discussions to raise the awareness of their employees of the issue.
TOPIC
Results of the FY2019 Compliance Survey *Response rate 88.2% [92.3% in FY 2018]
Conducting compliance promotion activities
Conducted at least one activity to raise compliance awareness within the last year, 97% (96% in FY 2018)
Awareness and understanding of compliance
Know the meaning of compliance, 88% (87% in FY 2018)
* TOYO TIRE's compliance: We shall comply with laws and internal rules in all aspects of our business activities and shall conduct ourselves according to the highest ethical standards.
Making compliance part of the corporate character
Conscious of compliance when conducting your work, 93% (94% in FY 2018)
Comment
"Over the past several years, the levels of awareness of compliance among our employees have reached consistent heights. Having said that, a number of employees replied by saying, 'I think compliance is about following laws/regulations and internal rules' or 'Sometimes I find it hard to seek consultation on small difficulties at work.' If we are to raise awareness levels further, we need to take different approaches. Based on these outcomes, we will work with workplaces on an individual basis to discuss what we should be doing so we can help our employees to further raise their awareness of compliance."
Rie Kawakubo
Compliance Dept., Compliance & Legal Division, Toyo Tire Corp.
Internal Reporting System
We have been operating an internal reporting system since fiscal 2006. "Reporting Hotlines" have been established in Toyo Tire Corporation Audit Department, an independent law office, and independent specialized companies as an in-house whistle blower system. Not only employees but also business partners can use the system, and reports can also be made anonymously. The Group companies outside Japan, we are moving forward with efforts to establish hotlines at each business site.
There is greater awareness of the "Reporting Hotlines" in Japan as a result of a call to promote usage by distributing cards, displaying posters, and issuing internal monthly compliance communiques.
Awareness of domestic hotline consultation service in Japan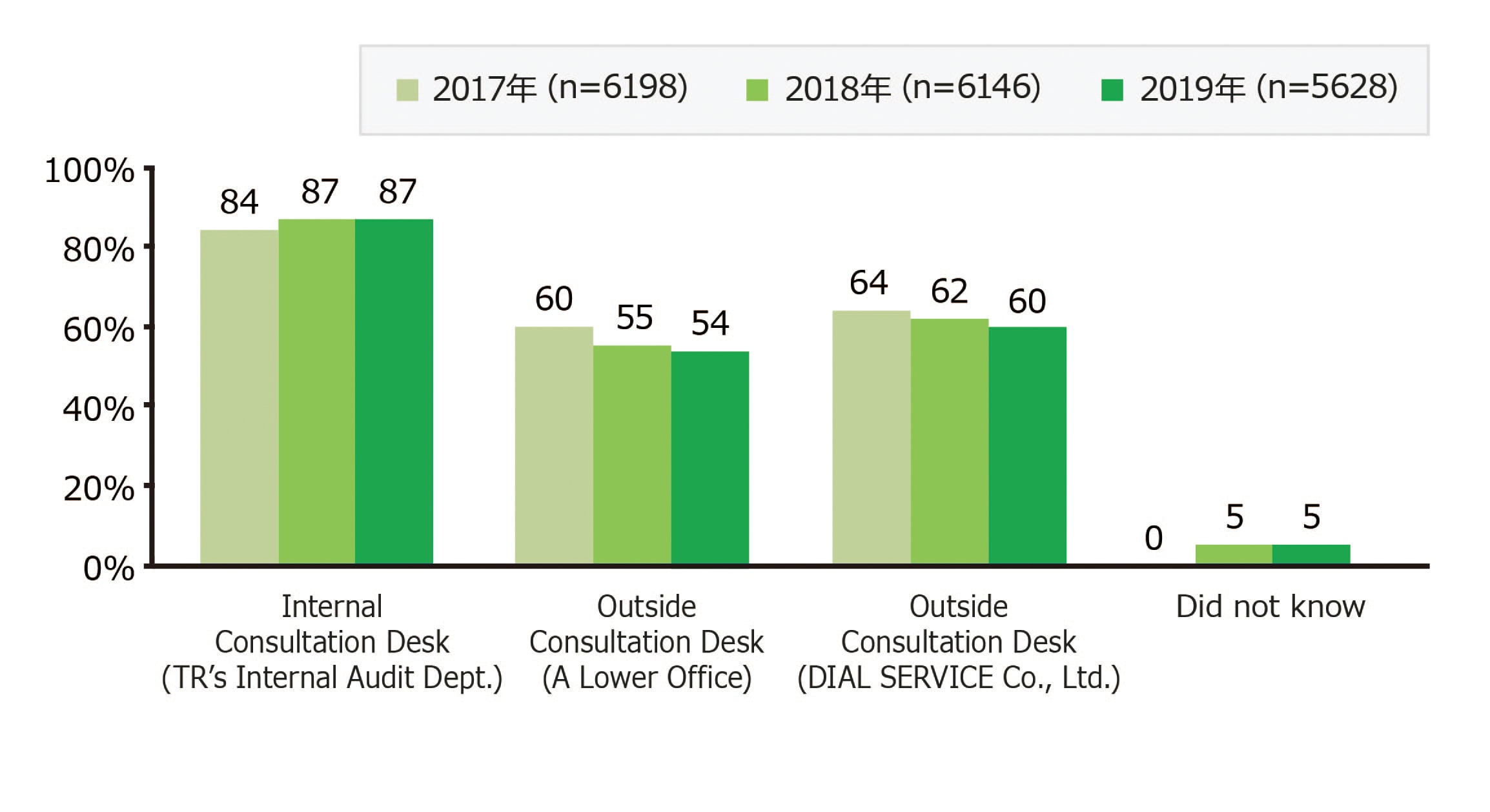 Preventing Anti-Competitive Behavior
We are moving forward with the building of a compliance system, conducting educational activities, etc., in order to thoroughly comply with competition related laws and ordinances in all countries. As for concrete measures, sales staff are required to submit a prior request to meet with competitors, a post-meeting report of request for exemption, and a pledge to adhere to antimonopoly laws in line with the "Cartel Prevention Rules". In addition, we are actively working to comply with laws and ordinances, and these efforts include establishing an Antimonopoly Law Compliance Hotline, having the Audit Department conduct audits of the compliance status with Cartel Prevention Rules, and providing training, including e-learning, to related parties.
Anti-Corruption
TOYO TIRE established "Global Anti-corruption and Anti-bribery policy" and commenced operations. We strive to ensure fairness and transparency in all its business activities. In FY2019, we provided a training session on anti-corruption and anti-bribery to ensure that our global policy is adhered to. We also conducted interviews with all the affiliates within the Toyo Tire Group to ask about risks of corrupt practices and bribery to ensure an absence of concerns over such risks at this point.
The risk of corruption in countries and regions in which the Group has business sites is evaluated using the fiscal 2017 Corruption Perceptions Index (CPI) surveyed and published by the international NGO, Transparency International. We believe caution be required in particular for business activities in countries with a CPI of less than 40.
We are conducting educational activities at a time when regulations related to corrupt acts, particularly bribery, are being reinforced around the world. For example, each year, The TTHA Group conducts U.S. antitrust law training each year. In 2019, 51 managerial staff members participated in the training.
Status of Legal Compliance in the Environment, Social, and Economic Fields
In FY2019, there were no cases of serious penalties or sanctions other than penalties within the Toyo Tire Group due to violations in the environmental or social and economic fields.
Incidents of Non-compliance concerning the Health and Safety Impacts of Products and Services
We are working to prevent the recurrence of past misconduct caused by the Company and its affiliate companies. As of December 31, 2019, regarding the replacement status for seismic isolation rubber for construction, out of a total of 154 applicable buildings, work had begun in 144, and out of these, the replacement of nonconforming products has been completed in 133 buildings.
In FY 2019, there were no incidents of non-compliance concerning the safety and health impact of products and services.